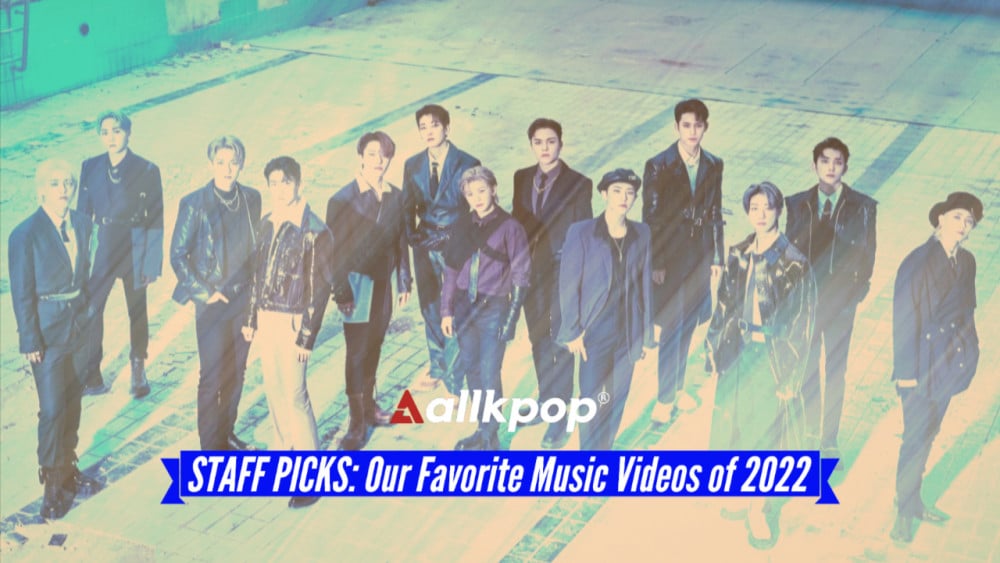 2022 was another year filled with amazing K-Pop releases. Out of the countless music videos that came our way this year, here are the favorites that the allkpop staff loved the most!
MaiaD's Pick: Seventeen - HOT
The music video of HOT by SEVENTEEN perfectly showcased how the group continues to walk their own path forward in the future, facing the scorching heat and being the sun themselves, a reference to their album name, "Face the Sun." The music video also showcased not only the amazing visuals of each member but, most importantly, living proof of SEVENTEEN being one if not the best groups when it comes to performances. There were many highlight points, including THE8's sequence in the revolving compass, Jeonghan's broken wings, and their explosive chorus showing their group choreography.
Lorr-Ye's Pick: Taeyeon - INVU
Q1 feels like ages ago, but "INVU" by Taeyeon takes the cake for my MV of 2022. I feel the song and visual to be a rare perfect fit. From the MV's futuristic take on the Greek myth of Artemis and Orion to its dynamic choreography and editing, Taeyeon delivers on all aspects of this particular release. Though the myth and the song are not necessarily fundamentally related, the visual accompaniments complement the track's crescendo into the chorus with its otherworldly appeal. The seamlessness between the MV aesthetics and the mood of the song gives the track its rightful place on the throne of Mt. Olympus.
ean1994's Pick: BTS - Yet to Come
It's the ARMY in me, can't help but look at the music video and feel nostalgic with all the tributes to their past releases. Also, love that it's not flashy like a typical K-Pop music video would normally be.
Rika-go's pick: Treasure- VolKno
In an era of MVs full of focusing on dance and visuals, Volkno is a story-based MV. The music video screams YG and a big budget. It's the best MV released in 2022.
Yaki-Jones pick: TXT - Good Boy Gone Bad
I was honestly surprised when I first saw this music video because, in my mind, TXT was still in their "Run Away" era. Maybe it's because I had "Run Away" on repeat and then drifted away from their songs afterward. Regardless, "Good Boy Gone Bad" definitely impressed me with the boys' contrasting charms. While there were many other good music videos, including BTS' "Yet To Come" and (G)I-DLE's "Nxde," I chose this one because of how it left a lasting impression in my mind. Eye-opening (pun intended) visual effects showing their change were also a plus.
optimusnins pick: Xdinary Heroes - Test Me
Despite being rookies, Xdinary Heroes proved that they are JYP Entertainment's latest rock stars. The music video has a futuristic concept which was fun to watch, especially to find the little pop culture references. James Bond's famous titular theme was heard in the intro, the group performing in red jumpsuits inside the train is reminiscent of Netflix's Money Heist, and their robot enemies are very similar to Spiderman's nemeses, Doc Ock. Their songs are fun as it is, but the music video makes it even more exciting and showed their weird and freaky sides.
Yeom-My's Pick: Lee Chan Hyuk - Panorama
Lee Chan Hyuk is truly a brand of its own, and he will do whatever he wants to experiment and complete his career bucket list. I really think the way he played around with this song and the way he expressed it through his music video was something that was never before seen in the industry.
Janie-Reign's Pick: NewJeans - Cookie
This fashionable little MV is almost too good not to be the lead title. Or...is that all part of Min Hee Jin's plan? That happens to be the case with all my favorite MVs under her production, including f(x)'s art film for "Shadow" and Red Velvet's "Automatic" MV. All controversies aside, the production value for this MV is almost too high-quality for its budget. It is yet another aesthetic testament to Min Hee Jin's ability to turn mundane sets and kitschy designs into tasteful films with superb lighting and camerawork. The simplicity of it all speaks for its merit, which perfectly aligns with the song's minimalist bassline. The outfit selections in the MV are also top-notch! If only I could, I would buy myself the HYEIN SEO black top worn by Haerin in a heartbeat...
Germaine-Jay's Pick: iKON - But You
The glitter and strobing in iKON's "But You" MV could've been cheesy, but they were visually stunning and well done. The visual effects and topsy-turvy camera angles also add to the concept of a young person's night out partying and the obvious '80s retro throwback sound of the song. I don't think I've seen this kind of strobing effect in a K-pop MV before. It all tied together nicely.
Sofia-Sayson's Pick: Red Velvet Seulgi's "28 Reasons"
Seulgi's "28 Reasons" music video is filled with artistry, from the teasers and concept photos that have been released to the music video itself. The song and the visuals, plus the cinematography, make everything perfect. I loved the mood of the music video since the settings matched the verses of the song wonderfully. Simply said, the music video for "28 Reasons" is a piece of art. I loved Seulgi's calming voice and the exhilarating atmosphere of the tune. Seulgi's vocals seem to fascinate and hypnotize me each time I hear the song.
Susan-Han's Pick: Red Velvet - "Feel My Rhythm"
This concept was truly unique to Red Velvet. "Feel My Rhythm" felt like it was marrying the beauty and the somewhat pretentious prestige of European-style classic art with the kitschy pop culture notes of K-Pop, finding a kind of middle ground where the two become fused and maybe sort of become indistinguishable. The absolutely stunning MV managed to capture both a more mature and a timeless side to the girls as growing artists.
Sophie-Ha's pick: GOT7 - "NANANA"
The music video really captured the oneiric vibe of the song. Also, loved seeing the members together again and showing their unchanging chemistry in the music video. On top of that, all the members managed to come back as one group to film and record together despite all the members being signed with different labels. This shows the efforts GOT7 put to return to their fans, making this music video more meaningful to Ahgases.
Jia-Lin's Pick: LE SSERAFIM - ANTIFRAGILE
This is a simple, set, no-fuss MV. But every single thing about it is so captivating. The cinematics and camerawork that were chef's kiss gave the MV a golden touch of quality. I just can't seem to stop myself from clicking into it every time I see it suggested to me.
A-Nish's Pick: BTS – Yet To Come (Most Beautiful Moment in Life)
BTS entered Chapter 2 with this. It was the start of something new for them, and "Yet To Come" perfectly brought their history together. All the references and past storylines from their previous music videos were placed in this MV. If you are an ARMY, the song and its video become even more special. I love the way they promised the world that 'the best is yet to come…'
Dani-Dee's pick: Psy – That That (prod. & feat. SUGA of BTS)
The release of "That That" was easily a major highlight of 2022 K-pop. Not only was it the title track on Psy's first full-length album release since founding P NATION, but it also marked his first collaboration with a BTS member – charismatic rapper and producer SUGA. The music video definitely exceeded expectations, complete with its playful 'wild west' concept and SUGA comically swooping into the shot like an eagle just moments before his verse. Watching this music video always reminds me of the complete party atmosphere that ensued on K-pop social media right after its release. The high energy and infectiousness of "That That" had a strong hold on K-pop fans this year, as expected from the scene's legendary star.
jieun-im's Pick: KARA - 'When I Move'
KARA's long-awaited comeback after 7 years was very emotional for lots of reasons. KARA's 'When I Move' music video, without further words needed, was quick to explain why KARA will always maintain their status as a legendary 2nd generation K-pop group. As if they had somehow stopped time for themselves while the rest of the world experienced the passing time of 7 years, the KARA members' fairy-like visuals, jaw-dropping dancing skills, and powerful vocals all contributed to the explosive energy exhibited in the music video. Finally, the ending scene that showed six, not five, microphones standing on stage was something that was very meaningful, showing how much love the members have for each other and for the late Hara.