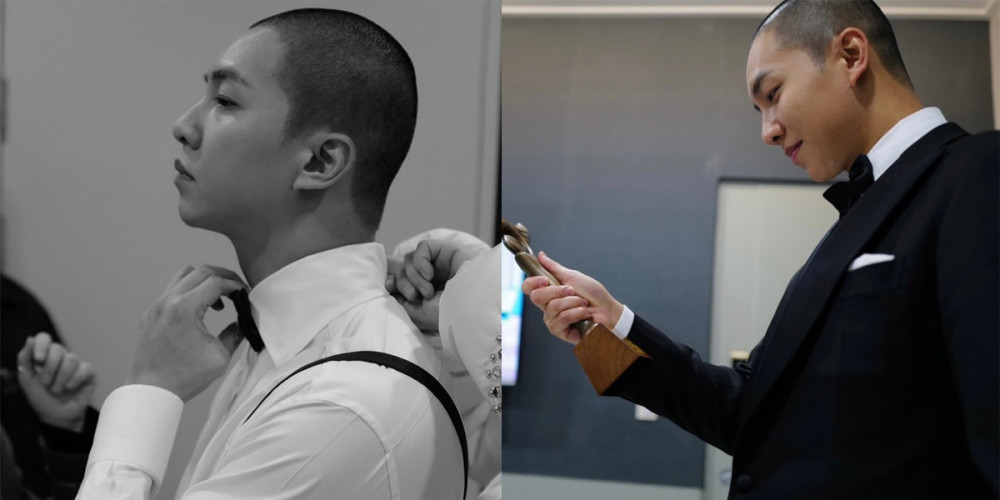 Singer/actor Lee Seung Gi showed his calm determination and strong will as he greeted fans with a New Year message via his agency, Human Made.
On January 2, Human Made revealed a series of behind-the-scenes cuts from Lee Seung Gi's attendance at the '2022 KBS Drama Awards' which took place on December 31. Lee Seung Gi, who surprised many viewers at the award ceremony when he appeared with his head shaved, ended up taking home the 'Daesang' award for his drama 'The Law Café', receiving applause from all who have been encouraging him since his legal disputes began. (He also received the 'Best Couple Award' along with his co-star Lee Se Young, after which he quickly clarified that he did not shave his head because of his troubles; it was in fact because he would be playing the role of a Buddhist monk in his next film!)

On January 2, along with some behind-the-scenes photos, Lee Seung Gi delivered a short greeting for the New Year. He said, "The 'Daesang' from the '2022 KBS Drama Awards'. I want to sincerely thank all of you for giving me this precious award. I pray that 2023 will be a happier and healthier year for all of you, and I also ask that you continue to look forward to, and cheer on, artist Lee Seung Gi's activities in the New Year."

Meanwhile, during his 'Daesang' acceptance speech at the '2022 KBS Drama Awards' on December 31, Lee Seung Gi moved many with his words as he referred to his troubles in the past year. He said, "As I sat watching many of my fellow actors and actresses, fellow sunbae and hoobae artists here today, I felt choked up. Currently, Korean dramas, films, music, and various content, they are rising to the forefront of the global entertainment industry. That was only possible because of the hard work of all of you in attendance today. Realizing that, I made a vow once again. Next year, and the year after that, and in 10 to 20 years after that, there will be hoobae artists sitting in these seats, and for them, I need to fight for the rights that should humanly belong to all of us. I can't just let them inherit these problems. Thus, I will continue to fight, and I will continue to work hard as an actor in this industry."
Lee Seung Gi is set to begin filming for his new big-screen project 'Big Family' some time soon.