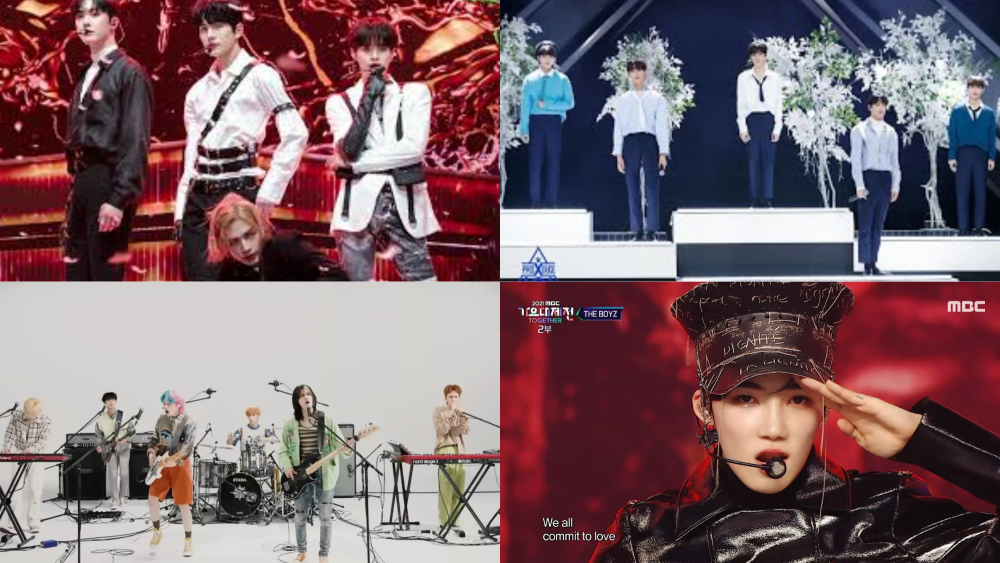 It's always a delight to watch our favorite group cover another group or be covered themselves. It's especially exciting to see boy groups covering girl groups as they bring their own unique spin to the song. Sometimes they stay true to the original feel and vibe, while others completely transform it, creating something entirely new and amazing. There are certainly lots of other performances, but here are 16 unranked covers that all do justice to the ladies that originally sang them.
Produce X 101 - To My Youth
The original song by BOL4 already has me in tears all the time. Hearing this sweet and soft rendition of it broke my heart even more. You can clearly hear their sincere and honest feeling of sadness and desperation in this one. Especially when Kim Wooseok hit that high note, it felt like he let all the pain out from what he had been through, and towards the end, you can see him tearing up.
LOUD - Peek-A-Boo
Still waiting for the debut of these talented aces, the group changed the song's genre but still managed to keep the cuteness part of the original song and just exploded all of their charms in this performance.

Kingdom Mayfly - Love Poem
When you put all three of the best vocalists in the industry in one team, you'll get a very legendary performance. Jongho's clear vocals, Seungmin's soft vocals, and Eunkwang's powerful voice altogether gave the perfect harmonization and the most sentimental stage.
P1Harmony Keeho - Girl Group Medley
It's a well-known fact that P1Harmony's leader has one of the best vocals of his generation and this medley proves it. He has a very addictive tone and totally added his own style and delivery to the songs.
The Boyz - Kill This Love
The Boyz have done quite a number of girl group covers, and they keep "KILLING" it every time. Not only do they do the original songs justice by keeping the same energy and aura, but they also added their own touch to their covers that makes them addictive.
GOT7 - Mr. Chu
Anything GOT7 performs would turn out to be really iconic, and this special stage was just one of many. The members managed to bring the same charm and energy that they usually do, even to this cute song. Eight years later, we're still pretty hooked on this cover.

DAY6 - TWICE Medley
These boys are famous and loved for a reason; they're insanely talented. The band can take any song and put their own special spin on it, staying true to the original while still incorporating the rock feel that is so uniquely DAY6. Who do we have to talk to for a full version of all the songs they did in this medley?
A.C.E - Stay
A few months before their debut, these talented lads shook the K-Pop world with this cover of "Stay" back in 2016. The cover showcases the group's beautiful and harmonious vocals (yes, even their rappers sing really well!). They have done various other BLACKPINK covers as well, and trust me, you will be their biggest fan.
Xdinary Heroes - Tomboy
These boys keep proving that they are indeed 4th gen ROCKSTARS. As if Tomboy wasn't already a fun badass hit to listen to, who knew we needed this punk rock masterpiece? They can literally turn any song out there into their own; it's mindblowing.
00s - Psycho
What's more fun than doing special stages with your best friends? When you actually killed it and have one of the highest views for a special stage video. Although, it's pretty unfair how all four of these boys have insane visuals, and they're all very talented. Totally did the original song well, and making us all psychos for rewatching this an unhealthy amount. We need another 00s cover, please!

Samuel x MXM x The Boyz x Stray Kids - Boom Boom
When this cover was released, little did we know that they're going to be some of the 4th gen's greatest. They certainly had chemistry and brought such a fun and bright energy to the already upbeat MOMOLAND track.
SEVENTEEN - Girl Group Medley
SEVENTEEN isn't only known for being cover kings, but they're also popular for having incredible versatility in their performances, and this medley stage was definitely one of the many proofs of that. Six years later and this medley is still one of the best.
WEi - Monster
KCON always gives us some of the most legendary special stages, and this was one of them. Then rookie group, WEi, performed an incredible cover of Red Velvet's Irene and Seulgi's Monster' which left fans in awe. Many viewers complimented how great of a stage it was, as they nailed the "dark sexy mature" concept.


TO1 - Next Level
Another great stage from KCON:TACT HI 5, this group perfectly covered aespa's 'Next Level,' and turned it up a level by making sure not to miss every single point of the original version while also adding their own unique feel to it.
Produce 101 Season 2 - Playing With Fire
They really played with fire in this cover because who knew we needed the song in a rock version? It was absolutely hot, and all four of them were on fire with their insane vocal skills.
The Boyz x ONEUS - Heroine
The original song is already very 'victorious,' but they made it even more victorious and very touching towards the end. Despite it being a competition, these two groups were good sports and made the song about their story as idols, and even added every group's fanbases that competed in the show. Truly, one of the best stages on the show.