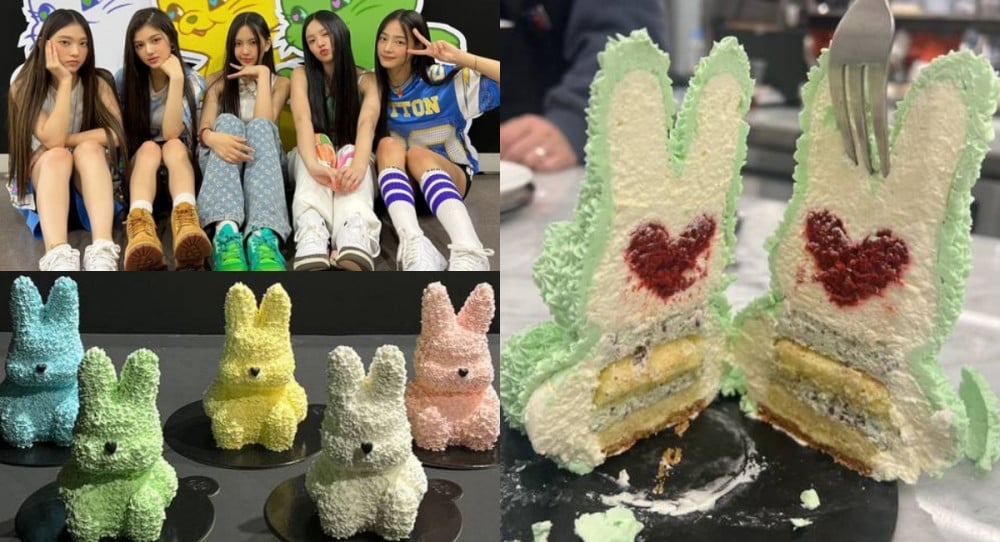 NewJeans' collaboration with NUDAKE is gaining attention for high cake prices.
The ADOR rookie girl group, who has been preparing for their first comeback since debut, is commemorating their upcoming promotions with a pop-up store called 'OMG! NU+JEANS.' The pop-up store is a collaboration with upscale bakery-cake NUDAKE and connects the comeback with the holiday season by offering exclusive NewJeans merchandise as well as fresh cream cakes – a popular Christmas dessert in Korea – in the shape of NewJeans' colorful trademark bunnies.

Upon the event announcement, ADOR's Min Hee Jin shared her own photos revealing what the cakes look like in real life. These photos made their way across through many online communities, with Korean netizens surprised that the cakes, which seemed actually quite small, were priced at 36,000 won each (~$27 USD).
"They're freaking cute, but the price is not freaking cute," a poster on Instiz wrote, sharing the photos of Min Hee Jin's post. "You mean all of them together is 36,000 won, right?," a commenter asked, with another responding with, "That's how much they're going to cost each. Because it's a collaboration with NUDAKE."

Netizens also compared the cakes' price to other items they could buy with the same money, leaving comments like, "The design is cool, but... as for me... I'll just go to [chain bakery/cafe] Twosome Place" and "36,000 won...? I could order two birds worth of fried chicken." Many also agreed that 36,000 won was more expensive than a whole-sized cake from other places in the city.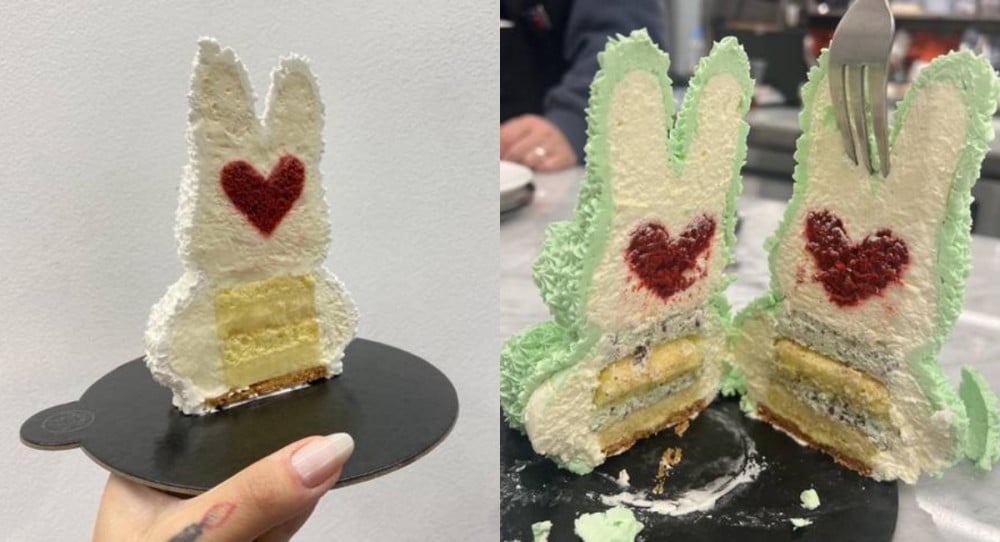 A major reason netizens found the price unfair was because of how little actual cake is present in the cake itself. Comments included, "But there's hardly any bread part ㅠ," "Oh... it's really obvious that there isn't a lot of cake," and "The cake sheets are too thin."
Some netizens also defended the price, saying that NUDAKE has always been more expensive, making the price of the cake not all that surprising. Comments included, "Hasn't NUDAKE always been on the expensive side?," "But NUDAKE is pricy... ㅠㅠ The last time I went there with my friends, we decided to each order our own dessert, and I remember it costing more than 150,000 won (~$144 USD)...," and "It seems like NUDAKE is claiming to be like an art studio with experimental attempts in visual arts as dessert, so their criteria for pricing is different. However, I really don't know what makes it so special ㅜㅜ." On the other hand, some said the price was still high, even for NUDAKE, commenting, "Even considering the fact it's NUDAKE, isn't it expensive..? ㅠ In that one photo, if you compare the fork to the size of the cake, it seems really small, so 36,000 won...?."

However, despite the high price, one netizen expressed that the cakes will sell well as NewJeans has many loyal fans who will likely visit the pop-up, writing, "Even if they sell it at a high price, they can because people will buy it all."
Meanwhile, the NUDAKE x NewJeans pop-up store will run from December 23 - January 21 at NUDAKE House locations in Seoul's Dosan and Seongsu neighborhoods.