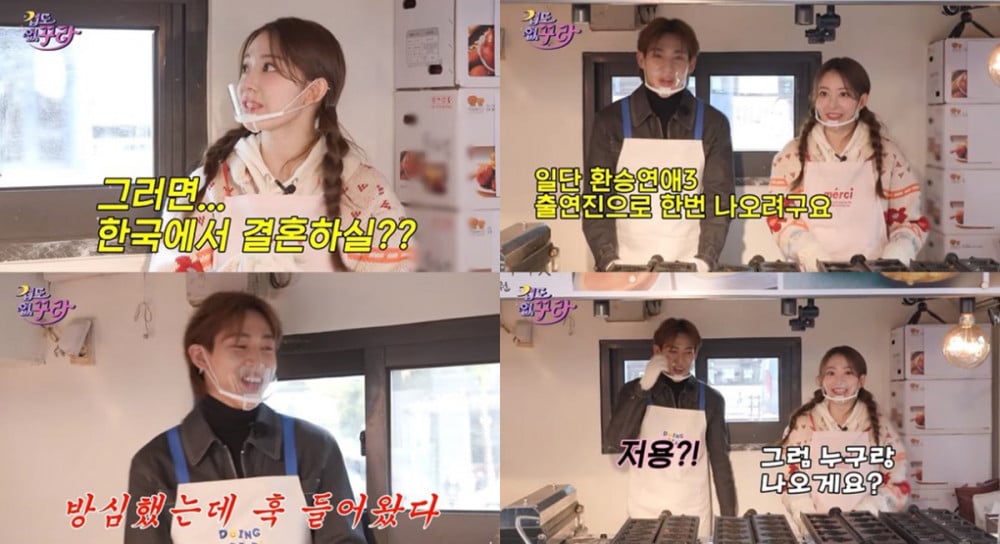 LE SSERAFIM's Sakura and GOT7's BamBam showed their polar opposite(?) chemistry on the latest installment of 'Fearless Kkura'!
On the December 8 installment of Sakura's very own YouTube reality series 'Fearless Kkura', the K-Pop idol took on the challenge of becoming a bungeo-ppang cart owner! In order to sell the delicious fish-shaped pastry to at least 100 customers, Sakura enlisted the help of a sunbae artist with excellent customer service, GOT7's BamBam.
Before opening up shop for business, BamBam asked Sakura, "This program is about you trying out challenges you haven't tried before. Do you want some suggestions?"
The GOT7 member then suggested, "How about having a spirit summoned in your body. The stuff that shamans do. I've always wanted to try out. Or exploring an abandoned building. Trying to find out if there are ghosts living there. Or being thrown on an uninhabited island for 3 days."

Hearing BamBam's suggestions, Sakura commented, "That's too many scary suggestions." Then, in another scene, BamBam was seen signing a contract(?) stating that he would appear on 'Fearless Kkura' as a guest again if Sakura ever went on an abandoned building exploration.



Next, the two foreign K-Pop idols talked about adjusting to life in Korea. Here, Sakura threw BamBam an unexpected question. "Do you plan to live in Korea for the rest of your life?" BamBam answered, "I think I will always try to return to Korea."
Sakura then quickly followed up with, "Then are you going to marry in Korea?" Flustered, BamBam replied, "That is still something very very far in the future. But before that, I plan to appear on 'Transit Love 3' as a contestant."
BamBam's joking comment was once again backfired, however, when Sakura asked, "Really? Then which ex-girlfriend are you going to come out with?" The GOT7 member shyly responded, "I actually don't have any [ex's]..."

Check out the full episode of this week's 'Fearless Kkura', below!