On December 3, global boy group ENHYPEN held their first-ever solo fan meeting in Manila, Philippines, as the global ambassador of the beauty brand BYS Cosmetics Philippines. Heeseung, Jay, Jake, Sunghoon, Sunoo, Jungwon, and Ni-ki attended a press conference prior to the show to answer some questions from the media.
When asked how they liked Manila so far, Jake said, "There were a lot of are waiting for us at the airport, and it was really nice to see them for the first time," adding that being in Manila was a fun experience.
When it came to touring, Jake exclaimed, "I think one of the best parts is to travel around the world; we're happy to be here in the Philippines right now."
"Of course, the best way is to eat well and sleep well, and I guess these days we try to sleep occasionally," Sunoo replied when asked how they manage to stay healthy despite their hectic schedules.

Sunghoon stated that they would like to try their genre as well, and he hopes that there will be an opportunity to show a different genre to the audience.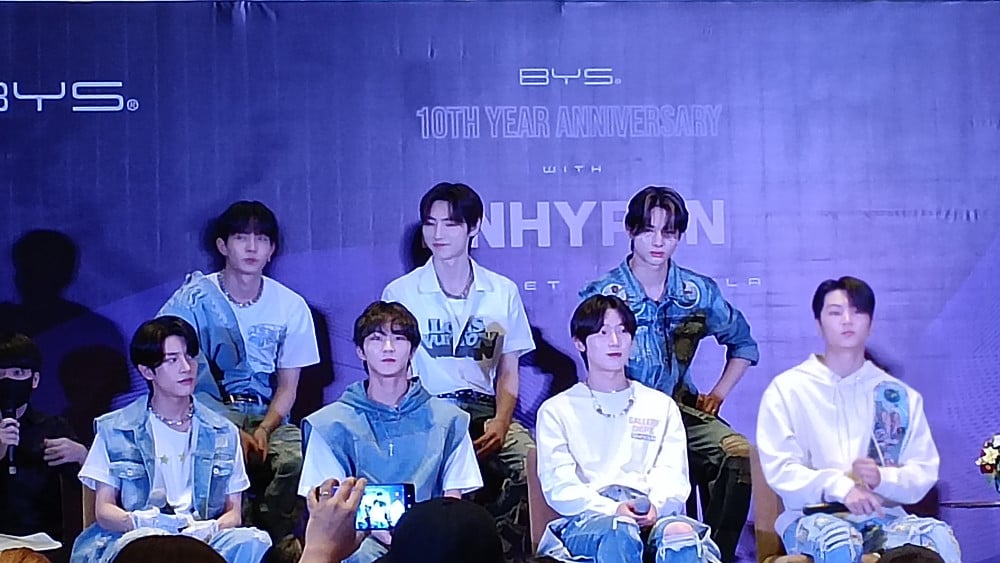 When asked where they wanted to go on vacation in the Philippines, the group mentioned Cebu. "We want to go to Cebu with our families," Jay added.
On being BYS Cosmetics' brand ambassador, Heeseung responded, "This is the first foreign cosmetics brand that we actually are an ambassador of, and I would like to congratulate BYS on their 10th anniversary as well." He added that with the opportunity, they were able to get together with their fans and hope that this kind of opportunity becomes more plentiful, "We will do our best to grab this kind of opportunity."

"I hope I could have more opportunities to meet Filipino ENGENEs more often in 2023," said Ni-ki.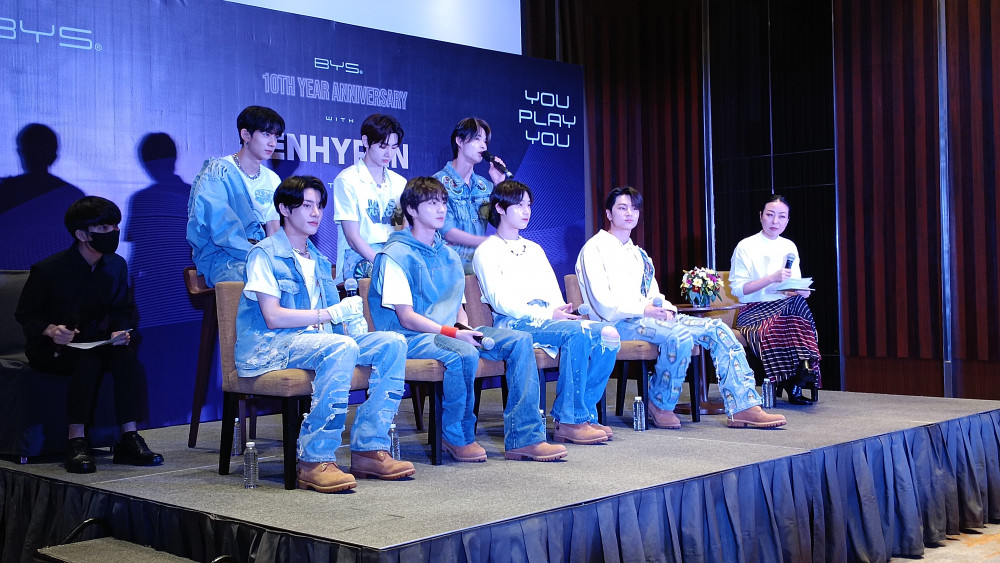 ENHYPEN then responded to allkpop's question. ENHYPEN has only been in the industry for two years, but they already have a slew of records under their belt and are regarded as one of the top fourth-generation groups. When I asked how they feel about their phenomenal success and what they believed propelled the group to this point, Jungwon responded, "First of all, thank you so much for your words. What actually propelled us to come this far is, of course, our ENGENEs. I'm actually feeling it more to my flesh these days because we are meeting our fans offline."
"We used to contact them online; now we're able to communicate offline as well. We're feeling it more, and we'll do our best to get more cheers from our ENGENEs in the future," he added.
"I think one of the things we developed is our skills. Music-wise and career-wise, we are actually developing," Sunghoon said of the group's most noticeable change. He added that he believes their tour also helps them develop their skills. "This year, we've been touring America and Japan, and next year, we'll be touring the Philippines and Thailand."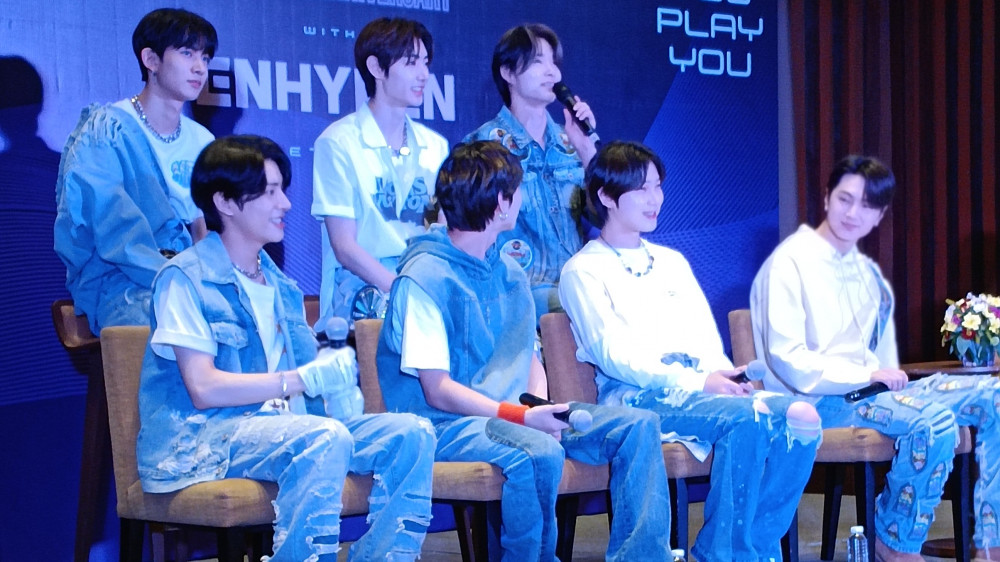 "Also, for our visuals, I think we're getting more handsome and good-looking as time goes on," Sunghoon added.
"I've said it before, but being an artist allows you to travel around the world, meet a lot of new people, a lot of fans, and be able to perform. That's something that I cherish and it's always so fun," Jake said, adding that being able to travel around the world is one of the best things about being an artist.
"Since we are from a reality show (the audition program), we are different in various ways, the way we sing, the way we do choreographies, and our attraction points are different, but when we actually go up on stage, we get together and become one in unit, and I think that's one of our strongest or biggest strengths as a group," Jungwon said.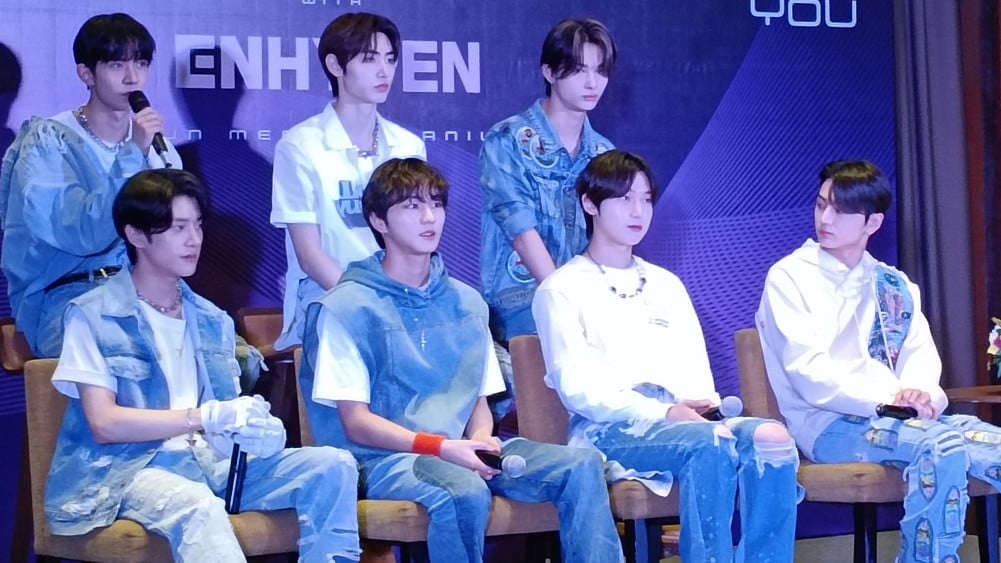 "We continuously try other styles so that the fans can discover new sides of ourselves and then can also be appreciated by the fans," Jay says, "so I think it's an assignment for us to explore different sounds and styles and keep on trying."
When asked who is their biggest musical influence, Sunoo answered, "I think, influence-wise and performance-wise, our role model and the biggest musical influence I could say is BTS and, of course, we, as a group, we're going to do our best and exert more effort to have that level of influence with our performances that we can show to the people and audience."

ENHYPEN's first fan meet in Manila was presented by BYS Cosmetics Philippines and Wilbros Live.