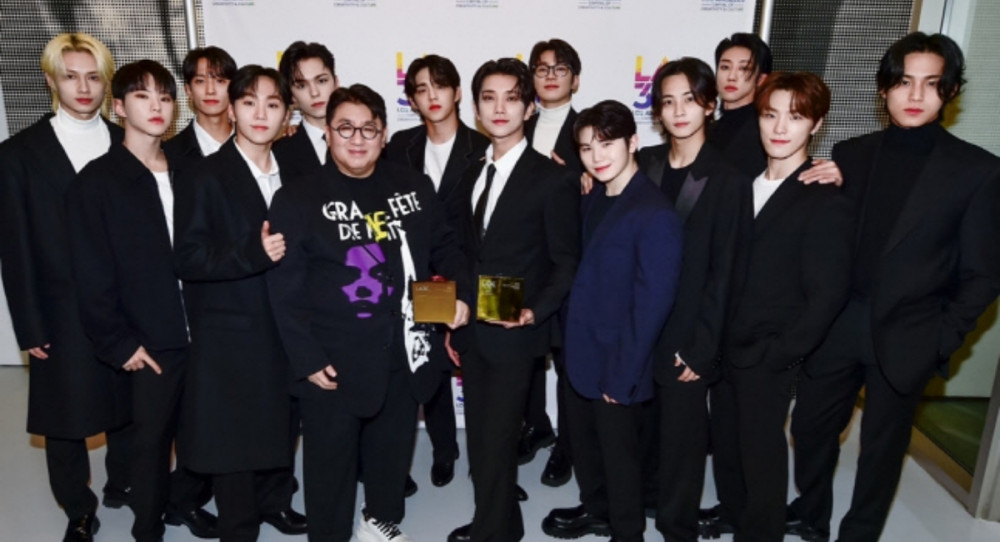 Bang Si Hyuk and Seventeen were recently recognized for their contribution to bridging the cultures between Korea, the rest of Asia, and the United States.

The HYBE chairman and Seventeen, who are among the label's representative boy groups, received the 'Building K-Culture Bridges: Culture Ambassador Award' at a ceremony held by LA3C event coordinators in Los Angeles's Hammer Museum on December 9 PST. The award was issued to recognize their contribution to bridging cultural exchanges between Asia and the United States through K-pop.

"Over the course of many months this year, we interacted with fans while performing on tour in various places, including Seoul, the United States, Canada, Southeast Asia, and Japan. We felt with our whole bodies that we were united [with these audiences] through music regardless of culture or language," the Seventeen members said as part of their acceptance speech. "We are happy and proud that Seventeen can also play a role in further expanding exchanges between various cultures."


Meanwhile, LA3C is a festival hosted by Penske Media Corporation, a media company that includes major American music outlets like Billboard and Rolling Stone. The festival is being held at the Los Angeles State Historic Park, with Seventeen having performed a one-hour main stage set on December 10. Other same-day headliners include Lil Baby, Snoop Dogg, Free Nationals, Kyle, and Shawn Wasabi.