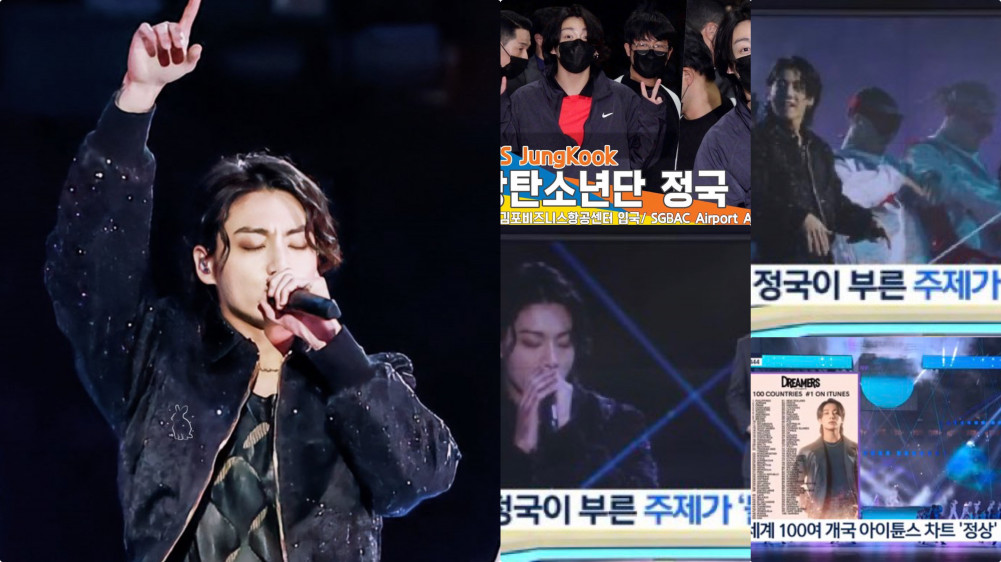 Jungkook's performance of "Dreamers" at the World Cup opening ceremony has gotten explosive media coverage in South Korea, with thousands of articles being written and all major news channels talking about his spectacular performance for the last 5 days.

Korean media expressed their amazement at Jungkook's incredible live performance and the historic milestone he achieved, calling him a "National Treasure" as he arrived back in Korea after his historic performance.

KBS news gave a rave review of Jungkook's performance of "Dreamers" and said it "Rediscovered him as a Solo artist and opened up new horizons for Kpop and the world to meet."


News channels highly praised Jungkook's world cup performance and huge success with 'Dreamers.' They remarked on Dreamers, saying it's gaining explosive popularity and topping all the main charts around the world.

Jungkook was trending highest in all Korean SNS platforms and search engines after his performance, as the whole country was buzzing about his World Cup opening.



KBS Cool FM Park Myung-soo all praised Jungkook on his radio show, 'Myung-soo's Choice' corner.


Jungkook was also praised in MBC's FM Standard and TBN radio show for his incredible performance.

Jungkook's song Dreamers was played by KBS before the game between South Korea and Uruguay to introduce their National Team.