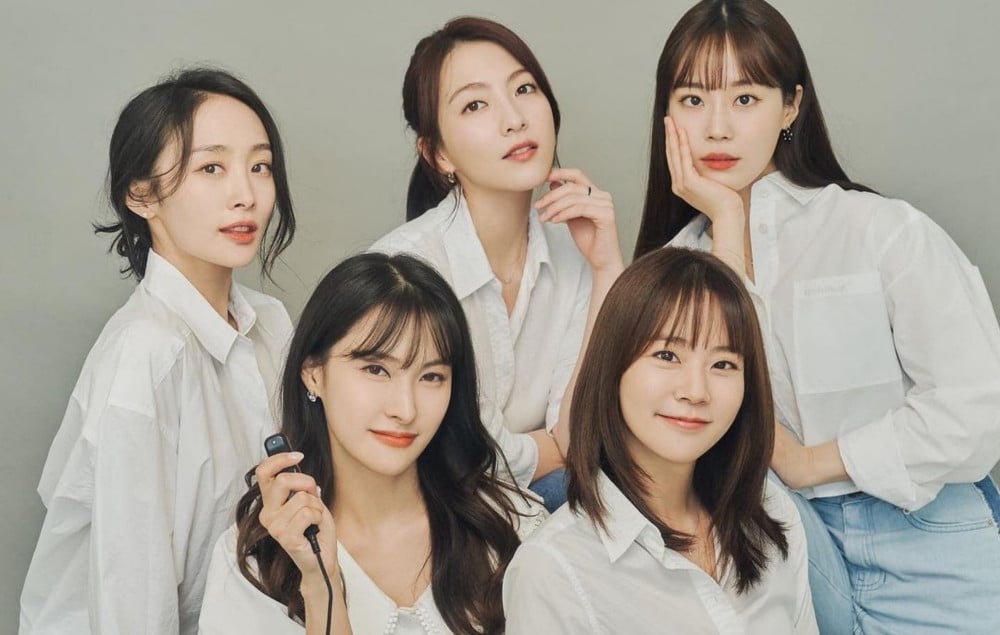 Second-generation girl group KARA recently made a comeback, celebrating their fifteenth anniversary. This came as a surprise to many fans, in a good way that the legendary second-generation girl group made this special return.
KARA officially disbanded back in 2015, and all members have been focusing on solo activities since then, so it was really lovely to see the group return. Kamilia and netizens are definitely happy, and today -- we want to pay tribute to this group by taking a trip down memory lane and reviewing their success! The path wasn't all too easy; the group definitely had its hurdles, but what is truly important is that they are remembered as legends today.
So sit back, and let's see what KARA paved the way as! Please note that this post only mentions Korean promotions.
2007 - Highly Anticipated Debut & First Album
KARA debuted as a four-member group in 2007, debuting from DSP Media. The debut was an effort to be the second Fin.K.L -- the agency's most successful group. Though the group was highly anticipated, the results of the first album were lackluster, and people simply didn't have much interest in the group. We can't say the album completely flopped, but the results were definitely mediocre at best.

The group even promoted b-side tracks in an effort to raise interest, but that, unfortunately, did not work. Their first album promotions ended pretty quietly amongst hot debuts, such as Wonder Girls & Girls Generation.
2008 - New Members & Pretty Girl
More than a year after their first album, KARA returned not with four members but with five members. Actually - original member and lead vocal Kim Seong Hee left the group for personal reasons, which was quite frankly a dangerous sign for KARA. In an effort to fill the role, DSP Media held open auditions for two new members, and those two members are our beloved Goo Hara & Kang Jiyoung. Both new members received plentiful attention as Goo Hara had the face of an angel, and Kang Jiyoung was only fourteen years old at the time of debut! They finally made their return with "Rock U," which was definitely better results than their first album, but something was still missing...
After finishing up their "Rock U" promotions, KARA immediately prepared a winter comeback and returned with "Pretty Girl," which became a huge hit in South Korea. The cute girl concept finally worked, and KARA began receiving major attention from the Korean public! They were able to wrap up 2008 successfully with the "Pretty Girl" syndrome!
2009 - First #1 Win & Mister
KARA did not stop in 2009. After "Pretty Girl," the group returned with their follow-up single "Honey," which earned them their first #1 win!
After a six-month break, KARA returned with their second full-length album, which also became known to be revolutionary. They returned with "Wanna," but ended up changing their route and promoting "Mister" two weeks into promotion instead because "Mister" was just receiving explosive responses. The butt dance for this song was THE dance of Korea at that time, and many people still remember KARA to this day for "Mister!"

2010 - Lupin & Jumping
KARA was only growing from here as they made their return in the Spring of 2010 with "Lupin." This return was a more fierce concept from the previous concepts they've done, and though it was a massive shift in concept, the result was successful. Everyone was doing the "Lupin" dance.

2010 was a meaningful year for KARA as they promoted not only in Korea but also saw extreme success in Japan as well. They were charting better than Girls Generation and pretty much any other girl group at the time. They were the true queens of the Hallyu Wave at the time. The girls didn't leave their Korean fans hanging as they returned with "JUMPING" in November 2010 and saw huge success during those promotions as well.

2011 - Disbandment??? NOT & STEP
2011 was a shaky year for KARA as rumors of possible disbandment were surfacing due to tension with DSP. However, the girls pulled it through and ultimately did not disband. They returned once again with another big HIT, "STEP." Fans thought this album was especially more meaningful as it was a song with hope and positivity after a time of uncertainty and distress

2012 - PANDORA
The girls began the pattern of releasing an album yearly as members began to focus more on solo promotions. They returned with "PANDORA" in the fall of 2012 and even as veterans in the k-pop scene, the song performed extremely well, showing their mature side.

2013 - Damaged Lady & Departure of Nicole + Jiyoung
2013 was a meaningful year for KARA and Kamelia as the contracts for Nicole & Kang Jiyoung expired in 2013. It was only two years ago when this group had rumors of possible disbandment, and the conversation was brought up again when these girls decided that they would NOT be renewing their contract. They moved forward to release the last album as a five-member group, and Kamilia was definitely sad that it would be the last time to see Nicole and Jiyoung as part of KARA. The song and album itself slayed, and it is still a bop to this day!

2014 - Youngji + Mamma Mia
In the midst of uncertainty, DSP once again decided that they would hold open auditions for KARA's newest member. Instead of searching for two, they decided to choose only one, and Heo Youngji ended up joining the group! Fans were very worried that the group would disband, but DSP's strategy to add a member gave fans hope. The ladies returned with "Mamma Mia" in the fall of 2014, and the song portrayed yet another mature side of KARA.

2015 - CUPID
Less than a year later, KARA began promoting what would be known as the last official album before disbandment. They returned in the spring with "CUPID." The song didn't see as much success as their previous albums, but it was still a great track to listen to! Gyuri, Seungyeon, and Hara ended up not renewing their contract in 2016, leading to a natural disbandment in 2016.

Former members Nicole & Jiyoung, along with Gyuri, Seungyeon & Youngji, reunited as a five-member group -- but can't forget about Hara, who will be promoting in spirit. Kamilia and fans are extremely excited about their return, and we're so happy to see KARA's legacy live on onto this day.
What are your thoughts on this comeback? What is your favorite KARA song? Which year was the most legendary year for them, in your opinion? Make sure to let us know in the comments below!