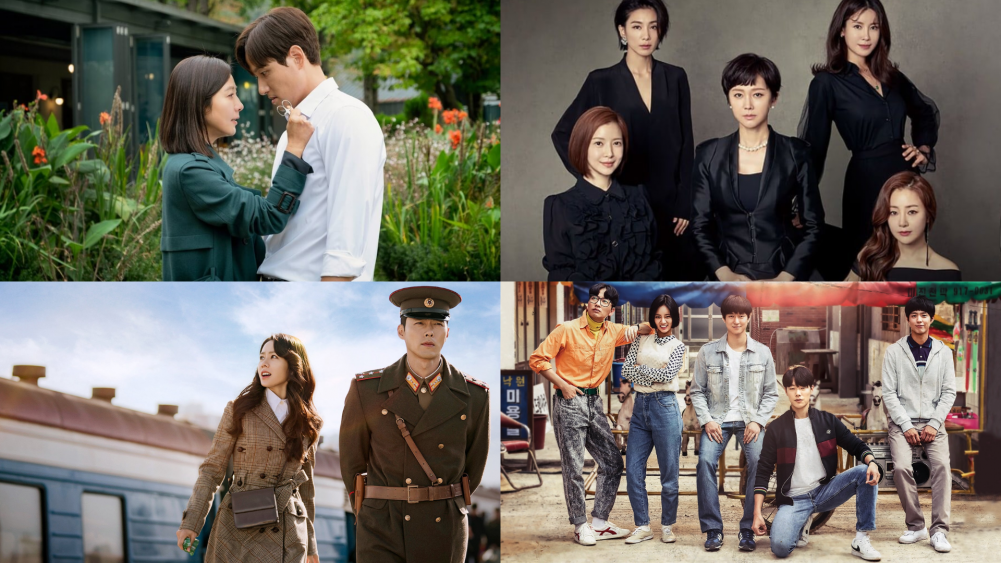 There are various indicators of an amazing K-Drama, from substantial domestic and international support, their star-studded cast who showcase a fantastic portrayal, applauded plot and direction, sometimes due to awards and recognitions from various award-giving bodies, and even recognitions from professionals and critics in the drama industry.
Aside from these, it is no secret that viewership ratings have become a way to measure a K-Drama's success, measuring the popularity of a program based on quantitative numbers of how many audiences watched. Some K-Drama viewers also recognize the importance of viewership, sometimes becoming a basis of whether they will be tuning in to the drama. However, due to the changing media landscape and the increased streaming and over-the-top (OTT) platforms, many viewers watch through these channels instead for convenience.
With all of these circumstances, it is more than impressive for dramas to gain vast live viewership despite other streaming options, even more among K-Dramas aired on cable channels. Airing on a cable channel/pay TV implies that they normally have a relatively smaller audience compared to free-to-air TV/public broadcasters (KBS, SBS, MBC, and EBS).
Here are the top ten K-Dramas in order based on the nationwide household rating from Nielsen Korea!
1. "The World of the Married" (28.371%)
Coming on top is the 2020 South Korean television series, and a remake of the British series "Doctor Foster" is "The World of Married." The plot revolves around Ji Seon U (Kim Hee Ae), a renowned family doctor and associate director who is married to promising director Lee Tae Oh (Park Hae Joon), with whom she has a son. Her life is terrific and perfect until she learns and discovers that Tae Oh is having an affair with another woman named Yeo Da Kyung (Han So Hee). Upon learning about the affair alongside many issues that unraveled alongside the issue, the betrayal of one another leads to a whirlwind of revenge, grief, forgiveness, and healing. Although the series was criticized for its portrayal of sex and violence, it also received critical acclaim for its screenplay, direction, and acting performances, such as the Best Director Award and Best Actress Award at the prestigious 56th Baeksang Arts Awards.
2. "Sky Castle" (23.779%)
"Sky Castle" is a satirical television program that examines the materialistic goals of upper-class parents in South Korea and the harsh measures they take to ensure their families' prosperity at the expense of other people's lives. The drama centers on the lives of housewives who live in the affluent neighborhood of SKY Castle in suburban Seoul, where affluent professors and physicians also reside. The wives, Han Seo Jin (Yum Jung Ah), No Seung Hye (Yoon Se Ah), Jin Jin Hee (Oh Na Ra), and Lee Soo Im (Lee Tae Ran), will use every necessary measure to increase their husbands' achievements and raise their kids to be excellent scholars with the help of various people such as Kim Joo Young (Kim Seo Hyung), a coordinator with a one hundred percent success rate, to be admitted to the best colleges.

3. "Crash Landing on You" (21.683%)
The hit drama "Crash Landing on You" tells the story of chaebol heiress Yoon Se Ri (Son Ye Jin), a successful businesswoman from South Korea. While paragliding close to the North Korean border, she is caught in an unexpected storm and crashes in the North Korean sector of the Demilitarized Zone (DMZ). There, she meets Captain Ri Jeong Hyeok (Hyun Bin), Captain of Company Five in the Korean People's Army and the son of the Director of the GBP in the Korean People's Army. Regardless of their nations' differences and disagreements, they eventually fall in love with each other.

4. "Reply 1988" (18.803%)
"Reply 1988" is the third installment of tvN's Reply series and received both critical and audience acclaim with its finale episode recording an 18.8% nationwide audience share, making it the fourth highest rated drama in Korean cable television history and highest rated television drama at the time of airing. It starts in 1988 and centers on five friends, Sung Duk Seon (Lee Hye Ri), Kim Jung Hwan (Ryu Joon Yeol), Sung Sun Woo (Go Kyung Pyo), Choi Taek (Park Bo Gum), Ryu Dong Ryong (Lee Dong Hwi) and their families who live in the same Ssangmun-dong neighborhood in the Dobong District in Northern Seoul.
5. "Guardian: The Lonely and Great God" (18.680%)
The young King frames Kim Shin (Gong Yoo), a decorated military officer from the Goryeo Dynasty, as a traitor and executes him. He is sentenced by the Almighty to remain immortal forever, years after his death. He transforms into an eternal goblin who, despite his painful history, is a compassionate man who uses his powers to assist others. The only person who can terminate his agonizing immortality is the Goblin's bride, whose assistance in drawing the sword will do so. Despite her unfortunate life, Ji Eun Tak (Kim Go Eun) is a lively girl who never loses her optimism. By chance or fate, she calls the Goblin, and their fortunes start to intertwine.

6. "Mr. Sunshine" (18.129%)
The series centers on activists battling for Korea's independence and is set in Hanseong (modern-day Seoul) in the early 1900s. Eugene Choi (Lee Byung Hun), who was born a slave in Joseon, serves as the protagonist of "Mr. Sunshine." He joins the Marine Corps after fleeing to America following the Shinmiyangyo of 1871. Eugene encounters and develops a romance with an aristocrat's granddaughter, Go Ae Shin (Kim Tae Ri), who is a member of the Righteous Army, when he travels back to Joseon for a mission. Their social differences and the presence of Kim Hui Seong (Byun Yo Han), a nobleman who has been betrothed to Ae Shin's since childhood, present a challenge to their love. A vicious samurai named Goo Dong Mae (Yoo Yeon Seok) and Kudo Hina (Kim Min Jung), the proprietor of the well-known "Glory Hotel," are among the other characters that Eugene meets. Meanwhile, he learns of a plan by the Empire of Japan to invade Korea and is soon drawn into the conflict over Joseon's independence.
7. "Extraordinary Attorney Woo" (17.534%)
The story centers on Woo Young-woo (Park Eun Bin), a young lawyer with autism spectrum disorder (ASD) who is employed by a prestigious Seoul law firm. Her communication style is perceived by her neurotypical friends as being strange, uncomfortable, and blunt because it differs from their own. She becomes a more capable lawyer with each legal case thanks to her brilliance and photographic memory. Dong Geu Ra Mi (Joo Hyun Young), an unusual girl who defends herself from bullies at school, is the only friend she has ever had in school as she grows up. However, as the story progresses, a lot of the characters she meets, including her supervising attorney Jung Myung Seok (Kang Ki Young), her law school classmate and peer Choi Su Yeon (Ha Yoon Kyung), and legal assistance employee Lee Jun Ho (Kang Tae Oh) helps her along the way.
8. "Mr. Queen" (17.371%)
"Mr. Queen" is about Queen Cheorin finding herself with the soul of a modern-day man inside her body and King Cheoljong striving to be a king who helps his people. Jang Bong Hwan (Choi Jin Hyuk) is a chef who works at the Blue House in the present era. He is a free spirit, but one day he wakes up in the Joseon era in the form of Queen Cheorin (Shin Hye Sun). The current King, King Cheoljong (Kim Jung Hyun), is a kind and laid-back individual. He is the titular monarch, but in reality, Queen Sunwon (Bae Jong Ok), the late King Sunjo's widow, who has reduced Cheoljong to a ceremonial role, holds actual authority. Queen Cheorin quickly learns that the King is not who he seems to be and that he has a dark and suspicious side.
9. "Love (ft. Marriage and Divorce) 2" (16.582%)
Yet another drama with a controversial plot, the second season of "Love (ft. Marriage and Divorce)" ranks tenth in the ratings. The story revolves around three marriages that are on the verge of failing, and some are almost ruined because of lies and affairs. Although Song Won (Lee Min Young) is carrying Pan Sa Hyun's (Sung Hoon) child because of their affair, Boo Hye Ryung (Lee Ga Ryeong) is still committed to their marriage despite Sa Hyun's infidelity. His parents start to have a more favorable opinion of Song Won. Shin Yu Shin (Lee Tae Kon) keeps up his illicit relationship with A Mi (Song Ji In) while feigning to be devoted to his spouse Sa Pi Young (Park Jo Mi). His charade soon starts to fall apart as his stepmother Kim Dong Mi (Kim Bo Yeon), hovers in the background. Park Ha Ryun (Jeon No Min) has left his wife, Lee Si Eun (Jeon Soo Kyeong), and his children for his mistress Nam Ga Bin (Lim Hye Young).

10. "Itaewon Class" (16.548%)
"Itaewon Class" revolves around the story of Park Sae Ro Yi (Park Seo Joon), who attempted to assassinate Jang Geun Won (Ahn Bo Hyun), the son of Jangga Group's founder, Jang Dae Hee (Yoo Jae Myung), after an accident that claimed the life of his father. Oh Soo Ah (Kwon Na Ra), the woman he loved, was granted a scholarship to a university by Jang Dae Hee and eventually rose to the position of Strategic Planning Head at Jangga Group while he was imprisoned. DanBam, a bar-restaurant, is opened by Park Sae Ro Yi in Itaewon following his release from prison. He wants to succeed and wants to exact revenge on Jangga Group by expanding DanBam into a franchise. However, he struggles to manage his restaurant. Then he runs into Jo Yi Seo (Kim Da Mi), a multi-talented and intelligent girl with an IQ of 162 who offers to be the manager of DanBam.
Which among these above-listed dramas is your favorite show? There are also many other cable dramas and shows which performed well in terms of their viewership ratings, so you can continue watching and exploring other shows!