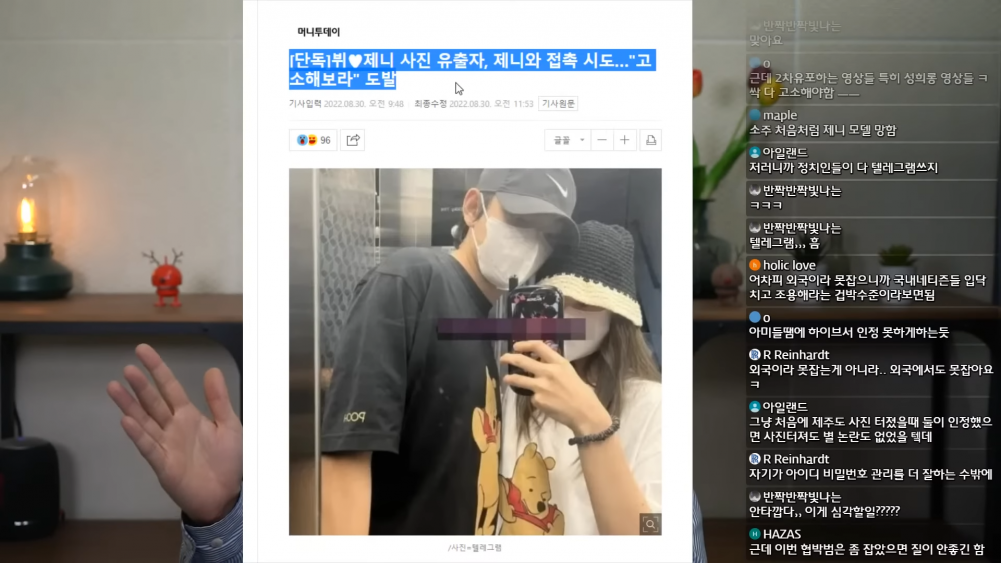 [User Post]
Even though YG Entertainment requested a police investigation into the person responsible for the initial distribution of Jennie's personal images, experts believe there is very little chance of the perpetrator being apprehended.
On October 3, Lee Jin-ho, a former entertainment journalist and YouTuber, quoted a cybersecurity expert (white hacker) and predicted that "it is virtually impossible to catch a person on Telegram."
The reporter said, "I checked with an expert (about the possibility of arrest), and a fairly skeptical answer came back."
He continued, "The problem is that this platform has never handed over data to a domestic investigative agency. Even in the case of of the infamous Room N, they didn't give any data to the investigation agency."
Lee Jin-ho also said that even with the cooperation of Telegram, the possibility of arrest is low. He explained, "In the past, you could sign up for Telegram by email. If the distributor signed up with a Google email, they would have to ask for cooperation from Google. These two companies are never ones to give out personal information."
On the same day, the leaker also appeared to consider the likelihood of their arrest to be minimal and sent YG Entertainment a provocative message. The leaker wrote on Telegram, 'Not in jail' and "I will deactivate Telegram until the company files a lawsuit against me," "It was very quick." The leaker recognizes how unlikely it is that they will be discovered, which may explain why they have such an arrogant and self-assured demeanor. But there is also the possibility that the leaker may sincerely believe that they did not break any laws. Since YG did not mention the presence of hacking, fake photos, blackmail, or extortion, it can be assumed that the leaker did not commit such serious crimes. Furthermore, sharing a photo that a person placed on social media themselves is not illegal in many countries. With fans looking at Jennie's behavior, many believe the photos weren't hacked but rather leaked from her private Instagram account. So the provocative behavior could be explained by the fact that the leaker probably thinks that he/she will not receive serious punishment.