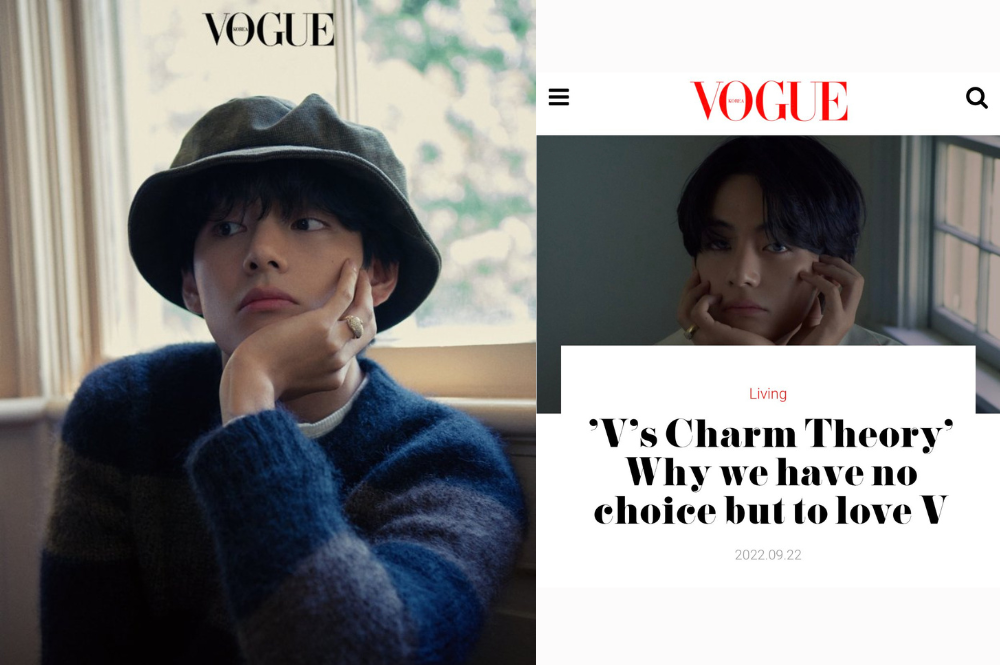 On September 22, Vogue Korea released a special feature article about Kim Taehyung, aka V of BTS, who will grace their October issue as their cover model.
In "'V's Charm Theory,' Why we have no choice but to love V," Vogue Korea writes a comprehensive article on Taehyung's records, appeal, demand, and the promising future ahead of him.
While K-pop idols are typically required to maintain a cheerful relationship with fans, Taehyung deviates from the norm by sharing his frustrations and unpleasant experiences. He also openly says "No" to fans as a close friend would.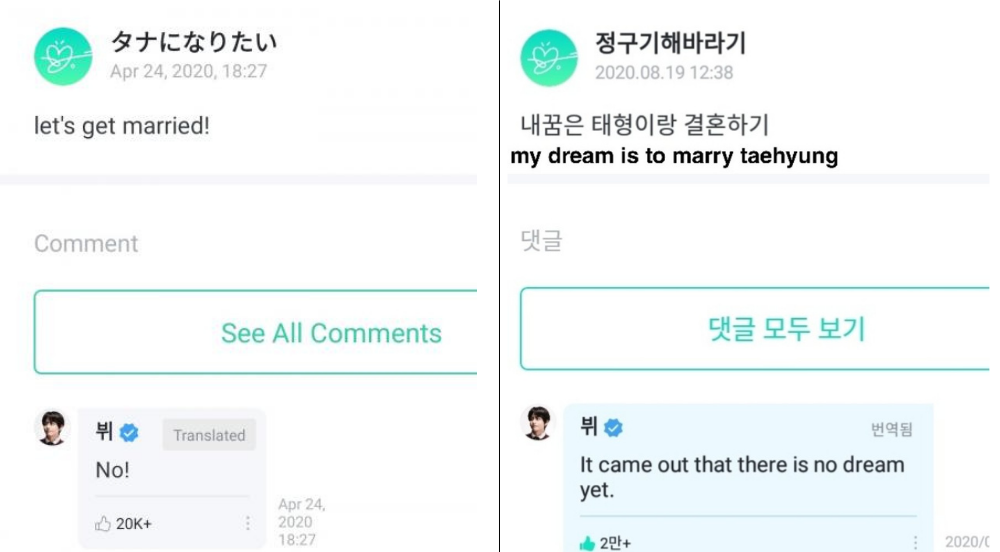 Taehyung also sets clear boundaries with fans, calling them his 'best friends' instead of feeding into the pseudo-boyfriend-girlfriend relationship that is practiced by many.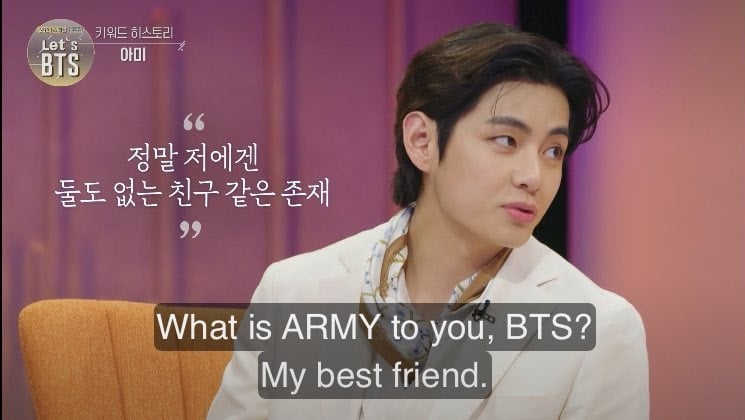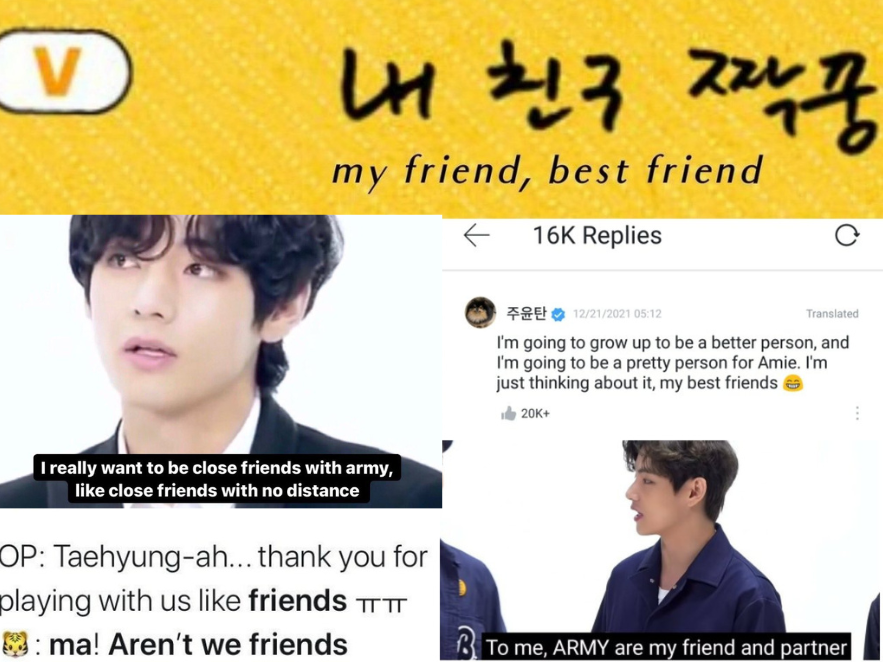 While his frankness with fans is refreshing, it has also been used by jealous people to spread false narratives about him. But strength is built through adversity, and those controversies have simply solidified the bond between him and his fans.

Vogue Korea addresses the issue and explains how Taehyung's approach is simply the result of him treating fans as real people rather than consumers.
In his long 10-year career in the K-pop industry, every professional who has worked with Taehyung has nothing but good things to say. This is a true testament to his positive character.
He has also earned the title of the 'Communication King' for his friendliness and ability to connect with people he encounters in various fields of work.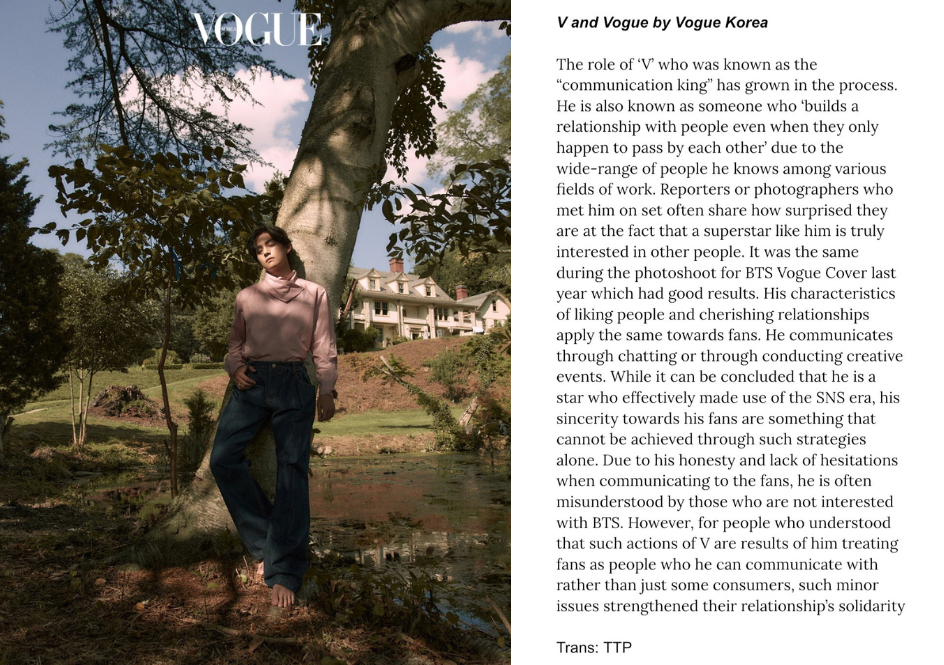 Also highlighted is Taehyung's innocent and soft-spoken personality, which is a stark contrast to the seductive and powerful personality he exudes in his professional career.
His strong duality has become one of his most loved characteristics among fans.
Some of his records were also listed, including being the most-searched Asian on Google, breaking the record of fastest 50 million followers on Instagram, being the first K-pop artist to surpass 10 million views on Wikipedia, and having the highest advertising brand value.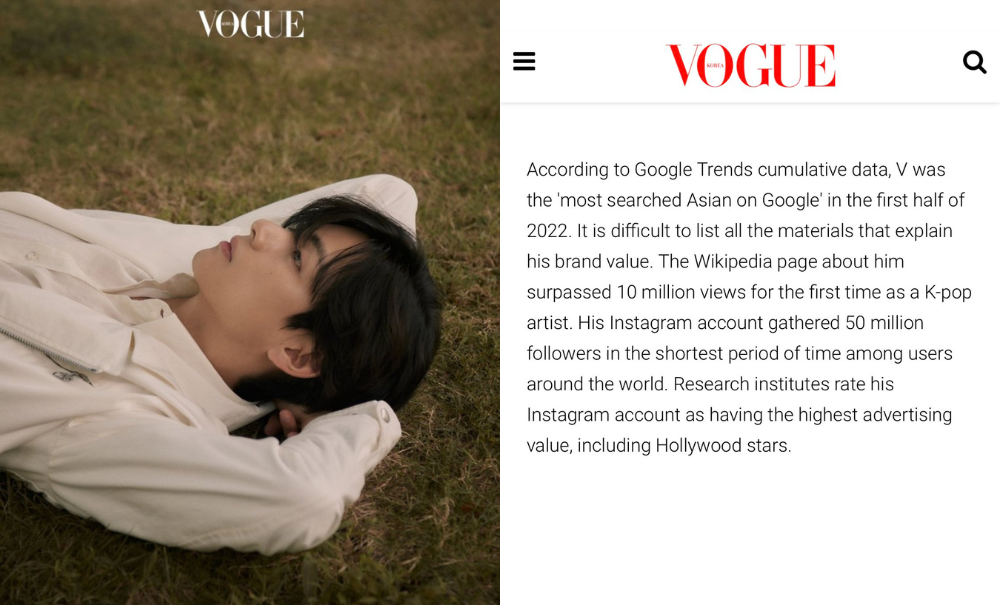 Taehyung's range and versatility as a performer were also discussed. While he excels at intense choreographies, his effortless charm also shines in more relaxed performances, as is the case with songs like "Boy with Luv."
Regarding songs, Taehyung prefers writing timeless classics that will outlive the fast-paced, changing trends in the music industry. We've seen hints of his writing style in songs like "Snow Flower," a warm, winter vibe with a retro jazz sound that will never go out of style.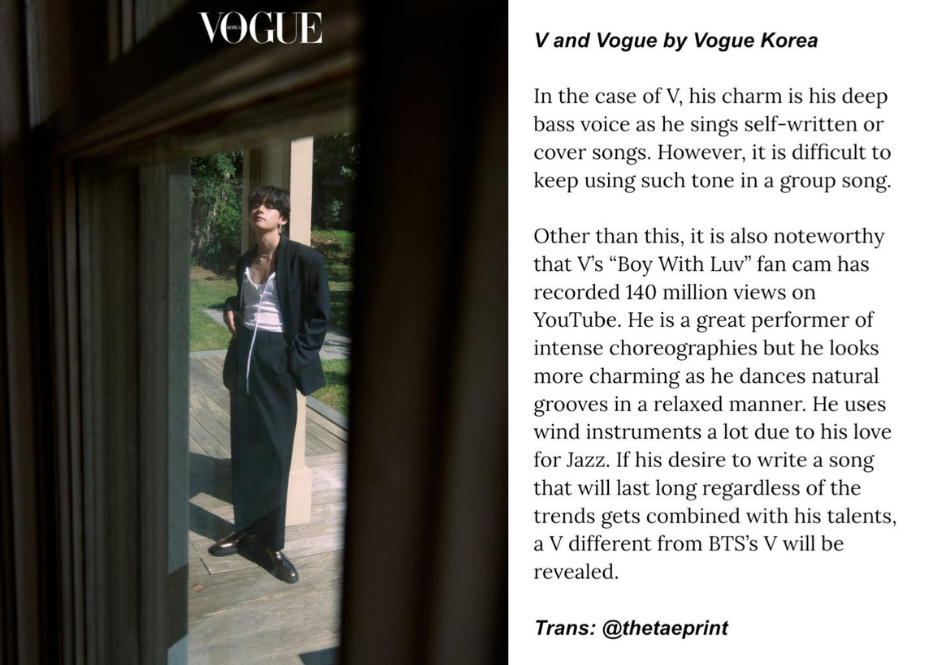 Vogue Korea also talks about Taehyung's huge demand in various industries, from being offered acting roles for years to being sought after by many brands.
Taehyung previously discussed the personal sacrifices he made for the group. "I had to give myself up for the team," he shared at the 2022 BTS Festa.


While solo projects were prohibited under BigHit's old rules, the second chapter allows him to accept opportunities and pursue new career paths he could not in the past.
Vogue Korea ends the article on a solid note, hinting at Taehyung's upcoming career leap as a soloist, "It's time to watch the debut of a new artist and style icon V, not BTS V."

Read the full interview in English here: