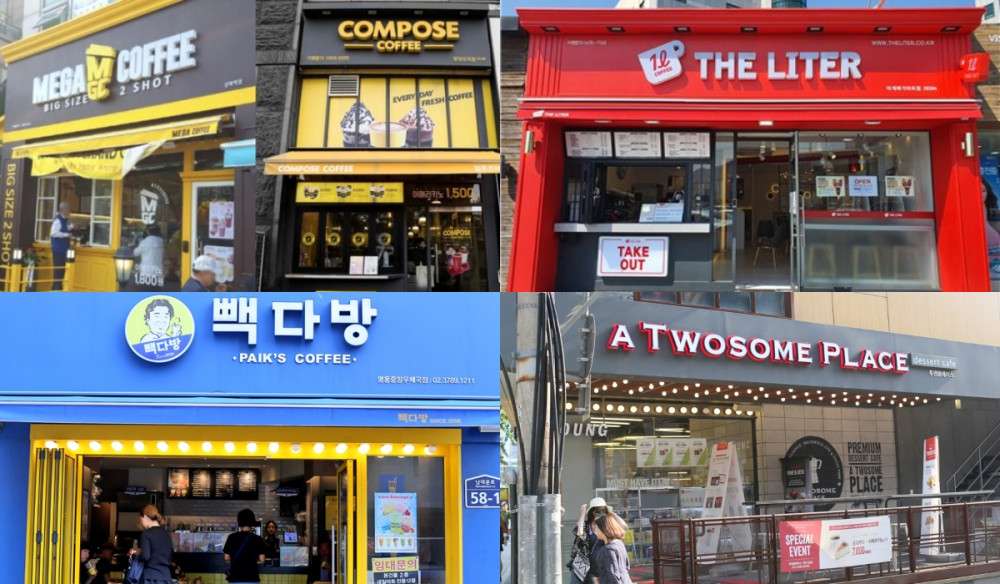 An average of 35 new cafes are opening daily in South Korea, according to a new report by major news outlet Chosun Ilbo.
The article, which was published on September 3 KST, revealed a national economic trend of cafes opening around the country at a record pace. The outlet surmises that this is due to skyrocketing demand for take-out caused by the pandemic – especially as the increase in cafes is mostly around chain cafes that are popular for their quick and cheap take-out service. Among the most spread out of these cheaper take-out focused chains include Ediya Coffee (~3,000 cafes), Mega Coffee (~2,000 cafes), Compose Coffee (~1,720 cafes), Paik's Coffee (~1,100 cafes), and The Venti (~1,000 cafes).
Another reason for the boom is that opening a cafe is a popular investment option among the self-employed as it is relatively low-cost to start and can start operating in roughly a month. However, this can lead to two cafes of the same exact cafe chain being located within 100 meters of one another, causing an issue of falling sales as closely located franchise owners of the same brand are in more direct competition with one another than those of others.

According to the South Korea National Tax Service, there were a total of 90,463 coffee and beverage outlets nationwide as of June – 795 more than the previous month and 12,920 more than June 2021. This means that, on average, 35 cafes have opened a day across the country for the past year. Another alarming finding was that the number of cafes is exceeding 90,000 for the first time nationally – meaning that there are more than 40,000 more cafes in the nation than there are convenience stores (of which there are currently 50,415).
Currently, there are no restrictions in place to keep the cafe boom from growing. Previously, in 2012, the Fair Trade Commission introduced a 500-meter distance limit on franchise coffee shops, but it was abolished after two years due to criticism that it excessively restricted corporate activities. However, the Chosun Ilbo report predicts that various factors – including competitive marketing, rising product costs, and a franchise's unrestricted opening of the same cafe – may ultimately lull the trend.