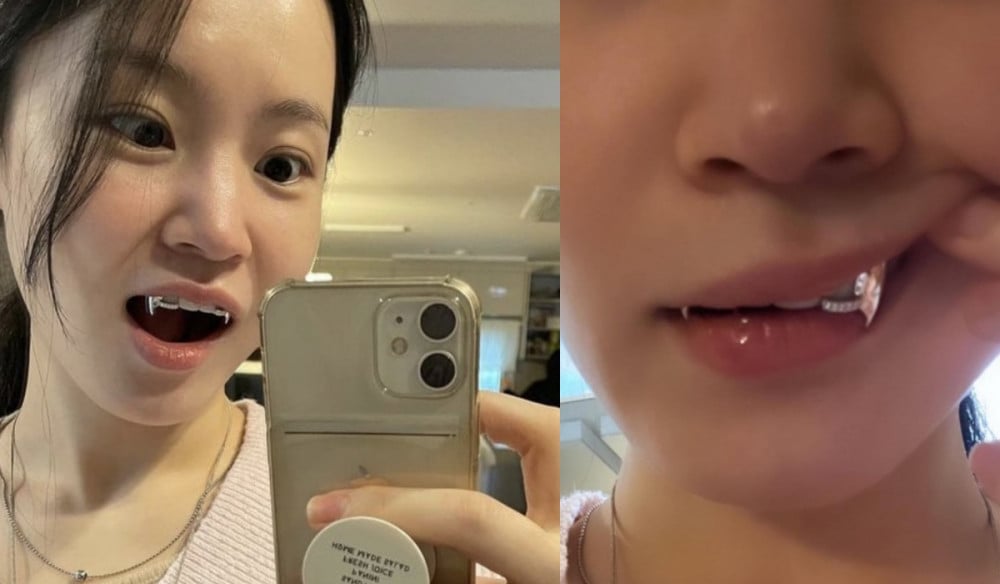 Lee Hi is ready for a new pair of grillz!
On September 4 KST, the R&B singer took to her Twitter account to ask fans for their opinion, writing in Korean, "I want to make another pair of grillz. Is there someone with a good idea? 🦷" before continuing in English, "I want to make my another grillz! Do you have any good ideas? 😮"
This past March, Lee Hi revealed her first set of grillz to her fans through a post in her personal Instagram, sharing a number of photos of herself including two where she is wearing vampire fang strip grillz. The new accessory was instantly picked up her followers, who left comments ranging from "Interesting mouthwear" to "Those grillz are freaking cool."
The new tweet has accrued suggestions from domestic and international fans, responding with various photos of grillz styles and one fan even suggesting she try a 'nose grill' worn by rapper Sokodomo during his recent RAPBEAT Festival set. Some suggestions left on the tweet include, "I think small and cute grillz would be good, but is there a pair you already like?," "What do you think about vampire grillz? Because Halloween is coming soon!," "You should make one, but make it cute and unique," "I think your name 'Hi' would be good. Or a star?," and "Rose gold with 'Hayi' on it."
Meanwhile, earlier this summer, Lee Hi was named among the top 30 most-followed Korean solo artists on Spotify, ranking at #24.