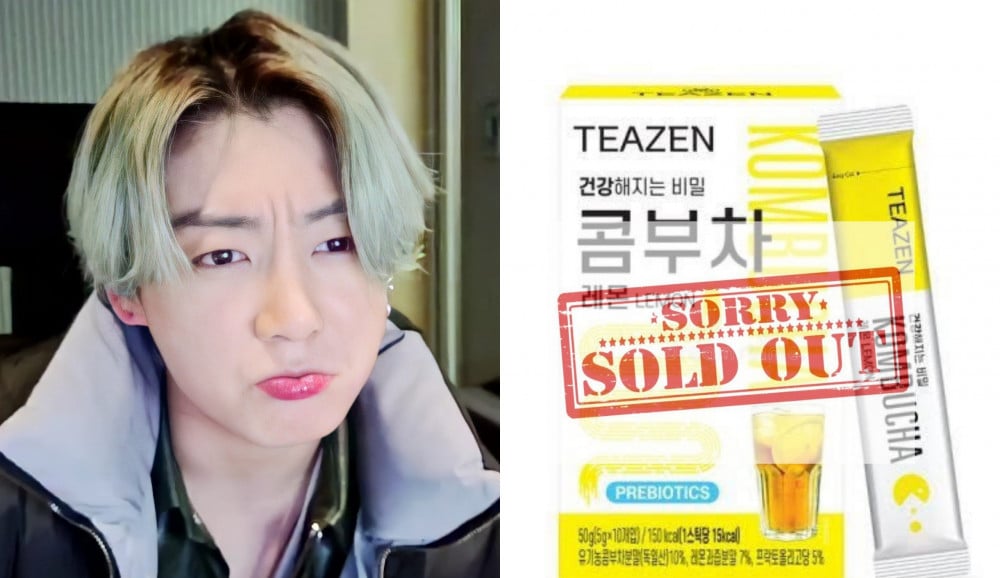 Being a member of the world's biggest boy band is bound to bring attention to whatever they do, wear, and eat. BTS is always leading fans to flock to restaurants, locations, and also fashion stores to get their hands on the products that were seen or used by the boys. But out of all members, Jungkook stands out as there are several instances where the things that he has utilized became sold out within a couple of hours. Here are five (affordable and cost-friendly) products recommended by the fellow king of sell outs! Hopefully, you can get your hands on some!
1. TEAZEN's Kombucha drink: Seen via a VLIVE, the star was seen drinking the lemonade flavor. Having multiple health benefits, this product is produced with live lactic acid bacteria, which contains antioxidants that your body will benefit from.
2. DOWNY Laundry Detergent: This was the start of the sellouts; upon mentioning the name of his favorite laundry detergent in a fan chant with ARMYs, two months' worth of Downy's supply sold out within a couple of hours! Even earning himself the nickname "Laundry Fairy."
3. Nivea Lip Balm: As we know how sensitive Jungkook is to scents, it's no surprise that the products he also uses tend to also smell extremely nice. In a behind-the-scenes video, the member was seen using Nivea's fruity shine in peach to keep his lips hydrated!
4. TruMoo Chocolate Milk: Also known to be quite the foodie, Jungkook was also seen in behind-the-scenes footage chugging down a bottle of TruMoo's chocolate milk; you can never go wrong with a childhood classic!
5. WANGTA's Dr. Baek Toothbrush 688: Known to have one of the softest bristles a toothbrush can have, fans can see why Jungkook fell in love with this toothbrush! Not only that, but the cost of the toothbrush also is on the friendlier side!
It's great to be able to see someone so well-known using cost-effective products, as many fans are not able to afford more of the luxury products that stars often have or use! Plus, these are all great recommendations for your own skincare, health care, and lifestyle!