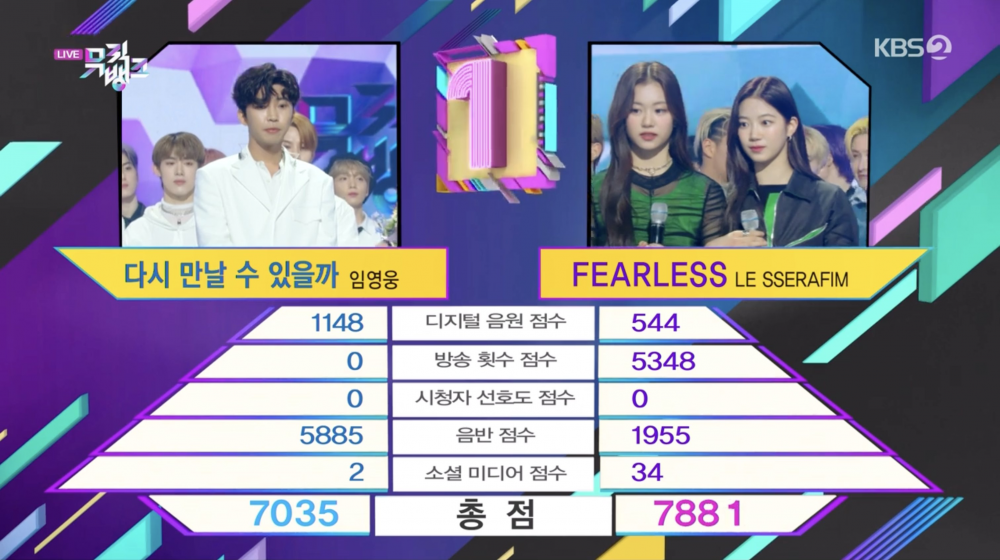 The production team of KBS2's music program 'Music Bank' has been formally charged on manipulating chart scores pertaining to the broadcast when Lim Young Woong and LE SSERAFIM were battling for first place. Back in May, it was reported that police began an investigation into KBS2 for giving Lim Young Woong '0' broadcast points on 'Music Bank.'
Previously, the police had conducted an internal investigation (investigation before arrest) with a KBS official as a reference. It is reported that KBS submitted materials related to the scoring criteria for broadcasting scores of 'Music Bank' to the police.

Lim Young Woong appeared on 'Music Bank,' which aired on May 13, and was nominated for 1st place together with group LE SSERAFIM. Lim Young Woong Lim received a higher score than LE SSERAFIM in the digital music score and overall music score, but got 0 in the number of broadcast points (broadcast score) and ended up in second place with 7,035 points, behind LE SSERAFIM, who recorded a total score of 7,881 points.

Netizens pointed out and speculated that KBS was abusing its power against Lim Young Woong. Many individuals demanded KBS disclose the method of counting their broadcast score.

When KBS explained its scoring standard, the controversy heightened. KBS explained that Lim Young Woong's song did not broadcast on KBS TV, radio, or digital content. However, fans found that Lim Young Woong's new song "If We Ever Meet Again" did, in fact, air on KBS radio shows.