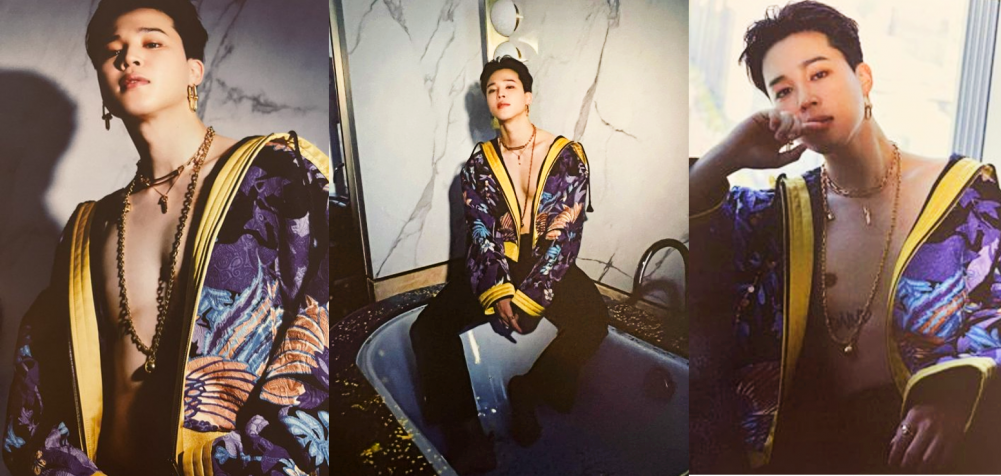 Jimin attracts attention to himself and stands out for his unparalleled vocal and dancing skills, and also for his impeccable beauty. He especially stands out for how his body contrasts with his facial features, whereby he has a well-built sexy body with perfect proportions making him look like a supermodel, while his face has soft and delicate features with extremely beautiful and clear skin. Any image of him is always a visual feast for anyone, and this is exactly what happened when his photo scans from the BTS Merch box #8 photobook were released.
These were the same photos from the photoshoot he had during his Weverse magazine interview where he talked of his subsequent career chapter, saying that he would like to put out something more "mature, explicit and raw about himself."
The photobook images had fans gasping for air because of how handsome and ethereal he looked. In fact, he even ended up being mentioned among the "male celebrities whose sexy chest muscles are heating up the summer," as compiled by Korean media last month.
Just as it was at the time of the release of the interview and the photobook, the release of the scans on August 15 from the same photobook elicited the same kind of reaction from fans. They could not contain their emotions looking at how breathtakingly handsome he looked in the scans, and as they showered him with praises, admiration, and compliments, Jimin entered the worldwide trends and quickly ascended to the top. He became a hot topic in different corners of the world in an instant because of his unmatched visuals.
Here are some of the fan reactions to the scans.
On seeing such content and how Jimin spoke about his direction for the future as he begins his solo career, fans are highly anxious and excited to see the kind of content or concepts he will take on in the future, both musically and visually.