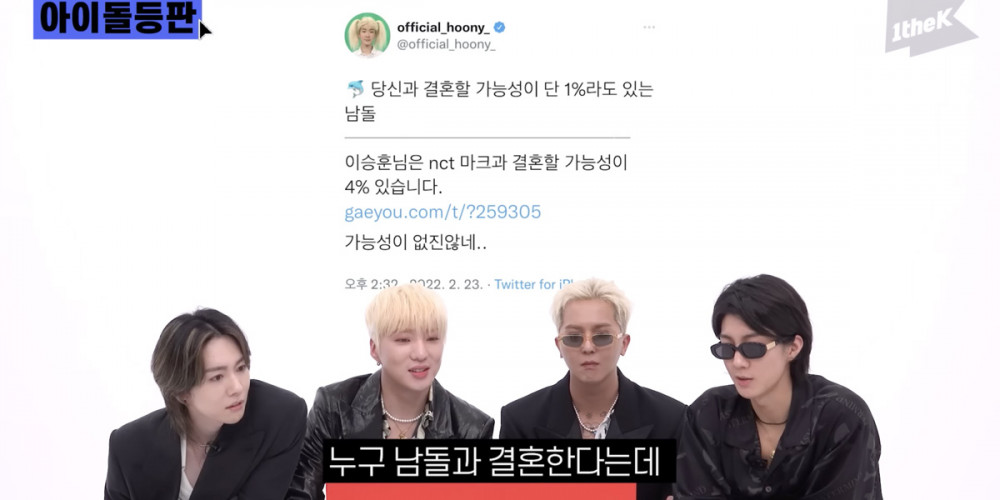 On July 7, WINNER appeared as guests on 1theK's 'IDDP'!
While searching up various online content related to WINNER, the members came across one of member Lee Seung Hoon's viral Twitter posts, where he shared the results of a marriage quiz. According to the quiz, which determined which male K-Pop idol you might have a chance of marrying, Lee Seung Hoon had a 4% chance of marrying NCT's Mark.
Regarding the incident, Lee Seung Hoon explained to his fellow members, "So this is what happened with this post. It was a personality quiz on Twitter, about which male idol you might marry. And I took the quiz, and got Mark, so I just posted it on Twitter. I had no idea that it was going to create such a big wavelength. It was more along the lines of, 'Oh, I tried it for fun because the fans were doing it'. But then, Mark himself also heard about it."
The PD of 'IDDP' then asked Seung Hoon, "What do you think of NCT's Mark?"
Here, Seung Hoon replied, "I personally do have amicable feelings toward Mark. But obviously, I do not have any plans to marry him. For now, at least."
Hearing this, fellow member Song Min Ho commented, "Are you really considering this that seriously?", while Kang Seung Yoon observed, "Well it said that there is a 4% chance."
Lee Seung Hoon then added on, "At this point, I would like to at least meet Mark in person. I think I need to at least have a conversation with him. How can I like a person only based on their looks? Can you marry a person just because they are good at dancing? Or singing? No, you have to talk to them and get to know them, and then you can decide gradually if that person is suitable for marriage."
Here is NCT member Mark's reaction when he found out about the Tweet earlier this year:
Make sure to check out the full episode of WINNER on 'IDDP'!