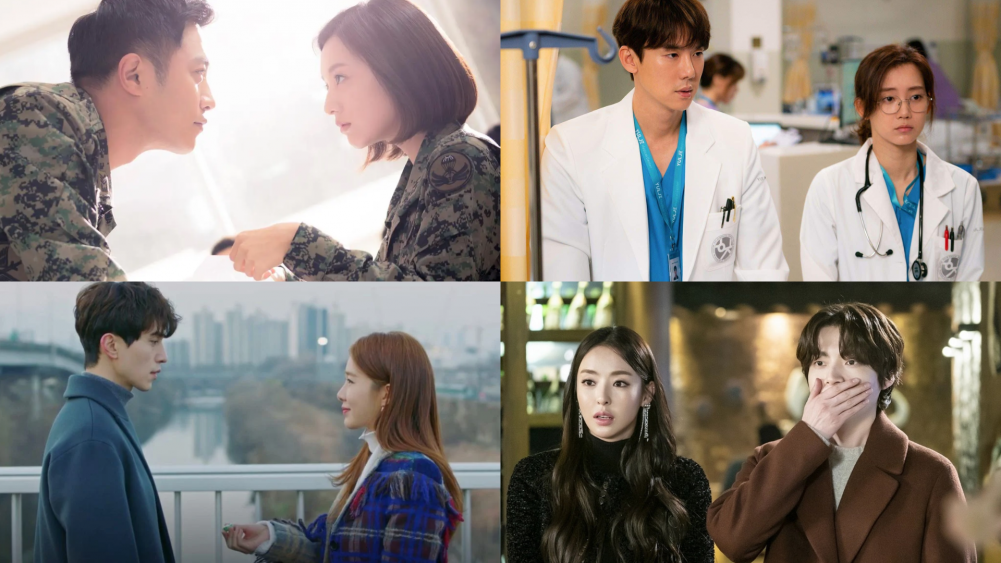 The main lead couple's romance in Korean dramas is always the center of the unfolding plot of the series, usually the first and foremost reason why most viewers tune in to the drama. These main leads become the primary people that propel the drama towards its climactic and towards the conclusion.
However, there are secondary characters; the couple next to the main leads manages to capture the hearts of viewers and, in some cases, is believed by the viewers to outshine the drama's main leads and have stolen the show for themselves. These second lead couples provide greater color to the drama, sometimes demanded by the viewers to have a storyline of their own.
Here are some of the many second-lead K-Drama couples everyone really loved!
1. Dae Young & Myung Joo of Descendants Of The Sun
Descendants of the Sun revolved around many different characters- from people in the medical field to those who render service in the military. But aside from the main characters, the love story of Master Sergeant Seo Dae Young (Jin Goo) and First Lieutenant and army surgeon Yoon Myung Joo (Kim Ji Won) became one of the reasons to watch and anticipate the drama. Their love story also becomes much more complex and beautiful as both of them fight against the situation due to the disapproval of Myung Joo's father towards their relationship, only leading to a consequence where Dae Young will be forced to leave either Myung Joo or his job as a special forces soldier.
2. Ahn Jeong Won & Jang Gyeo Wool of Hospital Playlist
Although the Winter Garden couple of Hospital Playlist, Ahn Jeong Won (Yoo Yeon Seok) and Jang Gyeo Wool (Shin Hyun Been), may not be the main romantic couple that was focused on the show, viewers, and the 99z squad truly loves the couple. If you enjoy a slow burn love, then you'll love them as they went through so much pining and looking from afar in the series' first season. You'll get to see more of them together during the second season of the series, and we totally understand if you ship the Winter Garden couple!

3. Grim Reaper & Sunny of Goblin
The love story of the Grim Reaper (Lee Dong Wook) and Sunny (Yoo In Na) spans thousands of years, spanning generations. In their current lifetime, they were chicken restaurant owner Sunny and the nameless Grim Reaper, who met and fell in love until the Grim Reaper remembered that he could not be with her as punishment for his sins back in their first lifetime. In the past, they were Wang Yeo and Kim Sun, the king and queen of Goryeo, which will reveal the reason why they came to be. Their chemistry was so loved; that's why everyone rejoiced when they had a comeback drama together through Touch Your Heart.
4. Sa Ra & Eun Ho of The Beauty Inside
The drama has focused on various versions of beauty inside, and that doesn't exempt our second lead couple, who we truly loved, Kang Sa Ra (Lee Da Hee) and Ryu Eun Ho (Ahn Jae Hyun). Sa Ra, the owner of OneAir, rivals her stepbrother and can sometimes come off cold due to her emotional turmoil. She meets an aspiring priest, Eun Ho, who will show her a new way of life, and they will eventually fall in love with each other. By some funny fate, Sa Ra's stepbrother, Do Jae, is also in a relationship and in love with Eun Ho's close friend, Se Gye, despite their circumstances.
5. Yang Hye Sun & Do Hye Jin of My Roommate Is A Gumiho
Yang Hye Sun (Kang Han Na), a gumiho for 700 years who can now show her human appearance, helps her gumiho friend who wants to become human by attending school with him. Because of this, she unexpectedly meets the best friend of the love interest of her gumiho friend, Do Jae Jin (Kim Do Wan). Hye Sun, who may be slow-witted but an expert in romance, falls in love with Jae Jin, despite him being in a long history of being dumped.
6. Yoo Chang Soo & Lee Ji Yi of High Society
Although cliche, the second lead couple has a plotline usually used among the main leads, where the rich man falls in love with the poor woman. Chang Soo (Park Hyung Sik) is a rich guy who falls in love with an ordinary girl, Ji Yi (Lim Ji Yeon). They have the same feelings towards each other, but their relationship was being challenged due to their extreme family background differences. Of course, they are followed by the typical evil mother-in-law doing all sorts of things to break the two of them apart, but their love is stronger than the struggles they face together.
7. Sung Bo Ra & Sung Sun Woo of Reply 1988
A cute break from the complex love triangle of people vying for their love towards Duk Seon, the relationship between Sung Bo Ra (Ryu Hye Young) and Sung Sun Woo (Go Kyung Pyo) can totally steal your heart! Sun Woo, described as the ideal man, is secretly harboring a crush on his best friend's older sister, Bo Ra. Bo Ra, a stellar student who stumbles in social and emotional situations and is seen to display stoic emotions, also harbors feelings toward the devoted, dependable, and sunny Sun Woo and will eventually engage in a secret relationship with each other.
8. Dan Ah & Young Hwa of Run On
Fans couldn't help but fawn over the romance between the cute relationship between Dan Ah (Choi Soo Young) and Young Hwa (Kang Tae Oh). Dan Ah, a straightforward woman, and CEO of Dann Agency, has a unique taste in the arts, particularly in painting, which will eventually lead her toward Young Hwa, a college art student who donates his paintings to a nearby cafe. She initially refuses to yield to Young Hwa's advances. However, he gradually warms her chilly heart, and they soon fall in love.
9. Mu Ra & Bi Ryeom of The Bride Of Water God
Both Bi Ryum (Gong Myung), the god of the sky, and Mu Ra (Krystal Jung), the goddess of the water, remain in the mortal world to aid Habaek. Mu Ra has an unrequited crush on Habaek, whereas Bi Ryum admires Mu Ra despite her feelings for Habaek. Mu Ra constantly pushed Bi Ryum away, yet he never left her side and accompanied her like a sibling, friend, and fiancé. Bi Ryum's love will eventually be reciprocated by Mu Ra, and their relationship will eventually progress.

10. Na Ji Na & Cha Joo Ik of Doom At Your Service
Na Ji Na (Shin Do Hyun) and Cha Joo Ik (Lee Soo Hyuk) may not be the main couple in Doom At Your Service, but they're one of the duos that draws the most attention. The pair made an immediate impression on viewers, giving the feeling that they were "born for one other," and their loving chemistry and youthful vitality add to the drama's appeal. Na Ji Na is a screenwriter in the drama who has a youthful and innocent appearance. Cha Joo Ik, on the other hand, is a very gorgeous man with romantic hair and a mature demeanor. He boasts about his attractiveness, claiming to be "the most handsome at work"!
11. Jason & Pil Sook of Dream High
Dream High was a Korean drama about six students who all aspire to be renowned K-Pop idols. Jason (Jang Woo Young) and Pil Sook (IU) are lovers that were labeled as a second lead couple that everyone truly liked. Pil Sook wants to be a singer, whereas Jason is an American-born dancer who wants to make his debut in Korea. Their love story is sweet but with several complications. Jason is a gentleman who is gracious to all women. Pil Sook mistook it for a crush and confessed her feelings, only to be turned down. Jason likes her in actuality, but he wanted to wait till she earned her own self-assurance and confidence
12. Park Soo Kwang & Oh So Nyeo of It's Okay, That's Love
Park Soo Kwang (Lee Kwang Soo) and Oh So Nyeo (Lee Sung Kyung) are another second lead couple everyone loved; a reverse of the usual playboy falls for a simple girl and changes. So Nyeo is a troublesome girl with behavioral issues who was dismissed from high school and left by her mother. So Nyeo works at a cafe with Soo Kwang, a server with Tourette syndrome who likes her despite the fact that she has several boyfriends. Even though he knows she's seeing someone else, she takes advantage of his affection for her and uses him to give her money and buy her stuff. So Nyeo finally falls in love with SooKwang and begins dating him exclusively before deciding to pursue a career as a psychiatrist.
13. Hee Kyung & Joon Woo of True Beauty

The basic plot of True Beauty follows several cliches, with the female lead becoming engaged in a love triangle after reconnecting with two previous best friends who are now enemies. The romance between Hee Kyung (Im Se Mi) and Joon Woo (Oh Eui Shik), on the other hand, drew the attention of the audience too. Hee Kyung is the female lead's older sister, while Joon Woo is her homeroom instructor. They grew to like Hee Kyung's character for taking the lead in their relationship, which is rarely seen in dramas, and for their true love.
14. Yoon Ah Reum & Eun Tak of Dr. Romantic 2

During the first season, Park Eun Tak (Kim Min Jae), a nurse at Doldam Hospital, had a crush on Woo Yeon Hwa. Although he does not end up with her, in the second season, he meets Yoon Ah Reum (So Ju Yeon), a new fourth-year emergency medicine resident, and finds true love and the one meant for him. Their bright personalities and beautiful smiles perfectly complimented each other, and we can't help but cheer on Eun Tak when he finally confessed to Ah Reum!

15. Lee Jin Sang & Park Soo Kyung of Another Miss Oh
Park Soo Kyung (Ye Ji Won) was the male lead's older sister, whereas Lee Jin Sang (Kim Ji Suk) was the male lead's friend who lived with him. Jin Sang was treated like a brother by Soo Kyung, who was often harsh with him for misbehaving at her house, and he was terrified of angering her, but they wound up getting drunk and sleeping together. It's awkward but also hilarious, but that's what makes them unique because their relationship grew after the one-night stand! You should also look out for their famous lift-kissing scene in front of a crowd of colleagues.

16. Woo Soo Ji & Ma Sang Goo of Because This Is My First Life
Woo Soo Ji (Esom) is a driven woman who aspires to be the CEO of her own company but is currently suffering in her work with all her toxic colleagues. She is career-driven and has no desire to be in a romantic relationship. Through a business event, she experiences a fateful encounter with CEO Ma Sang Goo (Park Byung Eun), with who she previously had been connected. Her whole world turns around as Sang Goo continuously pursues her. His consistent show of affection and unending charms has enchanted Soo Ji, and by becoming her support system, he helped her recognize the love she deserved.
17. Yang Cheol & Bong Se Ra of What's Wrong with Secretary Kim
Although Yang Cheol (Kang Hong Suk) and Bong Se Ra (Hwang Bo Ra) may not be the second lead and are more of a side couple, there is no denying that the couple is so cute and filled with chemistry and comedic charms! Se Ra was enamored with attractive men and made sure she always looked her best in front of them. Yang Cheol, on the other hand, happened to witness a humiliating moment of hers and "dramatically" saved her from it. Since then, Yang Cheol has unintentionally demonstrated his manly side, and Se Ra has continued to fall for it. Every scene of their love tale is so hilarious and dramatic that you will undoubtedly fall in love, particularly during the Coke Confession!
18. Kim Sang Min & Lee Yeon Tae of Five Enough
Kim Sang Min (Sung Hoon) was a renowned professional golfer who was arrogant and conceited of himself, and Lee Yeon Tae (Shin Hye Sun) was a teacher who had never dated before, had missed her opportunity to admit to her seven-year crush, and met Sang Min during her heartbreak. He was appalled by Yeon Tae at first because of her appearance, rigidity, and silliness, but he eventually fell for her and began to love everything about her that he had previously despised. When Sang Min began wooing Yeon Tae, she turned the tables on him and repeatedly rejected him. This is a major setback for this egotistical athlete, as well as significant difficulty in pursuing someone who never recognizes his feelings.
Here are some of the second-lead couples that may not be the center of the dramas but have surely occupied the center of our hearts. Which among these second-lead couples are your favorites, and which second-lead couples would you like to add further to the list?