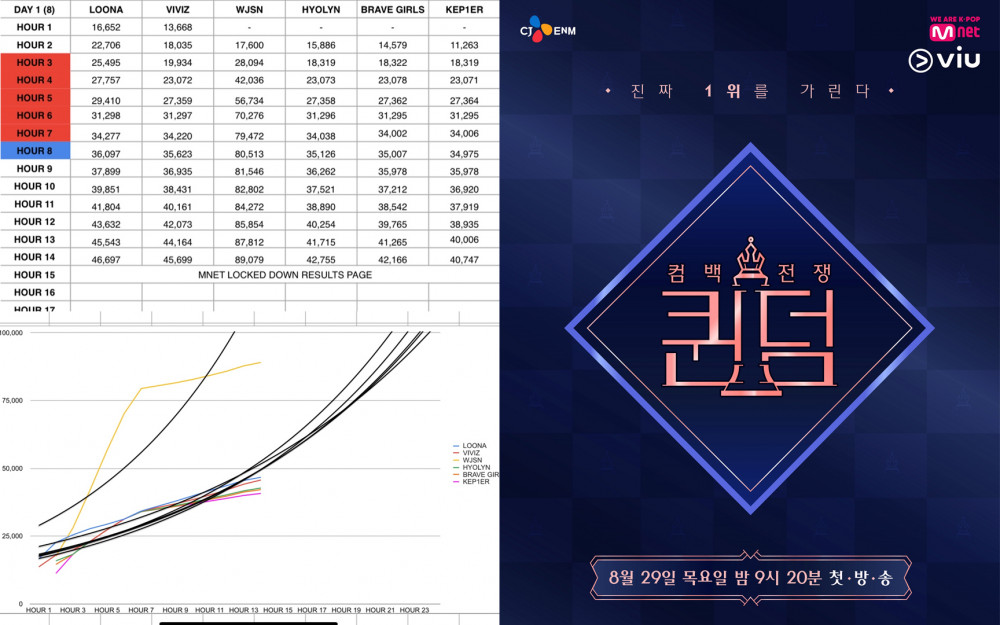 On June 2, 'Queendom 2' came to an end, with Cosmic Girls taking the final crown on the second season of the popular idol competition show.


The winner was determined by combining points earned from past battle rounds, as well as during the final broadcast round, which factored in domestic/global music chart streaming scores, YouTube views, fan voting, and live text message voting.

Fans were able to stream the songs the six teams had released for the final round, and the streaming scores will be included in the final ranking. However, fans and netizens found that the Spotify streaming numbers were a bit different from the ranking shown by Mnet.
According to Spotify, VIVIZ had the second-highest streaming number, following LOONA. However, in the Mnet streaming ranking, VIVIZ came in third place, following LOONA and Cosmic Girls. Therefore, many netizens began questioning the tally method as they believed that VIVIZ should have more streams than Cosmic Girls. Many began to suspect that Mnet had rigged the scoring system as they have previously had done.
However, Mnet released an official statement to deny allegations that the final results of 'Queendom 2' were rigged. Mnet explained, "As previously detailed, the streaming scores factored in each daily play by each unique user on the 'Queendom 2 Playlist'. Multiple plays in a day, as well as multiple plays by the same unique user, did not count toward the score."
Nevertheless, there were many international netizens and fans who still believe that Mnet had rigged the scoring and posted new "evidence" to back their claims. One netizen included data they collected showing the changes in voting rates and analyzed the data.
This triggered another discussion as the data were shared, and more netizens are questioning whether Mnet really rigged their scoring or not. Many Korean netizens still believe that according to global and South Korean music chart rankings, LOONA would be the winner, with VIVIZ following in second place.
Netizens commented, "I think the music chart ranking is weirder," "If Mnet counted the scores properly I think LOONA would have won with VIVIZ in second place," "It's so clear that the scoring was rigged," "I can't trust Mnet anymore," "Once again it's Mnet and Starship lol," "So this original poster is saying that there was a spike in the streaming at a certain time?" "I think both the voting and the music chart scoring are all weird," and "I know for the global voting, LOONA came in first place too."