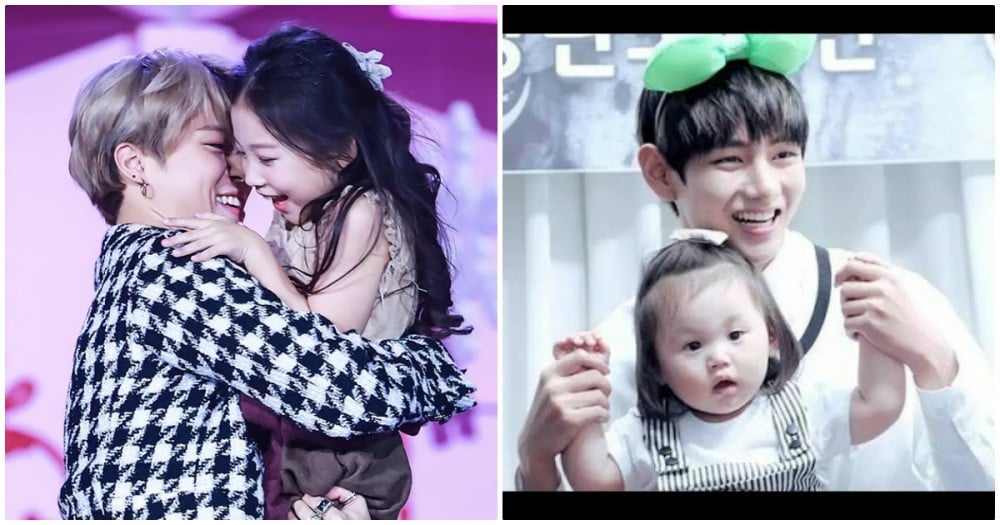 As Father's Day is approaching, many are preparing to celebrate, whether it be by finding the right gift or writing a heartfelt letter, but here are eight celebrities that would make great fathers!

1. BTS' V: V really adores children, and he even stated in interviews that he would love to be a father in the future as well! With his adoration for children, he would make one perfect father, don't you think?
2. Park Seo Joon: In one of his recent vlogs, where we see the star behind the scenes of a photoshoot. His manager's son comes along, and we can see just how fatherly Park Seo Joon is toward this child. Even the child feels so comfortable in his arms!
3. Monsta X: To be honest, when it comes to taking care of children, we cannot forget the most iconic babysitting moment in K-pop history. When Monsta X members spent the day looking after kids at daycare, each and every single of the members would make great parental figures!
4. SHINee's Minho: Making his appearance through "Return of Superman," fans were able to get a glimpse of Minho's caring side. Looking after three kids on your own is not easy, but Minho happened to pull it off seamlessly.
5. GOT7's Jackson: Having the skill to form friendships with whomever and wherever Jackson would make the perfect father. Not only does he have a playful side to him, but also a strict parental side to him too!
6. GOT7's Jinyoung: Another GOT7 member that would do exceptionally well as a father is Jinyoung. Even being chosen as the one with the nicest personality, Jinyoung, with his gentle mannerisms, would make such a loving and caring father, always on the lookout for what's best for his child.
7. Simon D: Simon D made headlines after showing a side that he normally does not show on stage. On stage, Simon D has so much charisma and stage presence, but off the stage, just look at the way he cares for his niece!
8. ASTRO's Cha Eun Woo: Who would not want to have a father that is as charming as Cha Eun Woo? Kids are honest about who they like and who they don't, and we can see that Cha Eun Woo even grabs the attention of children!
Let us know who you think would make a great father in celebration of Father's Day!