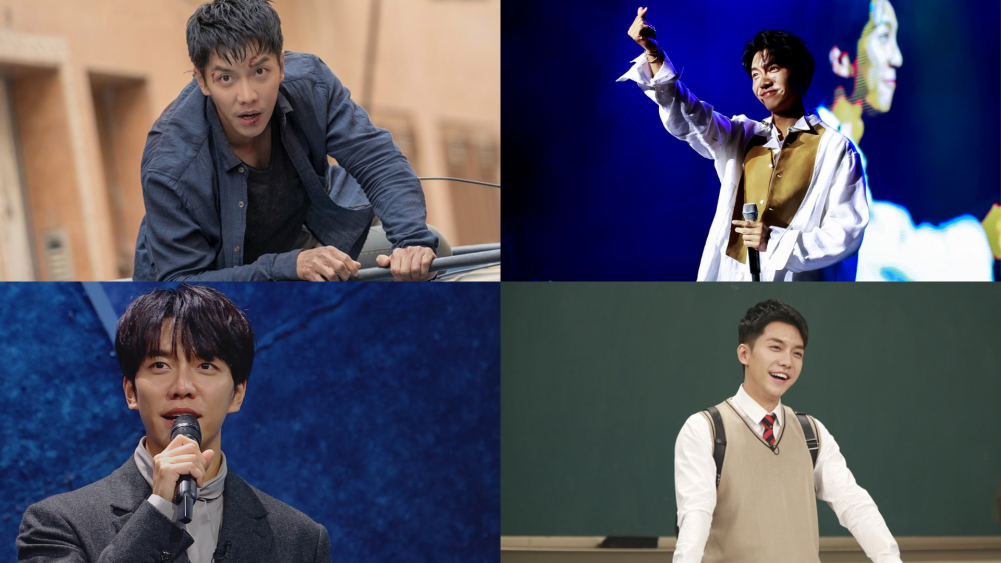 Who would've thought that a young all-rounded student, performing well not only in his academics but also in his extracurricular activities such as sports and the arts, and even serving as president of the student council, would eventually become one of the industry's all-rounders and receive the title of "Triple Threat"? The young student is not only known as well-versed in various languages but is also the lead vocalist of their school band, becoming the way for him to be scouted by his mother's favorite singer, Lee Sun Hee, and will go on and debut at the age of 17.
This is the story of the colorful career of Lee Seung Gi, debuting on June 5, 2004, and went on to dominate and leave an undeniable mark in every field he works in. Despite debuting at a young age, he was not limited by his age and went on to win an award after another award and bagged projects to continuously showcase what more he can offer. As he also enlisted during the peak of his career at that time, no one expected him to come back even stronger than ever, surprising the industry that saw celebrities come and go and providing more interest and anticipation for his rising career. Recently, he is now the CEO of his own agency, Human Made.
Airens, as he fondly calls his fans, have seen his growth for years until the very present, but casual fans are also well aware of his growth that not only time has shown but was evidenced by each of his works. Prepare to witness Seung Gi's career of eighteen fruitful years and browse all of his projects- who knows; you might become an Airen sooner!
Singer Lee Seung Gi
Seung Gi originally debuted as a singer, training for two years before his fateful debut under the wing of Lee Sun Hee, who scouted him. His debut sparked the start of the "noona romance" syndrome in South Korea through his debut ballad.
Since his debut, he filled his discography with seven studio albums, two live albums, one compilation album, twenty-three music videos, one extended play, twenty-one singles, three soundtrack albums, and two cover albums. He won multiple Best Newcomer Awards from his debut, various recognition as an outstanding singer and as a balladeer for years, not to mention the many Popularity Awards for being a singer up until the present. His latest comeback was fueled not only by his passion but also by the demand from both fans and viewers who have missed singer Seung Gi.
Here are some of the outstanding Seung Gi songs that you would probably want to listen to:
1. Because You're My Woman (2004)
2. Words that are Hard to Say (2006)

3. White Lie (2007)
4. Will You Marry Me (2009)
5. Love Taught Me to Drink (2009)

6. Smile Boy (2010)

7. Losing My Mind (2010)

8. Time for Love (2011)

9. Aren't We Friends (2011)

10. Return (2012)

11. Forest (2012)
12. I'm Going to the Military (2016)
13. The Dreamer's Dream (2020)

14. The Ordinary Man (2020)

15. I Will (2020)

Actor Lee Seung Gi
Aside from being an excellent singer with such discography, his filmography is also a great way to peek into his acting skills, as demonstrated in his dramas. After starring in MBC's sitcom Nonstop 5, he then officially debuted as an actor in KBS's 2006 weekend drama The Infamous Chil Sisters. As he debuted as an actor, he went on to take on more acting projects that boosted his popularity among viewers not only in Korea but stole the hearts of international fans, being recognized as a vital part of the Hallyu Wave.
His popularity was all thanks to his great acting and performance, evidenced not only by the high viewership ratings for his dramas but also by his awards and nominations. He won Top Excellence for his acting from the award shows of two major broadcasting channels, MBC and KBS, not to mention other major awards and grand awards (Daesang) from award-giving bodies like APAN Star Awards, Asia Artist Awards, Asia Rainbow TV Awards, Korean Film Actors' Guild Awards, Mnet 20's Choice Awards, and Seoul International Drama Awards. He also went to win an award aside from his nominations from the prestigious Baeksang Arts Awards.
His success as an actor secured his continuous inclusion yearly in the Forbes Korea Power Celebrity list, and he was listed as one of the highest-paid Korean celebrities of 2021. He has also been selected as one of the 200 actors to feature in the Korean actors 200 campaign, run by the Korean Film Council (KOFIC), which aims to choose actors that best represent the present and future of Korean film.
Here are some of the dramas and films of Seung Gi that you can start to look into his acting:
1. Brilliant Legacy (2009)
2. My Girlfriend is a Gumiho (2010)

3. The King 2 Hearts (2012)

4. Gu Family Book (2013)
5. You're All Surrounded (2014)
6. Love Forecast (2015)
7. Hwayugi: A Korean Odyssey (2017–2018)
8. The Princess and the Matchmaker (2018)

9. Vagabond (2019)
10. Mouse (2021)

Entertainer Lee Seung Gi
Cementing his status as the celebrity certified as a Triple Threat, Seung Gi eventually ventured to variety shows and spread his wings despite not being his original field of career. From guest appearances to becoming an official cast member, from being the cute youngest to being the (un)official leader and main host of his variety shows, he has made it through the years.
His variety persona ranges from his early nickname of "heodang," a moniker that meant he appears to be competent but is unexpectedly clumsy, to being the "generous emperor," who has been discreetly doing favors and spreading his generosity not only towards the main cast members but even to the production staff he has been working with. This is the reason why it is no secret that Seung Gi is well-loved not only by his seniors but also by his juniors, who have always looked up to him.
He won various awards for his excellent performance in entertainment, winning an award during his first year as a member of the first season of 2 Days, 1 Night. He won various Top Excellence Awards in Variety from multiple major entertainment networks and became the youngest Grand Award (Daesang) winner of the SBS Entertainment Awards. Just this 2021, he went on to win the Best Male Variety Performer Award from the prestigious Baeksang Arts Awards and became one of the few celebrities to win awards from Baeksang in two different categories throughout their careers.
Here are some of the variety shows where you can see his undeniable and unending charm:
1. 2 Days 1 Night Season 1
2. Sisters Over Flowers
3. New Journey to the West Season 1

4. Master in the House

5. Little Forest

6. Hometown Flex

7. Friday Joy Package

8. Busted!

9. Twogether
10. New World
11. Sing Again
12. Golf Battle: Birdie Buddies / Team Up 072

13. Loud

Bonus:
Here are some other clips of Seung Gi you should definitely watch!
Forbidden Love Cover (Master in the House)
Always Cover (Human Made)
Shallow Cover (Human-Made)
IU's Palette
Lee Min Ho Film

Lee Seung Gi with HOOK (Master in the House)
Here are only some of his endless talents and charms! Hopefully, you can check his projects and shows and continue your support in his upcoming dramas and other endeavors. Which project or show is your personal favorite, and to Airens, what can you say to casual viewers who would want to stan Seung Gi?