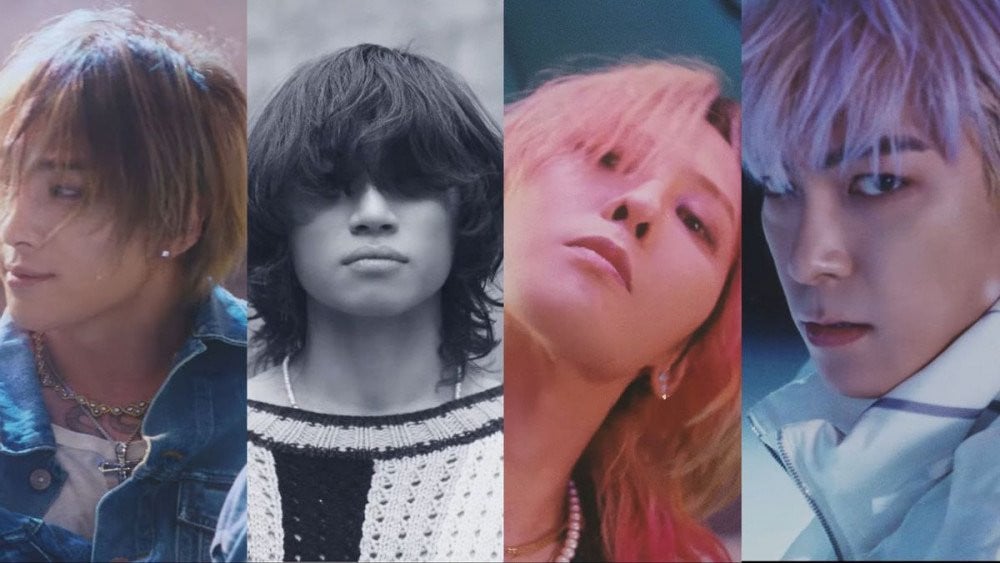 Steve Choi, the secretary-general of KMCA (Korea Music Copyright Association), who operates GAON Chart, and the director of Gaon Music Awards, recorded a 45-minute long video special for BIGBANG. It was separated into three parts and uploaded over the course of a month. He said it was the first time he talked about an artist this deeply. In the videos, he expressed BIGBANG's position in the K-Pop industry, their impact and difference from the other idols, his wish for BIGBANG's participation in the Gaon Music Awards, his regret about BIGBANG, and more. The first two parts were released on April 22 and 29, and the final part was released on May 20.

-He said that the dominance of 'Still Life,' which topped all the charts, reminded him of how relevant BIGBANG is and stated that BIGBANG is one of the reasons why digital music improved in Korea.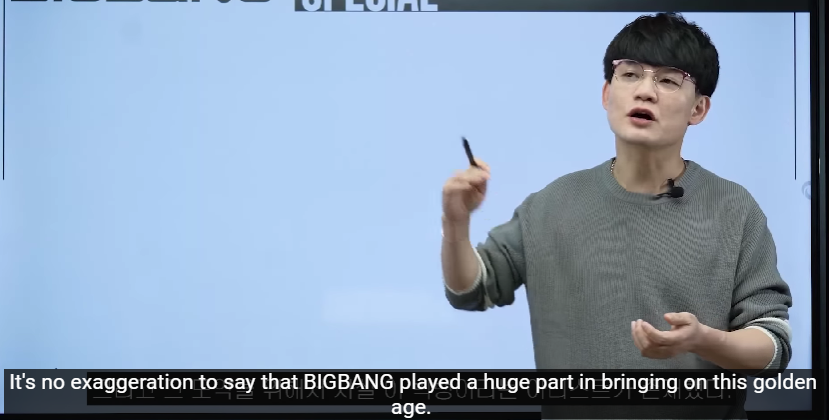 "I should also mention that the period following BIGBANG's debut and up to the present coincided with the golden age of digital music in Korea. It's no exaggeration to say that BIGBANG played a huge part in bringing on this golden age."

-He called BIGBANG's 'Lies' messianic and phenomenon that blew everything and expressed how 1 song defined an entire era and dominated it.
"Now, I call this kind of content 'messianic,' a work that is utterly dominant and era-defining. That would be BIGBANG's 2007 single 'Lies.' I still remember when it came out. Folks like us who watch charts all the time have a gut feeling. You know not all chart-toppers are alike. Some #1 songs feel weak like they're not going to stay at the top for too long. And then there are #1 songs, and this might apply to 'Still Life' as well, that feel so dominant like they're fixed to the top spot and just staying right there. 'Lies' firmly belonged to the latter.
As soon as it came out, it blew away everything. Absolutely huge. That killer intro is just unforgettable. The intro comes on, and you're instantly sold. And it wasn't just me. 'Lies' was a whole phenomenon. It dominated everything. Cyworld, Melon, you name it... Every single online streaming site at the time. 'Lies' totally defined 2007. Even in the music awards, 'Lies' felt like the theme song. That's how huge it was."
-Mr. Choi talked about BIGBANG's past and their insane popularity.
"After BIGBANG became the biggest name in the business with 'Lies' , their follow-up songs obviously also became huge hits. They were well-made songs, too. And the albums too, everything went straight to #1 because they were so insanely popular. "
-Choi described what kind of group BIGBANG are and what differentiates them from the other idols.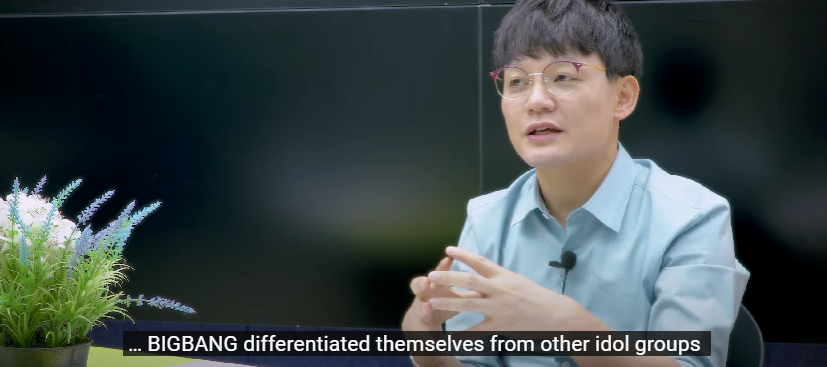 "BIGBANG, a group that wrote their own songs... Songs that became massive hits. So, going beyond that kind of specialized community that idols form with their fandoms... BIGBANG differentiated themselves from other idol groups in that they made music that not only idol fans but the public at large, everyone, really, could enjoy.
Also, most idol groups secured longevity by maintaining things like the group's image, the popularity of each individual member, their rapport with fans, and so forth…
On the other hand, I think BIGBANG will likely be remembered for a while longer than other groups. And the reason for that is BIGBANG's music. They weren't just insanely popular as a group or as individual members. Their songs were so perfect and had such mass appeal, they really resonated with the public.
Looking at the data, it's plain to see that a massive number of folks who aren't even BIGBANG fans still go and listen to BIGBANG songs. I think that's something that will earn BIGBANG a lasting spot in idol group history."
-He wonders if BIGBANG could ever be replaced.
"From a musical point of view, I wonder if such a cool group could ever be replaced. Of course, there are many great idols. I think it's the unique characteristics of BIGBANG. And that feeling and uniqueness... "
He expressed how G-Dragon turned into an icon.
"So now you have BIGBANG, which is already the hugest group in the business, but also individual members who are bagging their own hits. In 2009, YG had two noteworthy releases. The first was by BIGBANG's leader, G-Dragon. GD came out with the album 'Heartbreaker.' I remember when it came out, Cyworld had this thing called 'Real-time charts,' and I think this became the first 'line-em-up' album. Someone at Cyworld told me back then, that not even the folks at YG were ready for that. By 'line-em-up,' I mean the whole chart. Every single spot was filled with songs from 'Heartbreaker.'
And it turned GD into an iconic figure in K-pop history. GD wasn't simply the leader of some idol group anymore. He'd become something on another level. If you had to name K-pop icons, it's a given that GD would come to mind."
-He calls BIGBANG iconic artists, says that Korea was fortunate to have had a group like BIGBANG.
"You are such iconic artists. I still have this memory from the rehearsals for the 2015 awards. During rehearsals, you know how it's customary for staff and stagehands to go about their jobs even while artists are rehearsing. I didn't realize at the time, but BIGBANG had appeared on stage to rehearse, I remember everyone stopped what they were doing and turned to face the stage. They weren't even doing their dance routines yet, just outlining their stage movements but every single person there was looking at them, awestruck.Truth be told, Korea was fortunate to have had a group capable of performing such great songs, and with such mastery."
-Choi picked 2015 as the most meaningful era of the Gaon Chart. He said it was an incredible year on the chart thanks to BIGBANG's 'MADE' era and that the rare record BIGBANG set in 2015 would be really hard to be broken in the future.
"Based on Gaon Chart, if we were to ask, 'Which year is the most meaningful year in the 2010s?' That would be the year 2015. The fellow staff who analyzed the chart together at the time would know how incredible that year was. This is 'MADE', but what's the important thing?... We have the monthly awards but, like now, for example, it is not just counted by the 30-day unit and it's not based on the release date, but, it was just a way of counting from the beginning of the month to the end of the month, and even if it meant artists who released at the end of the month made a loss during the counting period... All of these albums were released on the first day of each month but as soon as it came out, they all placed first. They placed first in all the monthly charts. My thoughts based on the Gaon Chart Awards are, a year is 12 months, what happened in the 4 months of a year? How did the quarter of a year turn out? It's all about BIGBANG. So, what BIGBANG did at the awards ceremony was, they were sitting down, and when "BIGBANG" was called out, they walked up to receive the award, and sat back down and heard "BIGBANG." Then they went out again to receive another award. They went on four times. So we all thought they were amazing even while making this format and when we talked with the representatives of other agencies at the time, they were all just as amazed like, 'When it's not easy to win 1st place on Gaon Chart Monthly Awards, how could they win 1st place for all four months?' It's a rare record to break. It's going to be hard to break records like this in the future because the music market is so competitive right now, it's hard to beat this record so I think it's going to be hard to make records like this in the future."
-He expressed how he was starstruck by G-Dragon and felt like a zombie.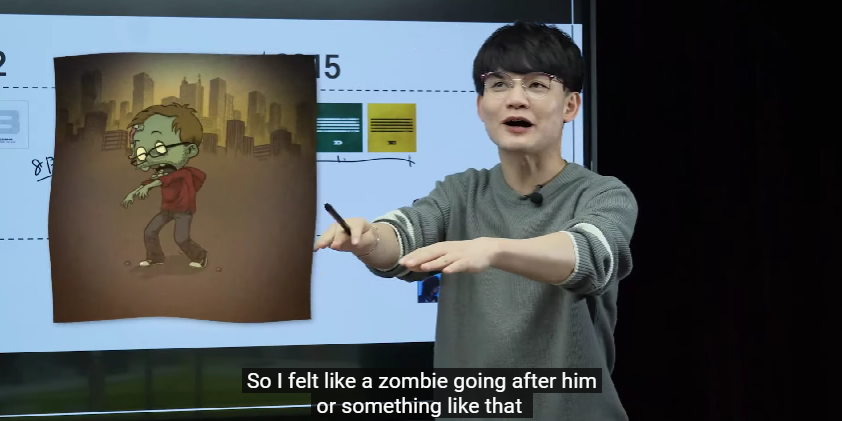 "BIGBANG came to our award ceremony at that time. We're the only ones who got BIGBANG to an award ceremony in Korea. So I went to the waiting room with Lim Sook-hyung, the team leader. But when as we were trying to go in, the security guards in front stopped us. So I said, 'Excuse me, I'm the director who hosts the award ceremony. Please let us in.' So we went in and met BIGBANG at last. I talked with G-Dragon. He was literally right in front of me, and how should I put this? He sort of has the ability to attract others. Like a magic charm. Even if we didn't say much, but it was as if I was attracted by a magnet. I've never felt that before. I didn't know a person could do that. And GD is a man, but there was something about him that was different. So I felt like a zombie going after him or something like that Something charming about him."
Choi analyzed 'Still Life's daily stream success:
"Let's take a look at BIGBANG's 'Still Life.' It's almost 8 million (daily). So IU had 4.5 million, but with a bit of exaggeration, they have 2 times more than IU. It's not the double score of an unknown singer, but it's almost twice as much traffic as IU, the beast of music charts. This is the power of BIGBANG. To say that these figures came out, it means that almost all ages in Korea listened to BIGBANG's music."
-He also mentioned what Melon's CEO said about BIGBANG's 'Still Life.'
"I recently had dinner with the CEO of Melon and he said according to the staff, it was very inspiring because the traffic was insane "
-He talked about his regret regarding BIGBANG:
"I look back with regret on 2015, when BIGBANG won four awards with the M,A,D,E series, because even though it was an honor to have such massive stars at our ceremony, it felt like we hadn't prepared sufficiently for them. We could have set the stage for them to really do their thing, and it's a shame that things didn't turn out that way. In terms of the ceremony aspect, or historically speaking, it should have been a hugely significant event. And you know how important performances are for singers, and also for the ceremony itself.
Anyways, given all that, I feel I didn't do enough to ensure that BIGBANG could perform to their full potential. And that regret has stayed with me. I was thinking, that maybe our ceremony could play a role in meeting this public demand, and at the same time, I could do something long overdue for BIGBANG. That was why I made the comment. Do you have any closing remarks for BIGBANG? If you decide to attend our ceremony, we'll put a lot of work into it."
-Mr. Choi told about his wish for BIGBANG's participation in their ceremony:
"So, while listening to 'Still Life,' I want to think about it in a meaningful way when BIGBANG released the M, A, D, E albums If they come back to the awards ceremony, we would really like to greet them with big hearts...
I really want to see all the members on stage together. With that in mind, I made this content. Anyway, I'd really appreciate it if you could come to our award ceremony. I promise to work hard.
So if BIGBANG does decide to appear at our ceremony, we'll do our very best to put together the greatest stage. I really want to see all the members on stage together With that in mind, I made this content today. Anyway, I'd really appreciate it if you could come to our award ceremony. I promise to work hard."