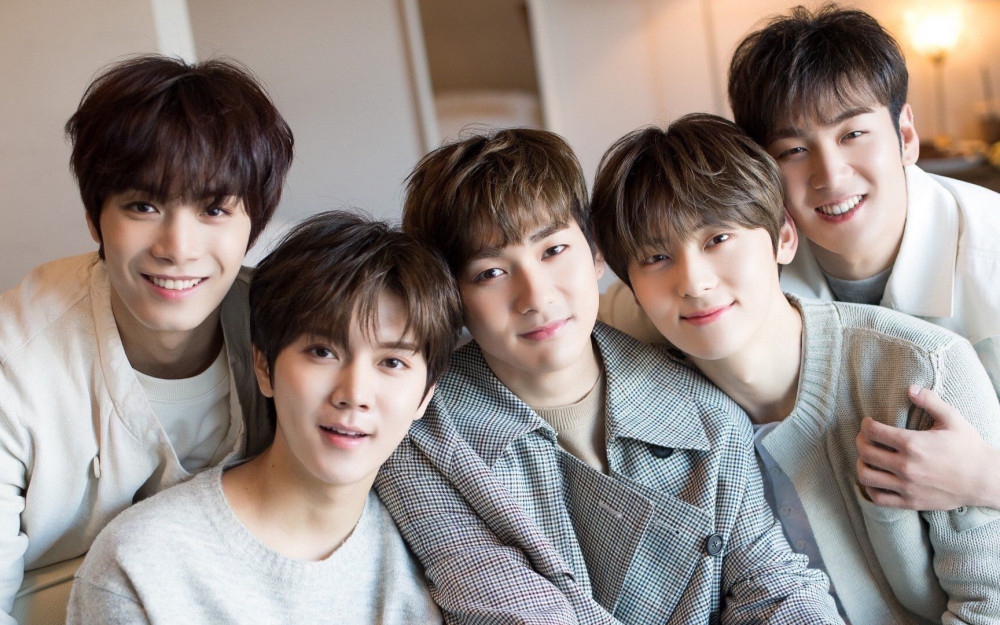 On February 28, NU'EST brought the shocking news that the group decided to disband. Pledis Entertainment released an official statement through HYBE's Weverse platform announcing their disbandment.

Soon after, NU'EST members shared their last goodbye to their fans through NU'EST's Weverse account. The letters were directed to their fandom, L.O.Λ.E, which has supported the group for the past ten years.

Each member - JR, Baekho, Aron, Ren, and Minhyun - all wrote their letters and posted them to Weverse.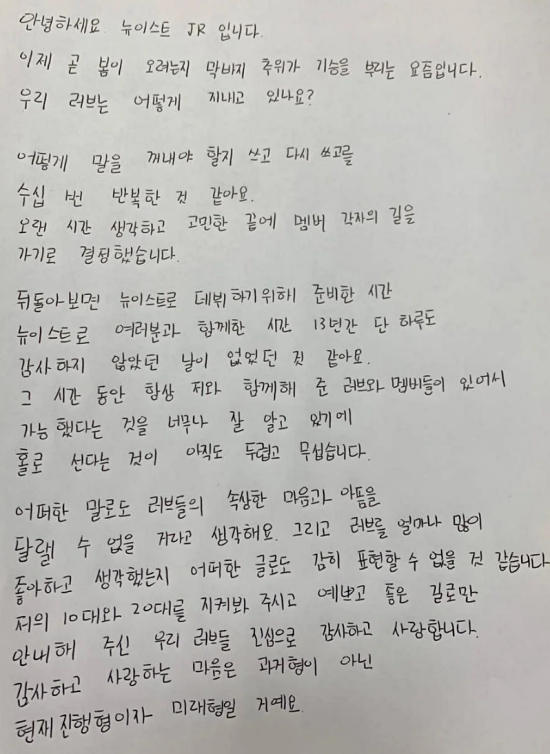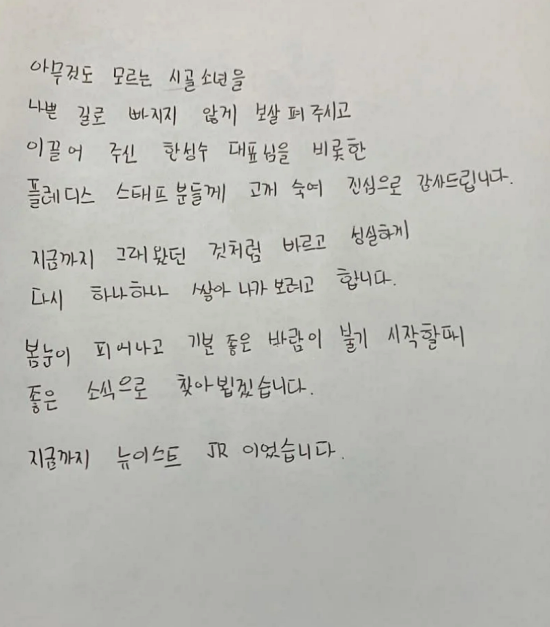 JR Wrote:
"Hello, this is NU'EST's JR. It seems spring is coming but the last chill of winter is unyielding. How are L.O.Λ.E members doing?


I don't know how to begin so I have written this over and over again dozens of times. After much contemplation, the members have decided to go our own way. Looking back, including the time I've prepared to debut with NU'EST, there hasn't been a time I have not been thankful for the 13 years with you. I know very well that those times were possible because you, L.O.Λ.Es and the members were with me, so I am still afraid to stand on my own now.



I believe I won't be able to comfort L.O.Λ.Es' sadness and pain. I also don't think I can express with words how much I love and have thought of L.O.Λ.E. You have watched me through my teens and my 20s. And I thank you for always guiding me through a good path and I love you. My heart of thanks and love will not be in the past tense but will always be in the present and future.
I also sincerely bow my head to thank CEO Han Sung Soo who has watched over a young country boy who knew nothing so that he doesn't go down the wrong path. Just as I have been doing so far, I will continue to build things upright and sincerely one by one. When spring blooms and when warm winds blow, I will return with good news.
This was NU'EST's JR."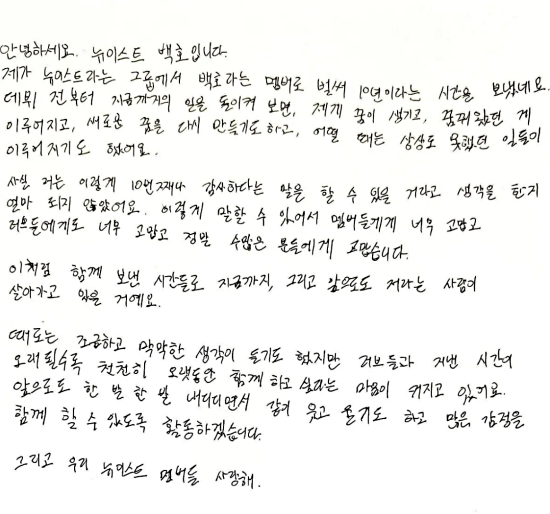 Baekho wrote:
"Hello, this is NU'EST's Baekho.

It has already been 10 years that I spent as NU'EST member Baekho. Looking back at everything from before my debut to until now, I began having dreams, my dreams came true, I made new dreams, and at times unimaginable things were accomplished.



To be honest, it hasn't been long since I began realizing I can be this thankful for ten years. I'm so thankful to the members because I can say this and I'm so thankful to L.O.Λ.Es as well as many countless people.
The time we spent together like this, until now and in the future, I will still be living as the person I am.



Sometimes I felt impatient and things seemed uncertain, but the longer I spend with L.O.Λ.Es the more I wanted to be together with you for a long time. I will continue to work step by step so that we can laugh and cry together and share many emotions together.

And I love our NU'EST members."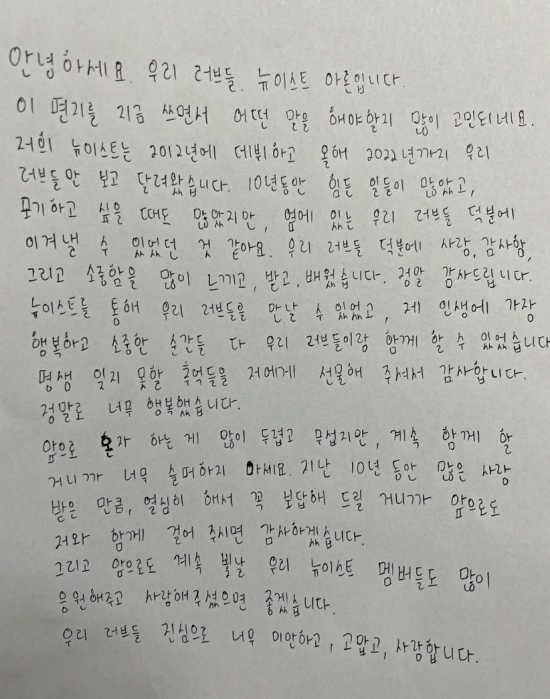 Aron wrote:
"Hello, my L.O.Λ.Es. This is NU'EST's Aron.
Even as I write this letter now, I still am contemplating what to say. We, NU'EST, debuted in 2012 and have run until 2022 just looking at our L.O.Λ.Es. There were a lot of difficult things over the past ten years, and there were many times when I wanted to give up. But I think I was able to overcome them thanks to our L.O.Λ.Es who were by my side. Thanks to our L.O.Λ.Es, I felt, received, and learned a lot about love, gratitude, and preciousness. Thank you very much. Through NU'EST, I was able to meet our L.O.Λ.Es and I was able to share the happiest and most precious moments in my life with our L.O.Λ.Es. Thank you for giving me memories that will last a lifetime. I was really happy.
It's very scary and I'm afraid of being alone, but don't be too sad because we will always be together. As much as I have received a lot of love over the past 10 years, I will surely repay you by working hard, so I would be grateful if you would continue to walk with me in the future.
And I hope that you continue to support and love our NU'EST members who will continue to shine in the future.
I am sincerely sorry my L.O.Λ.Es. Thank you and I love you."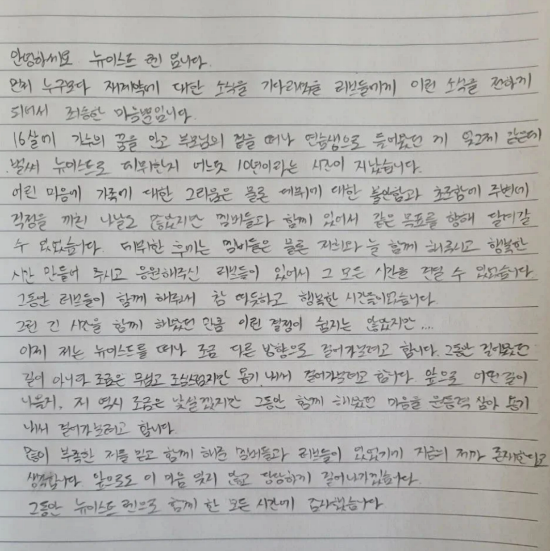 Ren wrote:
"Hello, this is NU'EST's Ren.

First of all, I am only sorry to deliver this news to the L.O.Λ.Es who have been waiting for the news of the contract renewal more than anyone else.
It seems like just yesterday that I dreamt of becoming a singer, left my parents, and joined as a trainee at the age of 16. It has been 10 years since I debuted as a member of NU'EST.
There were many days when I missed my family with a childish heart and felt anxiety and nervousness about my debut, but because I was with the members, who reached the same goal, and I had L.O.Λ.Es who made happy times and supported me, I was able to endure all those times.
These were very warm and happy times because L.O.Λ.Es was with me during that time.
As much as we have been together for such a long time, this decision was not easy...
Now, I am going to leave NU'EST and walk in a slightly different direction. It's not the path I've been walking on so far, so I'm a little scared and cautious, but I'm going to try to walk with courage. I'm a little unfamiliar with what path will be better in the future, but I'm going to try to walk with courage using the heart I've been with for a while.
I believe that I am who I am today because of the members and L.O.Λ.Es who believed in me even through my shortcomings. I will continue to walk forward calmly without forgetting this feeling.
Thank you for all the time we spent together as NU'EST Ren."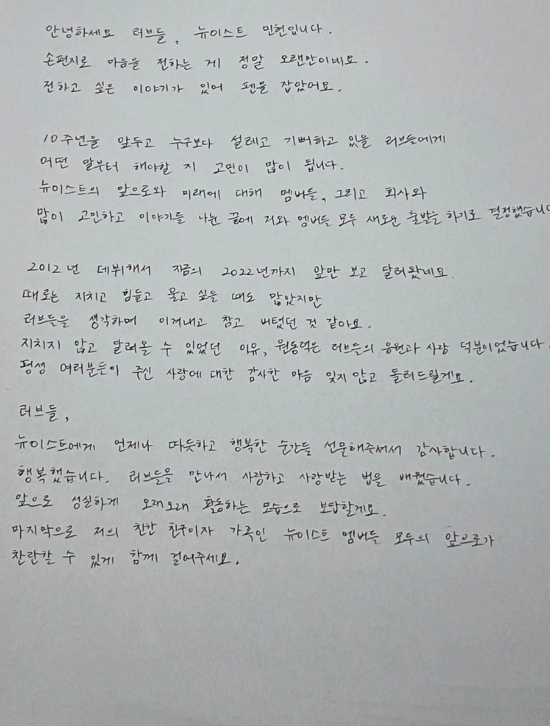 Lastly, Minhyun wrote:
"Hello L.O.Λ.Es , this is NU'EST's Minhyun.
It's been a long time since I've written a handwritten letter to conveyed my heart.
I wanted to share something so I grabbed a pen.

I am contemplating a lot about what to say to the L.O.Λ.Es who are more excited and happy than anyone else ahead of the 10th anniversary.

After much thought and discussion with the members and the company about NU'EST's future, both me and the members decided to make a fresh start.

I made my debut in 2012 and have been running all the way to the present 2022.
There were times when I was tired, exhausted, and wanted to cry, but I think I overcame it and endured it thinking about our L.O.Λ.Es.

The reason I was able to run without getting tired; the driving force was the support and love of the L.O.Λ.Es. I will never forget the gratitude for the love you have given me for the rest of my life and I will return it to you.

L.O.Λ.Es,
Thank you for always presenting warm and happy moments to NU'EST.
I was happy. I was able to meet L.O.Λ.Es and learned to love and be loved.
In the future, I will repay you with a sincere and long-term activity.
Lastly, please continue to walk together with us so that the future of all the NU'EST members, my close friends and family, can be brilliant."