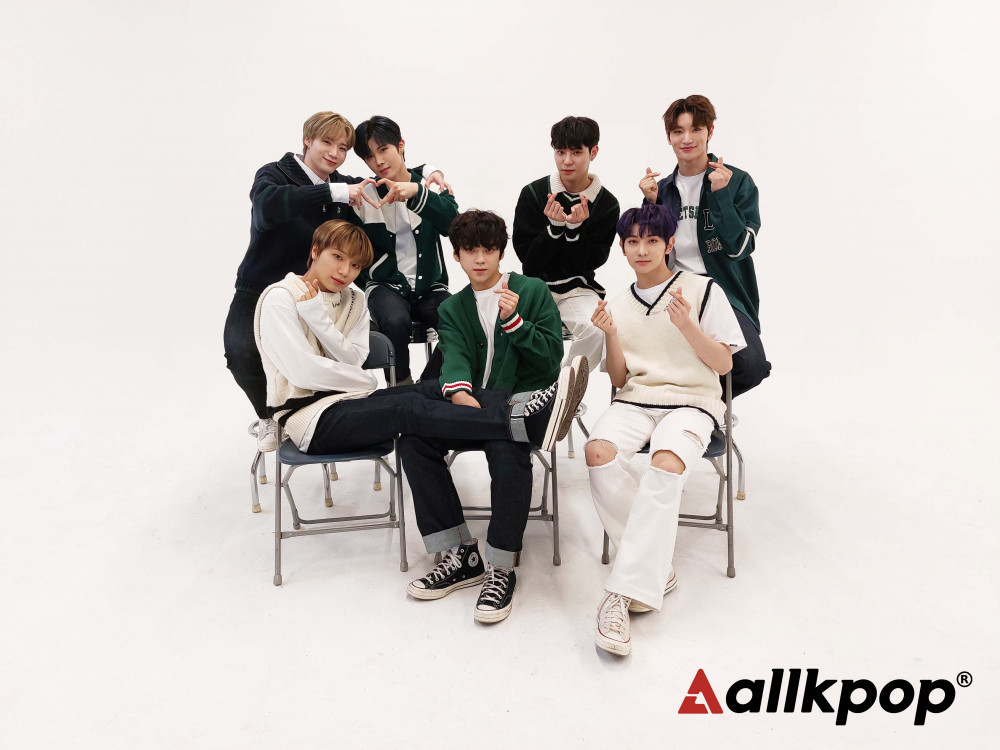 BLITZERS, a 7-member boy group from WUZO Entertainment, have embarked on their U.S. tour with Los Angeles as their first stop. For this part of the interview, the ambitious rookie group sat down with allkpop to discuss their group identity and goals for the new year.
Check out Part 1 of the interview here, in case you missed it!
(The transcription of this interview has omitted honorifics for brevity.)
AKP: What new sides have you learned about each other as members?
Wooju: The members are still the same, but I soon realized that each one of us has a hidden alter ego (laughs).
Chris: For example, I used to think that Wooju was really quiet and found everything so curious. But nowadays, he is more ambitious about being humorous and likes it when the hyungs laugh. I think it's really cute the way he tries to be funny (all members laugh).
Lutan: I think Juhan has a really distinct first impression! When Juhan first came [to the company], he had a really sweet and gentle atmosphere. Whenever Chris would say that he was cold, Juhan would take off his jacket and cover him up. So, I remember Chris coming up to me one day and saying, "hyung, why can't you be like that, too?" But now, Juhan says, "what? Aren't the dongsaengs supposed to do stuff like this?!" (all members laugh).
Wooju: Another thing I learned about the members was that they like to be nice behind-the-scenes. Instead of showing off their kindness, the members like to take care of each other without being noticed.
AKP: Who would you say has changed the most since your debut?
Sya: Wooju has become really mature!
Wooju: I feel that way, too... (All members laugh). Everyone around me said that I was going through puberty. Whenever there would be situations where I would have to make a decision, I learned a lot by watching the hyungs. I think that I am still changing.
Jinhwa: For me, it's Lutan. Lutan is someone who always smiles. He never puts on a blank face, either. But the [concept of the] first two songs we promoted did not really allow us to smile on stage... (All members laugh) So, he tried exceptionally hard, and I realized then that he could also be very charismatic on stage.
AKP: Which member of the group is the energizer, and which member is the most emotional?
Sya: I have to say, the energizer is Chris.
Chris: Well, the emotional one is Sya!
Wooju: Sya may appear cold, but he's actually really warm.
AKP: What were some challenges you faced while preparing for your latest album?
Chris: I wouldn't say there were many challenges, but for me, because our latest track, "BOBBIN," incorporates even heavier rock sounds, I struggled to find the appropriate gestures while filming the MV. Trying to come up with the right gestures for the kind of music I hadn't tried before was kind of difficult. There were also moments I did not like while monitoring the MV shoots. It was hard then, but now, I've gotten more used to it.
Wooju: There's a difficult part in our choreography for "BOBBIN" that requires us to twist our bodies. But it didn't work out very well, so we practiced it multiple times. We had muscle cramps all around our ribs and repeatedly attempted the move in front of the mirror. We weren't sure whether that part of the choreography would actually work out, but it felt good after mastering the move during our first comeback stage. After that, I learned more about perseverance and felt extremely gratified.
Lutan: There were probably worries about attempting a hard rock genre, but for me, everything felt very hopeful. We tried to make a speedy comeback to greet our fans, so we were very excited to showcase our new side.
AKP: If you could describe BLITZERS in one word, what would it be?
Chris: For me, because our music is powerful, I'd say "Powerful."
Sya: Our group is bubbly and energetic, so I would say "Bright."
Juhan: I think of our group is like a [well-rounded] circle. We try a lot of different things and don't know where our charms would appear. So, I'd say "Circle."
Go_U: I think our members have become really funny these days, so I'll choose "Funny."
Jinhwa: I'll go with "Water." I want to be something that is always around our BLEE as well as everyone else watching us. Something that is essential to life.
Lutan: I would say "Development" (a single word in Korean, literal translation: 'an idol that continues to grow'). We are going to keep growing as a group, so I would like to describe ourselves with that word.
Wooju: For me, it's "Melting Pot." We learned the expression during our English lessons. We want to mix all the genres. I want to become a terminology that is hard to define. Each of our members has a different color. Colors sometimes appear strange when mixed randomly, but in the end, there is definitely a color. Just like that, I want all the different shades in our group to mix well and become a color that we desire.
AKP: Is there anything special you want fans to focus on during this tour?
Chris: We have a special stage prepared for everyone. We also have a new stage for a B-side track, something we've never showcased before.
Lutan: There are also new gestures on stage that we came up with for our fans who will be watching us in person.
AKP: What are your wishes and goals for 2022?
Chris: I want us to come back to LA for another concert!
Sya: We have our 1st debut anniversary coming up, and I would like for us to hold a concert in Korea as well.
Juhan: We have never gone on a trip as a group, so I want our members to travel together. Just us alone.
Go_U: I think the previous members have all said some representative things, so I would just like to say...I want to make it through the year by not getting COVID-19.
Jinhwa: This is just something I want to do personally, but I recently bought an old retro camcorder. I want to film the members living their daily lives and make a song to match the videos to create a music video.
Lutan: Just like last year, I would like for us to actively promote by coming back with more albums. Once COVID-19 subsides, I'd like for us to deliver more performances.
Wooju: As BLITZERS, I would like for us to promote our team's name far and wide, but personally, I would like to become more complete, visually and personality-wise. (Other members: 'Maybe you want to grow 2cm taller? [laughs]') Yes...(laughs). I would like to grow in many aspects.
Chris: For me, our group's goal is like my individual goal. I think it's also nice how we can learn a lot culturally by going to different places.
Sya: This really is my small wish for this year, but I want to grow 2cm taller (all members laugh).
Juhan: My individual goal is to produce more songs and for all our members to make an input and create an original work of our own.
Go_U: I don't have any individual goals for this year, but looking into the future, say about five years, I would like to live on my own.
AKP: Are there any television programs or broadcasts you would like to appear on?
Jinhwa: Ever since COVID-19, we've been spending so much time just by ourselves that it's become difficult to see whether our skills have truly grown. In that regard, I personally want to be on a survival program. Not really to show off my talents but to learn and do level tests.
Lutan: I want to try a program like 'ON&OFF' where we can show off our cool sides while carrying out our schedules and revealing our normal, day-to-day lives.
AKP: Lastly, please give a warm message to all our BLEE at allkpop!
Juhan: I would like to meet a lot more BLEE around the world and tell them how grateful we are and that we would like to greet them as much as possible.
Sya: Similar to our "Will Make a Mistake" lyrics, I want us to do our best on the stage until our feet crush.
Jinhwa: We were really grateful to meet our Korean BLEE for the first time, and now we are greeting our BLEE living overseas for the very first time. I just want to say that because there are still so many BLEE that we've never met yet, we would really like to see you all!
Wooju: Yesterday, after coming back to our hotel, I was thinking about our fandom name, BLEE. I was thinking about just how adorable the name was. So, I want to tell our BLEES: even though we may not be perfect, we will continue to work hard so that you can become proud of us as artists.
Lutan: Thanks to our BLEE, we were able to promote a lot of albums within a short period of time, win an award with a huge honor, and do a tour here in the U.S. So, I want to thank you and repay all the love with better performances. Please look forward to our future.
Go_U: It hasn't even been a year since our debut, so the fact that we have even come this far is thanks to our fans, who make up at least 90% of the reason behind all this even happening. We will continue to work hard and show better sides to us. (Other members: 'What about the other 10%?') The other 10% is...the company, including ourselves (laughs).
Chris: Lastly, 2022, for all the BLEE—let's be healthy and safe.