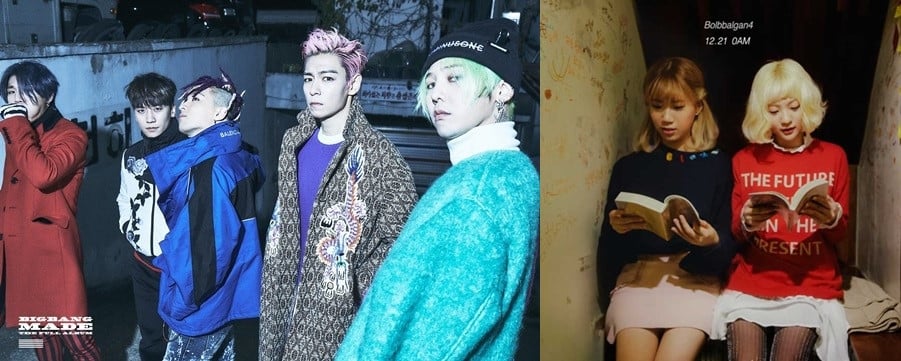 K-POP as a genre has expanded tremendously throughout the past two decades that we can sometimes see songs with the same title. Are they actually the same song? Most likely not. Of course, the remake trend is currently in place, and many songs are being re-released as a "2021" or "2022" version, but some songs are actually not quite the same - in fact, they may be extremely different from the original song.

Today, we will be taking a look at several songs that have the same title but quite a different feel. You may have heard the song from your bias' idol group, but the song with the same title may have been our parents' generation's favorite song back in the day. Let's check out these songs, and let us know your thoughts about each pair!

BLUE - Big Bang (2012) vs. BOLBBALGAN4 (2017)

Candy - H.O.T (1996) vs. Baekhyun (2020)
Monster - Big Bang (2012) vs. EXO (2016)
Short Hair - Cho Yong Pil (1978) vs. AOA (2014)
Lies - g.o.d (2022) vs. Big Bang (2007) vs. T-ara (2009)
TMI: Many Koreans would use this song as an identifier of age group. When you heard the song title "Lies," whichever artist you would think of first would identify you as old or young. This was a huge meme across South Koreans at one point.
Girl's Generation - Lee Seung Chul (1989) vs. Girls' Generation (2007)
Happiness - H.O.T (1997) vs. Red Velvet (2014)
Lonely - 2NE1 (2011) vs. B1A4 (2014)
Something - TVXQ (2014) vs. Girls Day (2015)
Hush - A PINK (2012) vs. miss A (2013)
All For You - Cool (2000) vs. Seo In Guk & Jung Eunji (2012)
Beautiful - BEAST (2010) vs. Wanna One (2017)
What are your thoughts? Some songs - you wouldn't even have expected to be on the list. Some are more recent, so it's easier to compare. Let us know which artist's song is your favorite and why in the comments below! If there are also other bops with the same title by multiple artists, let us know as well!