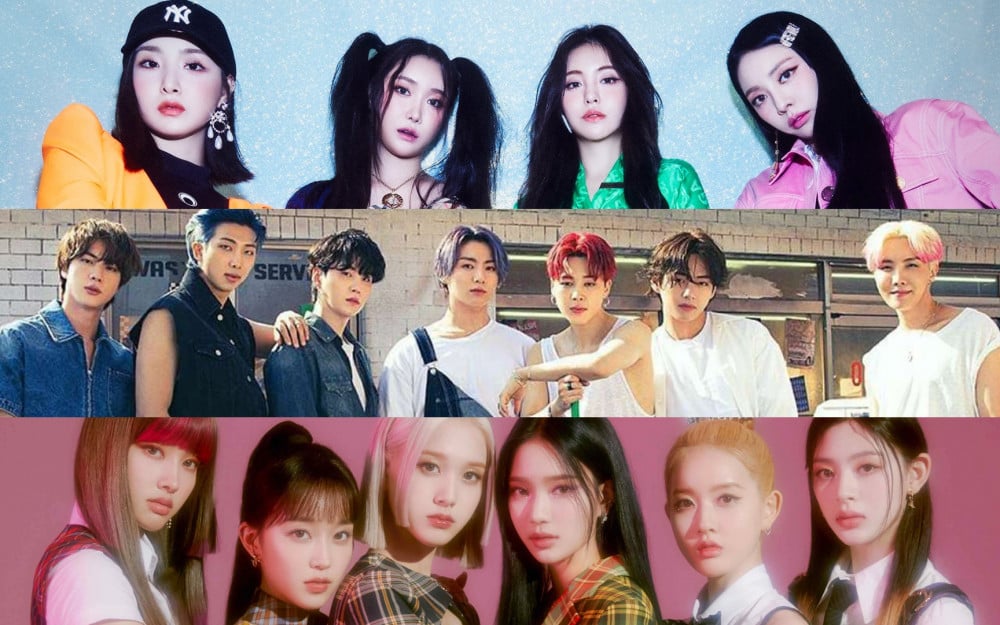 There are various music charts that rank the most popular songs during different time periods. These music charts reflect the song's popularity in the daily, weekly, monthly, and yearly charts and are a good tool to gauge the success of the song and the artist.
From these charts, the annual or the yearly chart is a good way to see the most popular song of that year. Recently, one netizen organized the Melon Yearly music chart and complied a list of all the K-pop groups that made the chart this year, along with the song that brought them to the list.
So without further ado, here is the list of K-pop girl groups and boy groups that made the top 100 of the annual music chart.
- Girl groups -
2nd place: "Rollin" - Brave Girls
4th place: "Next Level" - Aespa
14th place "Lovesick Girls" - BLACKPINK
17th place: "We Ride" - Brave Girls
18th place: "DUN DUN DANCE" - Oh My Girl
30th place: "ASAP" - STAYC
36th place: "Dolphin" - Oh My Girl
55th place: "How You Like That" - BLACKPINK
56th place: "Journey to Atlantis" - LABOUM
60th place: "Nonstop" - Oh My Girl
63rd place: "Chi Mat Ba Ram" - Brave Girls
65th place: "Alcohol-Free" - Twice
85th place: "Savage" - Aespa
86th place: "M.A.F.I.A In the Morning" - ITZY
87th place: "Queendom" - Red Velvet
95th place: "Dingga" - MAMAMOO
- Boy groups -
3rd place: "Dynamite" - BTS
8th place: "Butter" - BTS
28th place: "Life Goes On" - BTS
32nd place: "Boy With Luv" - BTS (Feat. Halsey)
41st place: "Spring Day" - BTS

The netizen who complied the list explained that she didn't leave the other boy groups out, it was simply that they were not on the annual music chart, and it was just BTS in the top 100.
Other netizens joined the online community to give their two cents on the matter. Netizens commented, "It's so crazy how BTS has so many songs on the annual chart," "Kingtan," "I'm so shocked that there are no other boy groups on the annual music chart," "BTS's 'Spring Day' still remains on the annual chart despite being released so long ago, that's so legendary," "This is so crazy, the annual chart has so many girl group songs," and "How many years has BTS's 'Spring Day' been on the chart? So awesome. lol."