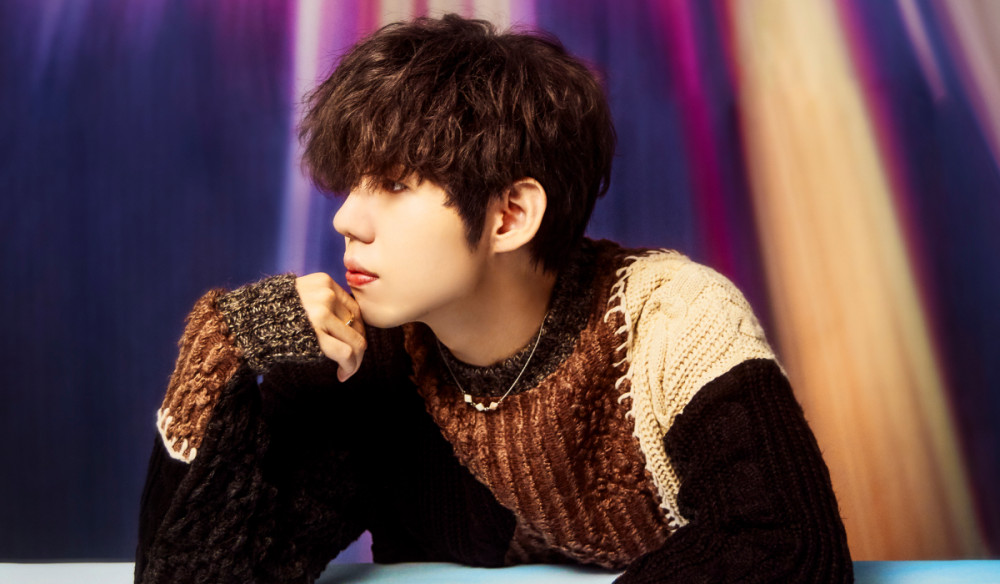 Those who have followed Gaho's career have seen him wear a number of 'hats' in the process. Far before his breakout single "Start Over" on the 'Itaewon Class' OST, he was an idol trainee, then later a singer, songwriter, producer, and also a vocalist in Planetarium Records' popular hip-hop/R&B project group PLT.

Gaho's latest album 'Fireworks' is his first full-length album since his debut in 2018 and continues to prove his talent not only as a singer, but as a songwriter and producer as well. Through each track on the album, including title song "Right Now," Gaho uses his 'many-hat-wearing' skillset to express the fleeting yet beautiful moment of one's twenties, celebrating youth's liberation as means to comfort fellow twentysomethings having trouble seizing it in the pandemic era.
AllKPop recently talked to Gaho about all things 'Fireworks,' his experience as an artist, as well as which acts he's inspired by lately. Find out what he had to say here!
AllKPop: The concept for your new album 'Fireworks,' which deals with 'youth' as a theme, is interesting in a way that it's a theme that's quite personal to you. Can you introduce the concept to our readers and explain why you decided on it?
Gaho: I'm 25-years-old right now, and a word that came to mind that best represented being in my twenties is 'youth.' As for the album title, I thought 'Fireworks' was fitting because when I imagined 'youth,' the word 'fireworks' came to mind. Fireworks fly into the sky, and after reaching a high place, they pop and explode with splendor – but that moment is only a fleeting one. In the same way, youth is life's most beautiful period. It shines brilliantly. I thought I should stay in that mindset when creating this album.
AKP: What was the most challenging part of putting together a full-length album, and what helped you overcome it?
G: I've tried to do a lot of different things on this album. Even now, I'm in the middle of trying a number of things, as I think being able to combine that with some of my music can reveal some of my own characteristics as an artist. I think it's difficult to come up with a new concept with every release, but each time, I'm more immersed in the direction I want to go, and I've been able to put my own signature color into each album.
AKP: What kind of song is "Right Now," and why did you end up choosing it as the album's title track? Were there other tracks on the album that almost became the main single?
G: "Right Now" is a song inspired by the fact there are not many days in our lives when we experience overflowing emotions. I hope listeners experience overflowing emotion when listening to this song. That moved feeling that occurs during special moments in our lives is what I believe to be one of our most precious emotions. I ended up choosing "Right Now" as the album's title track because I felt it'd be a good starting point for giving hope to those young people going through difficult times.
As for other tracks on the album, the song "Part Time Lover" almost became the album's single instead. I had difficulty choosing because the song is exciting with an intense sound and a strong and addictive hook. I feel like it'd be fun for fans to listen to both and think about which one suits their tastes more.
AKP: How was filming the music video for the album's title track? Can you recall any particular fun moment that happened on set?
G: This wasn't the most fun thing that happened, but there was a scene shot at the beach in the "Right Now" music video. It was a scene where I was just running on the sand, and as I felt it was a scene where you could really feel liberation, I ran with a lot of power. However, that was really hard. [Laughs] I was full of strength and just kept running during the shoot.
Also, while we were shooting indoors, there was also a scene where I play the piano while it's raining, but I had no idea it was going to get covered in so much rain. I had already run in the daytime and used up all my strength, so I think being hit by all that rain was making me shiver. I was a little worried while we were shooting it, but when I was able to see the final music video, I thought it came out really cool.
AKP: If you picked one song from the album, which song would you want to dedicate to your fans, and why?
"Right Now." I want to mature alongside the fans who listen to my music. I hope it's a song that my fans can share and comfort one another with because it's a song that I made with the idea of overcoming the hard parts of my own life and wanting to be a strong person.
AKP: From starting out through PLT until now, you've been able to work with a number of different artists – most recently, MAMAMOO's Moonbyul and solo artist Kim Woo Jin. Is there a dream Korean or western artist you'd love to work with that you haven't worked with yet?
G: There are really a lot of musicians I want to collaborate with, but there's a singer I always mention if I had to choose just one. There's a singer named Zayn who was formerly a member of One Direction. He's a singer I like a lot. Also, I really enjoy listening to Imagine Dragons' music. I'd love to try collaborating with them too if the opportunity ever comes along later on.
AKP: While your musical style is considered pop, you've been known to incorporate quite a few different elements from other genres into your music, including R&B, rock, and jazz. Who would you say your all-time biggest musical influences are? And are there any newer artists you're inspired by?
G: When I listen to Imagine Dragons' music, I really like that intense and explosive feeling. It really matches my personal taste, so my previously released song "RIDE" had a similar strong feeling, but I want to try making music that is even aggressive than that. I have a friend named Leo who has a special charm about him. I think, "Wouldn't we make some unique music if we worked together?"
AKP: Many people might not know this, but prior to finding success as a singer-songwriter, you actually trained to be an idol. When you look back on that experience, how did idol training prepare you for where you are right now professionally?
G: When I was an idol trainee, I learned some dancing, and I think it's been a little helpful when working on exciting songs or fast tempo songs. That doesn't mean I'm good at dancing, but I think about dynamic elements like that while I'm working on my music.

AKP: Thanks to the success of "Start Over" from the 'Itaewon Class' OST, you've become one of the top singers who come to mind when people think of a "믿고 듣는 가수," a trendy phrase used in Korea to describe talented singers the public can trust will perform music worth listening to. What other career-related nickname or public opinion would you like to achieve?
G: For this album, I participated as a songwriter, composer, arranger, and even as a producer. While there are still a lot of things I need to learn and work on, I think it'd be nice to hear that I'm multitalented "all-rounder Gaho." I think I'll have to work hard in a lot of different areas so I can reach the point where I'll be a singer who expresses their music through their own deep color.
AKP: What goal do you have for this particular comeback?
G: As it's my first full album and something I've worked on so much, I first and foremost want a lot of people to listen to it, and I also want them to feel comforted when they do. I hope my songs are a starting point that gives hope to young people going through difficult times. They all feel overwhelmed yet hopeful, and they live for a better future.
AKP: What can we look forward to once you've finished this comeback? Can you tell us any of your plans for 2022?
G: I'm preparing music with a different charm than this album. Even now, I'm still working hard making new songs because I want to be able to create diverse music for my fans, so please look forward to it all next year. If touring turns into a post COVID-19 situation, and there are no performance regulations or restrictions on overseas travel, I also can't wait to meet with overseas fans.
AKP: Among AllKPop's readers, we have Gaho fans not just the United States, but all around the world. Can you give a special shout-out to your overseas fans who are not only looking forward to your new album but also to the opportunity of seeing you perform live again?
G: Hello, this is Gaho! I'm really grateful that there are people in regions outside of Korea listening to my music and giving me lots of love. That's something that has become a huge strength for me. My first full-length album has just come out. As an album with colorful music containing various emotions that I – as a 25-year-old – relate to 'youth,' I hope many fans will enjoy listening to it. Thank you!