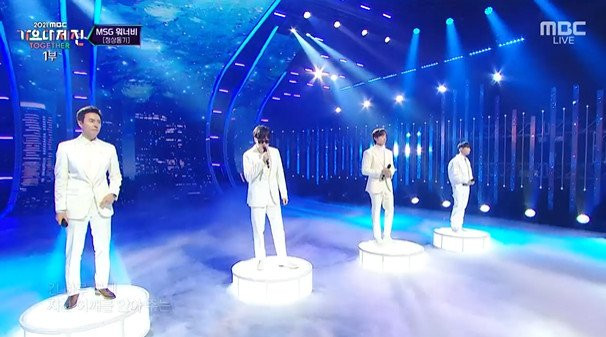 Can you guys believe it's already been two weeks into 2022? It seems like yesterday when I celebrated New Year's 2021, but it's already more than a year since then... Time surely is flying. It's time to look at some of the best performances from the end-of-year festivals that KBS, SBS, and MBC have presented this year! The three main broadcasting companies always do an amazing job at creating everlasting performances that really help us look back throughout the year.
It seemed that all three broadcasting companies shared a similar concept of "together," where the country is finally coming together after two years of the extended coronavirus pandemic. With "Living with COVID-19" starting up in South Korea, fans were finally able to see some of their favorite artists perform live for the first time in a very long time. Let's take a look at the best performances this year from each festival!
2021 SBS MUSIC AWARDS -
Minnie x Chaeyeon x Ryujin x Isa [FICTION]
These fourth-generation k-pop gems covered sunbae BEAST's (now known as Highlight) "Fiction." These charismatic ladies killed it for sure.
2021 KBS GAYO FESTIVAL -
Wendy,Jiho,Yuna,Chaeryung,Yuna,Sieun,Yoon,Wonyoung - Way to Go!
It was almost as if we had a flashback to 2009. These eight ladies definitely made the sunbaes proud with this performance.
2021 MBC GAYO FESTIVAL -
Lee Moojin x Hwasa - Traffic Light
The vocal king & queen came together to create a sweet yet harmonious performance that really blew everyone away! Everyone loves Lee Moojin's "Traffic Light," but add Hwasa's killing voice on top of that - what do you think?
2021 MBC GAYO FESTIVAL -
AIKI x Jeon Soyeon x My Teenage Girl - Same Same Different
"My Teenage Girl" seems to be one of the hottest television shows in South Korea at the moment, and the teachers Aiki & Soyeon collaborated with the contestants to perform on the last day of 2021!
2021 MBC DRAMA AWARDS -
LA CHICA - Congratulatory Performance
This performance knocked the actors' socks off as if we were watching some type of musical! The dance was definitely out of this world and it was rather different from our typical K-pop performance but in a good way!
2021 MBC MUSIC AWARDS -
MSG Wannabe - Foolish Love & Only You
We can't forget MSG Wannabe that took over the K-Pop scene in early 2021. With Yoo Yaho producing the group himself, this group was destined for success, and fans were happy to be able to see the two units promote on MBC Music Festival.
2021 KBS ENTERTAINMENT AWARDS-
Brave Girls - Rollin
We have to admit that Brave Girls were one of the hottest groups in 2021, and they will be a group to look forward to this year as well! What better way to end an article than Brave Girls' Rollin. Everybody let's shout - ROLLIN ROLLIN ROLLIN!
Which performance was your favorite in the 2021 awards ceremonies? Let us know in the comments below!