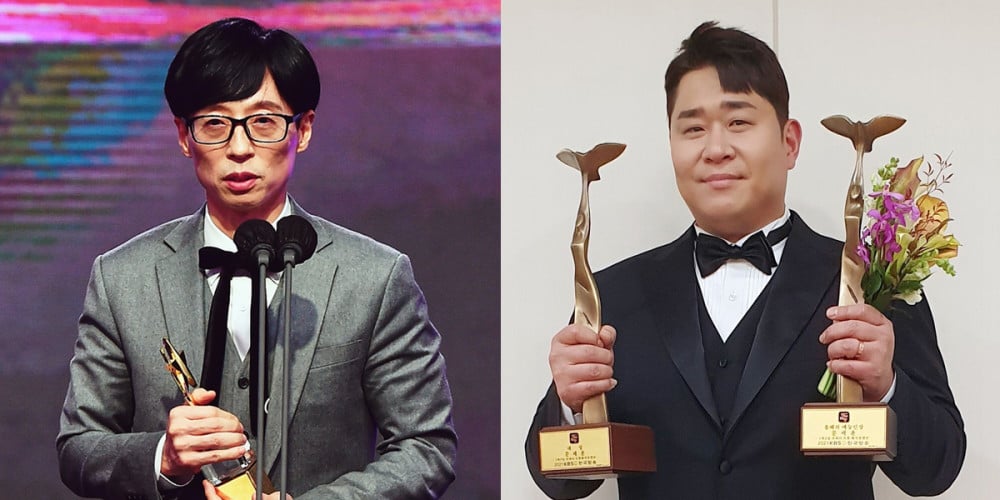 These are the top TV variety stars in terms of brand value rankings for December!
From December 1, 2021 through January 1, 2022, the Korea Institute of Corporate Reputation analyzed brand values of 50 currently active TV variety stars in areas ranging from consumer participation, to media activity, communication, community activity, etc.
In 1st place, the nation's MC Yoo Jae Suk once again reigned at his undisputed top spot with a total of 2,792,762 points. Earlier this month, Yoo Jae Suk clenched the 'Daesang' award at the '2021 MBC Entertainment Awards' for his role in the success of the variety program 'Hangout With Yoo'. Next, comedian Lee Kyung Kyu earned a total of 1,550,811 points in 2nd place, while comedian Moon Se Yoon of KBS2's '1 Night, 2 Days' rose to 3rd place with a close 1,463,390 points. Moon Se Yoon also took home his first ever 'Daesang' award since his debut 19-years ago this year, at the '2021 KBS Entertainment Awards'.
From 4th through 10th place are, in order: Kim Jong Kook, Lee Sang Min, Tak Jae Hoon, Song Ji Hyo, Lee Seung Gi, Ahn Jung Hwan, and Kang Ho Dong.