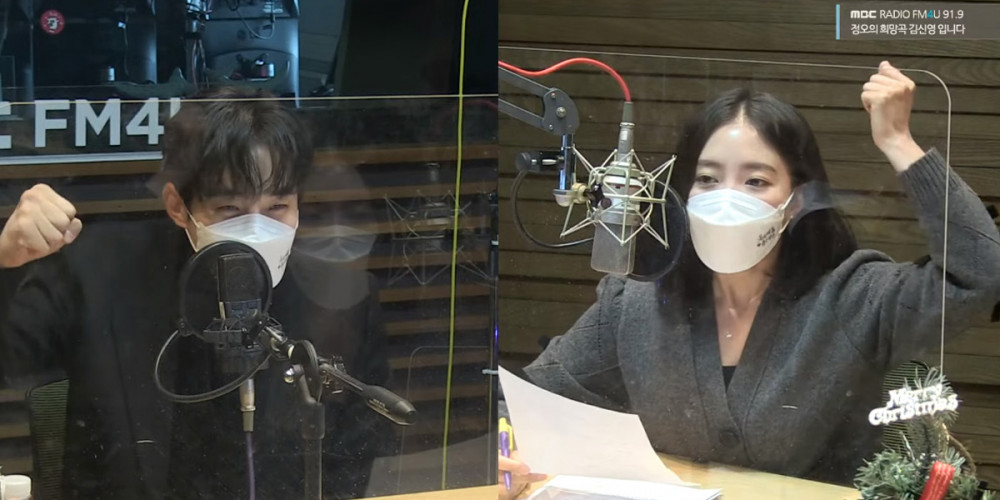 On December 28, co-stars 2PM's Junho and actress Lee Se Young of the ongoing MBC historical drama series 'The Red Sleeve' appeared as special DJs on the MBC FM4U radio program, 'Noon Song of Hope'!
On this day, the two co-stars greeted viewers for the first time since officially wrapping up all filming for their currently airing series, 'The Red Sleeve'. Throughout the radio broadcast, Junho and Lee Se Young shared behind-the-scenes stories from their drama filming set, and also answered viewers' questions.
First, Junho and Lee Se Young recalled filming their first kiss scene. Junho commented, "That was our first kiss scene. We had gotten really close by then, and then sudden for episode 14, they told us to do a kiss scene." Lee Se Young agreed, "Usually, there's a kiss scene that you kind of get over with at the beginning or in the middle of the series. But since we didn't have one early on, I was under the impression that we wouldn't have to do one."
Junho then revealed, "Exactly, We kind of thought that we wouldn't have one, but then when they told us to suddenly do one, it got really awkward."

Next, viewers sent in questions regarding a scene that Lee Se Young previously spoiled, a bed scene between the two characters! When asked to give away a little bit more of a spoiler, Lee Se Young stated, "I can't spoil too much, but... see, we weren't finished doing everything yet, but then the director abruptly told us to stop, and he cut out everything after that. Is that enough of a spoiler? (Laughter)"
Junho also shared, "So that scene ended up going a little differently than what was written in the script. Actually, San and Deok Im did exactly as the script said, but it was the director who said, 'That's enough. That's more than enough footage to make this scene look beautiful,' and so we were totally taken back. I asked him, 'Is that really enough?'. But let's stop talking about this now (Laughter)."
Hearing this, Lee Se Young responded, "The drama might show a 19+ sign for a few minutes at that scene," and burst into laughter once again!
Are you looking forward to this particular scene in 'The Red Sleeve'?