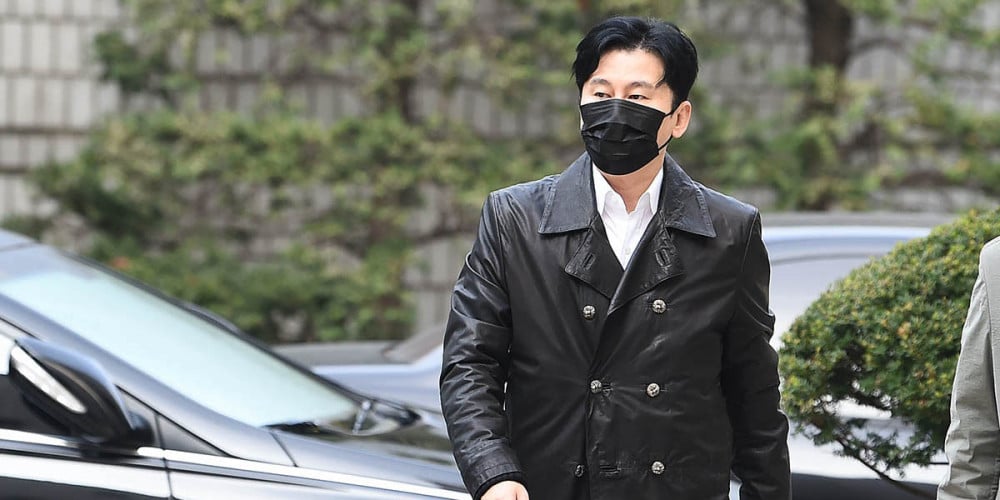 On the morning of November 5, former YG Entertainment producer Yang Hyun Suk personally attended the first court hearing in his latest ongoing case, held at the Seoul Central District Court in Seocho-gu.
Yang Hyun Suk is currently facing charges of threatening an informant 'A', who previously handed over the name of former iKON member B.I to the police for illegal drug use in 2016. The issue began back in 2016 when 'A' was arrested for illegal drug use herself. While being questioned by police, 'A' mentioned that she had delivered marijuana obtained from a buyer to the former iKON member.
However, after this initial confession, 'A' then took back her statement during a follow-up questioning. As a result, B.I avoided facing charges for his illegal drug use at the time. Then, in 2019, informant 'A' spoke up again to expose B.I and YG Entertainment's Yang Hyun Suk for dodging charges for illegal drug use.
Shortly after news of his past drug use spread online, B.I announced his departure from his group iKON. Then, earlier this year, B.I was indicted by prosecution for using the illegal drug marijuana on 3 occasions, as well as for purchasing the illegal drug LSD, from May through June of 2016. Backn September 10, 2021 the court formally sentenced B.I to a probationary period of 4 years for his drug offense, finally bringing the case to a close.
Now, Yang Hyun Suk has appeared in front of the court to face his allegations of threatening informant 'A'. During this first court hearing, Yang Hyun Suk's legal representative firmly stated, "It's true that the defendant met up with 'A' during the incident, but he never forced her to give false information to the police nor did he ever threaten her." When asked to confirm his legal representative's statement, Yang Hyun Suk replied, "Yes, I agree with the statement."
Meanwhile, the ongoing court case will also involve charges including business negligence for paying for 'A's lawsuit costs with YG Entertainment funds, as well as for attempting to convince 'A' to flee to the United States to avoid further damages.