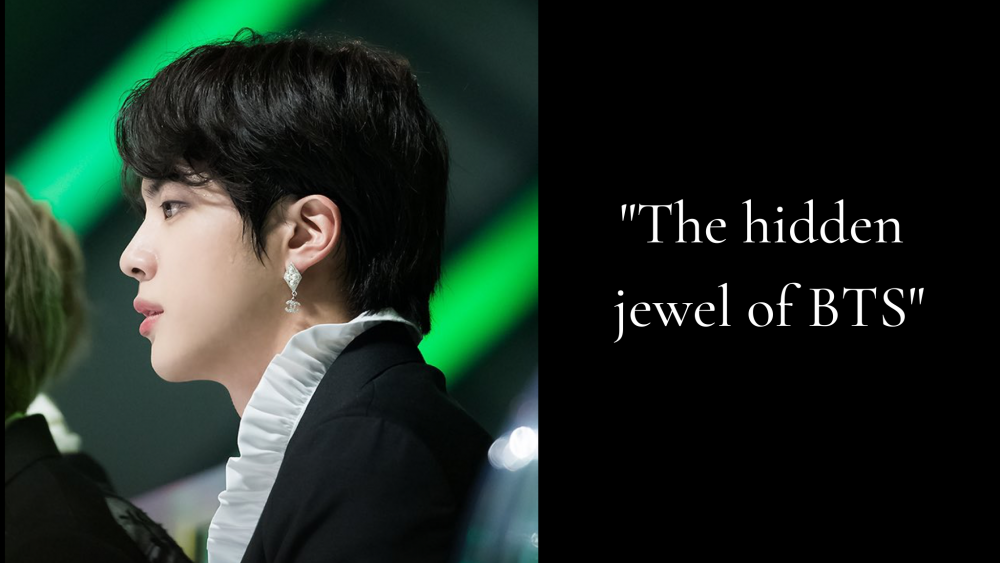 The first-ever solo OST by Jin named "Yours" was released on November 7. The song received tremendous success around the world. It has set the record of reaching 83 #1 on iTunes in just 7,5 hours. "Yours" also became the first Korean OST in history to debut on Spotify Global chart, moreover, Jin became only the 3rd Korean male soloist to enter the Top50. For two days straight, "Yours" demonstrates the highest streams for the first and second day of tracking for a Korean OST.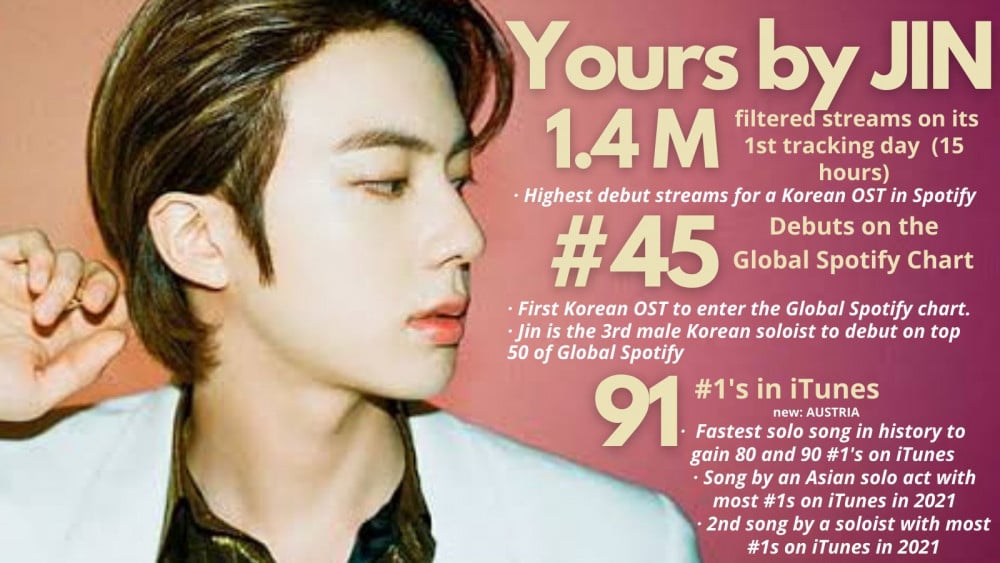 In the song, Jin demonstrated immaculate vocal talent and professionalism. With astonishing ease, Jin mixes falsettos and chest voice, creating perfection out of his wide range. You can notice all the traces of Jin's unique singing style: breathy tone matching with bright, powerful one, easy mixing of low and high notes, and, of course, the entrancing ability to put emotions into every syllable and note Jin sings.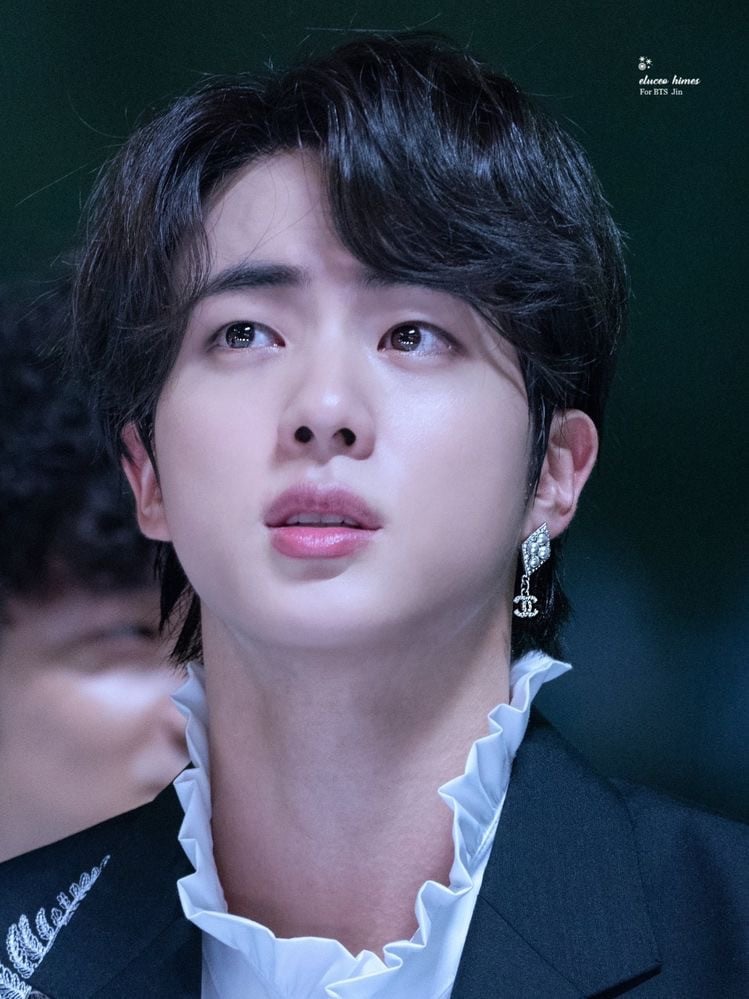 "Yours" is written by a famous music director Gaemi in collaboration with Jida. It was also produced by a long-time friend of Jin - Slow Rabbit, with who he has been preferring to work with on the previous solo songs.
Netizens commented under the track on Melon, leaving their honest expression from Jin's voice. The track is currently charting #1 on OST and Ballad charts and #4 in search.The thing that unites many comments is the public being impressed after finding out that BTS has a vocalist who has such a professionally trained voice with a natural outstanding singing uniqueness. Here are some of the popular comments:
"I may not have a right for saying this, but I can see his skills continue to improve as I keep listening to his songs. There are few such singers. He is amazing."
"By this song, I feel HyeonJo's situation and futility as a drama lover. It was, if you like, a tone like outbreathing alone to a cold and wide space. It sounds like there is a story behind it, though it is clear. That is very nice."
"I got a taste of his ability to give a vocal solo for the first time when he covered Yoon DoHyun's "In Front of the Post Office in Autumn," and he sings well as expected. It's been a long time. I came here to check if Jin sang it while looking at the chart. It was nice listening to such a good song."
"I am just a drama watcher. This song playing at the end of every episode was so good that I looked it up online. The singer was Bts's Jin. Awesome! I didn't know that well, but he is a hidden jewel truly. The voice. Super! The song. Supper. Hoping more people appreciate the song and the drama "Jirisan" as well."
"It's a shame. Hybe has wasted Jin's tone like this! I am a fan of another group, but his voice is very good. 7. Wow, an El* came to cheer for him for a while. I didn't know that he sings this well. It's my first time to hear such a voice. I am further attracted perhaps because he is Super Junior's favorite. I will include his songs in the streaming list and play."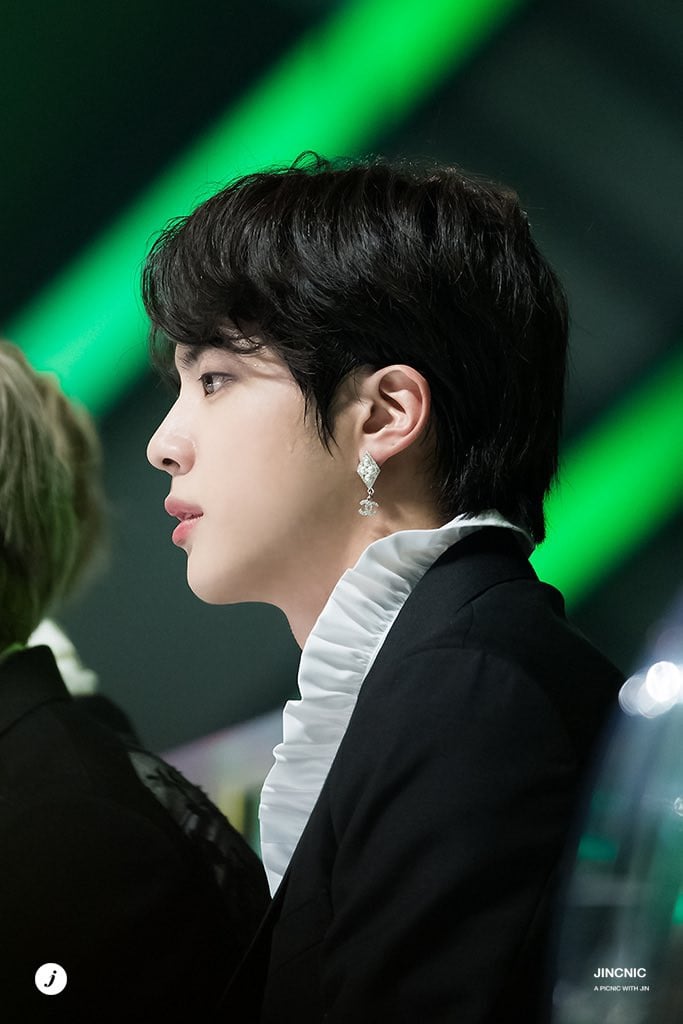 "The parts in which he sings comfortably and the ways in which he delicately ends the song, which is surprisingly great. I didn't know that he could sing like this. A truly beautiful voice. I hope that he would sing more solo songs."
Netizens are praising Jin's fantastic singing abilities that many were not aware of before. He is also complimented for being a true artist by constantly trying to become even better at what he does and succeeding in it. The thousands of comments on other popular Korean platforms and forums agree with them that "Yours" truly allowed Jin to showcase his talent. They called him a "pride vocalist of BTS," "hidden jewel of BTS," and more. Jin frequently gets referred to by the nicknames "The hidden pearl," "The dark horse," "The hidden jewel," "The secret weapon" due to him constantly getting the attention of the general public for flawless live vocals.