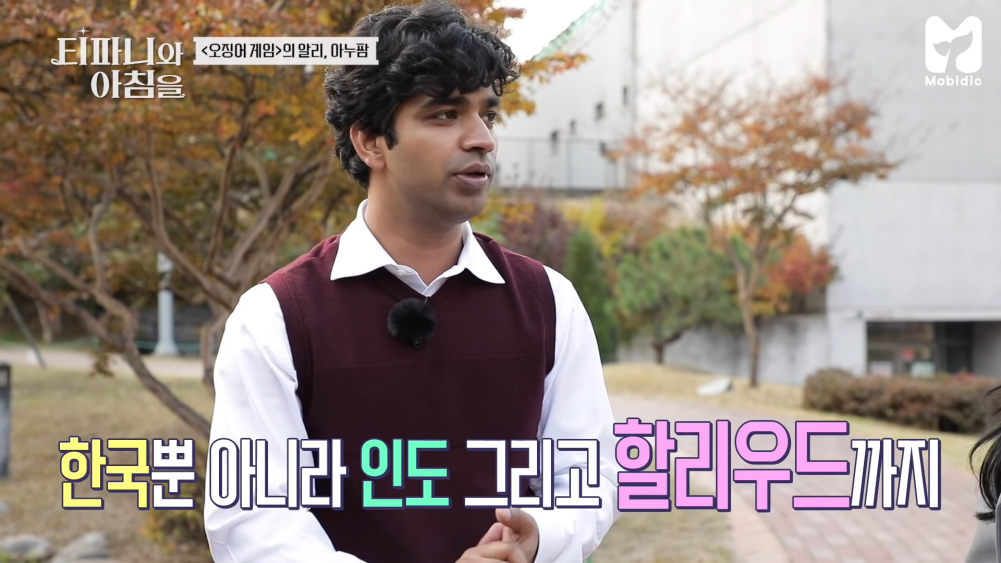 'Squid Game' actor Anupam Tripathi personally shared about his popularity after the megahit series.
The 12th episode of 'Breakfast With Tiffany' was uploaded on the SBS's Mobidic channel. In the new episode, Anupam Tripathi, the actor who played Ali Abdul and gained much love from viewers, appeared as a special guest and talked about various topics.

Anupam Tripathi explained that he is able to realize the popularity he gained from 'Squid Game.' He explained, "I met two fans while making my way to the school today. This is the first time this happened so it's exciting and I'm thankful to everyone who is showing love."

He continued to explain, "What changed the most after 'Squid Game' aired is that I get a lot of casting calls. Not only from Korea but from India and even Hollywood." He also added, "I even filmed an advertisement."




Anupam Tripathi learned acting at the Korea National University of Arts (KARTs), and he explained, "I was thinking about going back to India after I graduated." He continued to explain, "But then I was taking a walk because I like taking walks and I suddenly thought I should try to stay in Korea. I felt like something might come up. Thereafter, I took part in a lot of films and plays."
Anupam Tripathi continued to exude his charms when Tiffany asked, "Do you listen to music when you take a walk or not?" to which he replied, "No, I usually don't because there's already a lot of music around."
In addition, Anupam shared he loved meeting new people and being with people. He shared he would have trusted Sangwoo if he was in the game as himself. He explained, "I think I would have no choice but to trust him. If I can't trust him, what else would there be for me? I would definitely believe in him until the end." He also shared, "I would like to share the 45.6 billion KRW (40 million USD) if I were to have won it," further gaining the love from his fans.