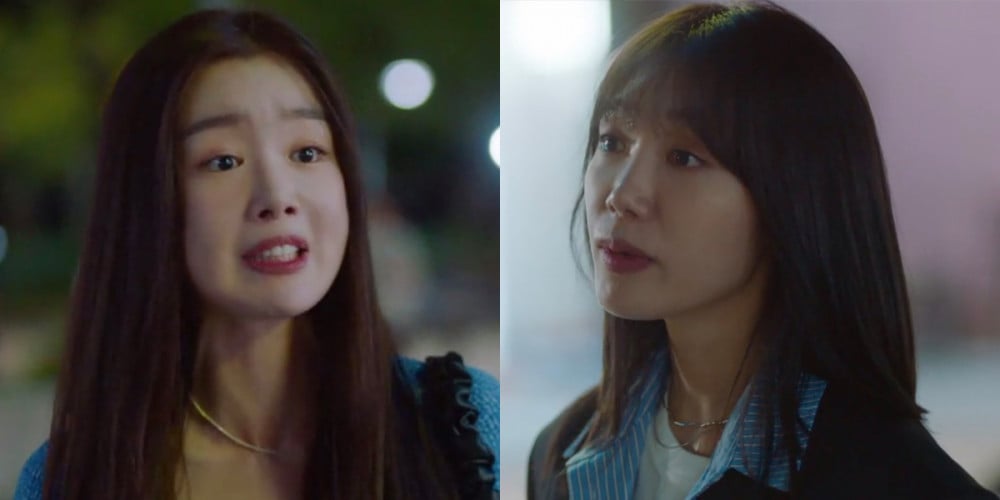 A wild scene from the ongoing TVING original drama series 'Work Later, Drink Now' featuring its female leads Sunhwa and A Pink's Eunji is going viral.
On the November 5 episode of 'Work Later, Drink Now', best friends Han Ji Yeon (Sunhwa) and Kang Ji Goo (Eunji) got in a heated argument after a situation which led to a police station visit. The argument escalated until Kang Ji Goo declared that she would be cutting ties with Han Ji Yeon for good.
Chasing after Kang Ji Goo, Han Ji Yeon attempted to take the conversation further, but Kang Ji Goo simply replied, "Get lost." Hearing this, Han Ji Yeon muttered, "What a rude b****." Kang Ji Goo tackled this with, "What, you dumb b****."
Han Ji Yeon then approached Kang Ji Goo and commented, "What, you little b****. If I stay friends with you then I'm a f****** crazy b****!" To this, Kang Ji Goo responded, "You were already a f****** crazy b****."
As Han Ji Goo turned away, Han Ji Yeon called after her, "Don't f*** with me!" Kang Ji Goo then turned around and angrily shot back, "You're the one who shouldn't f*** with me, d*** it."

Netizens are now applauding both actresses for their realistic portrayal of a savage fight between two best friends. Many were blown away by Eunji's skillful cursing, and also praised Sunhwa for her portrayal of a character who is usually not good at cursing or dealing with conflict.
They said,
"Eunji is so freaking good at cursing kekekeke."
"Why am I watching this over and over kekekeke. They're both really good."
"Respect kekekekeke."
"Eunji's cursing is so on point kekekeke. If I were Sunhwa, that would sting."
"Eunji curses so well, it's lifting a load off my chest kekekeke."
"Eunji kekekekeke. Savage kekekeke."
"When these two are acting you completely forget that they're idols/singers kekekeke."
"Okay this drama looks good kekekeke. I'm gonna watch it."
"Is Eunji playing grown up Sung Si Won (from 'Reply 1997') kekekekeke."
"Sunhwa is pulling off her character so well in this kekekekeke. Sunhwa is from Gyeongsang province like Eunji too, so she probably uses dialect when she curses in real life but now she has to use Seoul-style awkward cursing."
Have you been watching the TVING-original series 'Work Now, Drink Later'?