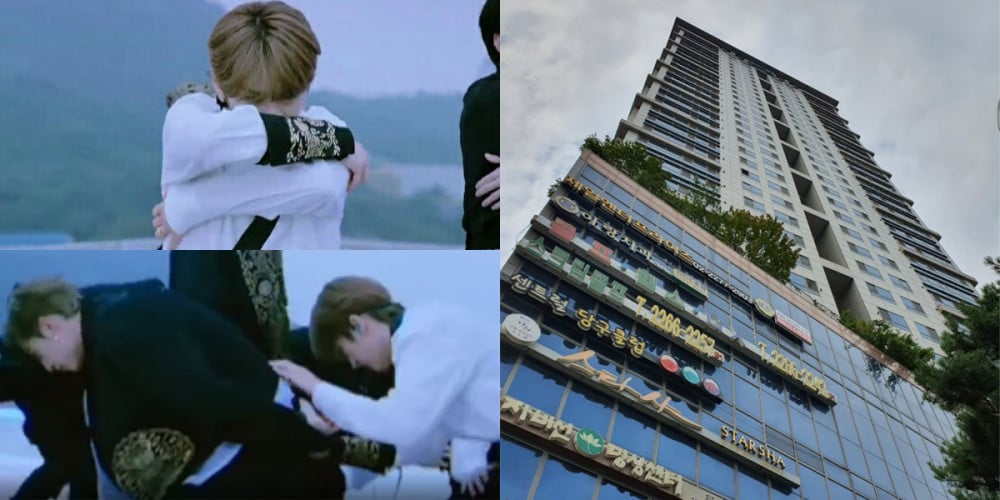 On October 15, numerous K-Pop fans around the world tuned into the '2021 Changwon K-Pop World Festival'.
One of the performing artists on this day, Stray Kids, delivered a powerful performance of "Thunderous" from a stunning, open rooftop, using the foggy weather to their advantage to create a mystical mood.
However, many fans showed concern after watching this particular stage, due to the fact that Stray Kids member Lee Know has a severe fear of heights.
Fans noticed Lee Know performing with his head and gaze directed down for most of the performance, his body rigid and his movements less powerful than usual. It was also pointed out that Stray Kids omitted an acrobatic part of their choreography for "Thunderous" on this day. (You can catch the full performance below.)
According to fans, the suspected filming location for Stray Kids's "Thunderous" performance is a high-rise building located in Namsan, with approximately 32- floors and a height of 110 meters.
Many netizens showed concern toward Stray Kids's Lee Know, and commented,
"Honestly, can you please respect the artists a little bit more..."
"I can't imagine how terrifying that must have been to dance on top of an open rooftop like that, when you have a fear of heights."
"I also have a severe fear of heights, and I think the way he is just looking at the ground the whole time is a sign of struggle."
"The staff must know that he has a bad fear of heights. Why couldn't they have chosen a different place?"
"Lee Know and Han both barely jumped during their jumping parts. This makes my heart hurt TT."
"I'm not even a fan but I can tell right away which one has the fear of heights. If that were me I would have just bawled."
"Even if you don't have a fear of heights, that whole performance looks dangerous!"
"Idols are also professionals who have rights... Trying to make this out as a situation where his 'professionalism showed' doesn't cut it. He should not have had to go to such extreme lengths to show his professionalism in the first place."
"It also looks wet, that location was a terrible choice and shows no respect for the artists."