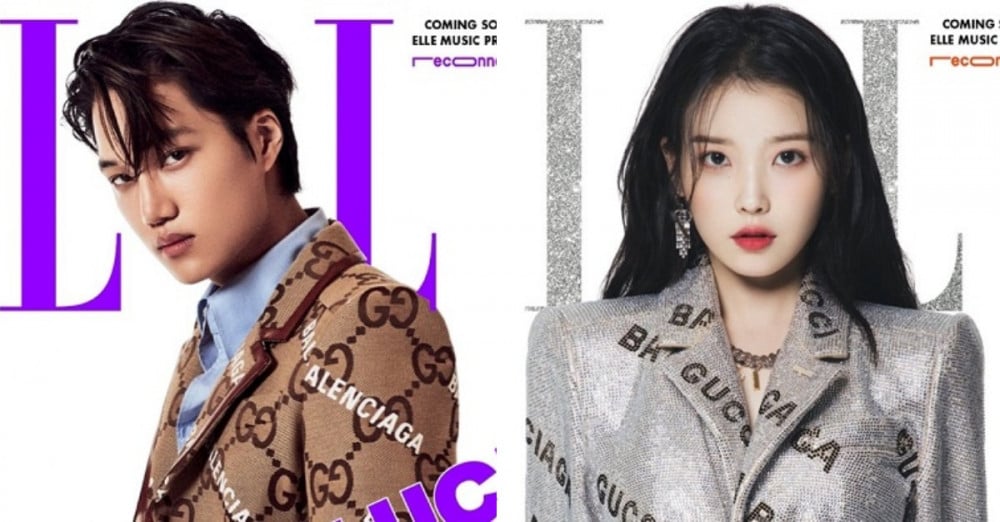 Fashion magazine 'ELLE Korea' has unveiled the cover pages previews of singers IU and EXO's Kai for its November issue. The two global ambassadors for 'Gucci' exuded elegance and charismatic charms in their pictorial, dressed from head to toe in the luxury brand.
In her first photo, IU sparkled in glitter as she showed off her girlish charms wearing a sparkly blue dress. In the second photo, she gave a professional 'boss vibe' in her silver blazer and further, IU looked ready to take on the sport of equestrian with her helmet in her third cover page photo. 'ELLE Korea' also revealed a small portion of her November issue interview, where IU stated, "Both the love I've received in my life and the love I've given to someone seem to have convinced me that a person is someone worthy of love."

On the other hand, Kai was dressed in more earthy colors of green, brown and maroon. In his first photo, Kai looks stylishly relaxed in a white button-down shirt wtih a colorfully patterned sweater and feathered scarf draped around him. In the second photo, Kai is dressed in a brown, Gucci-branded blazer and he looks ready for business. In the third photo, Kai also has his equestrian helmet on and he charismatically looks directly into the camera as if anticipating adventure. In his interview, Kai stated, "For a while, I've frequently talked about happiness. First, we're just living because we were born. But given that circumstance, I want to live happily while also having fun."
The November issue of 'ELLE Korea', featuring IU and Kai, will be released in a total of six versions, with three cover pages each. IU and Kai's full pictorial, interviews, and making videos can also be found on the 'ELLE Korea' official website and YouTube channel.