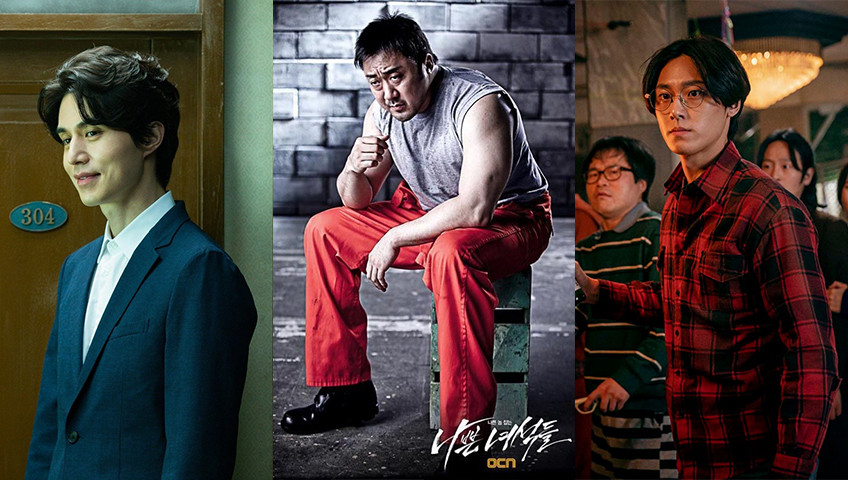 Friday nights are not always meant for going out and party-hopping. For some, especially at a time like this, weekends are best welcomed by staying at home and binging on any newfound series.
The countless options may be quite intimidating, even more so when paired with the fact that most of these have 16 episodes or more. If you prefer shorter K-dramas, you can finish overnight; we narrowed down the choices to six titles that have less than a dozen episodes each. Grab a bowl of popcorn and soda to complete the home cinema experience!
Move to Heaven (2021)
No. of episodes: 10
Nothing beats the feeling of a long, comforting hug after being drowned in a week's worth of stress. In this year's long list of K-dramas, that exact feeling is best replicated when you watch Move to Heaven. After his father dies, Han Geu-Ru (Tang Joon-sang), who has Asperger's syndrome, is left under the care of his estranged ex-convict uncle Cho Sang-gu (Lee Je-hoon). Within three months, Sang-gu has to prove that he is worthy of being his nephew's guardian, and among the requirements is working for their trauma cleaning service. It digs deep into the hearts of the dead and tells their delicate narratives with deep respect. It is inspired by the nonfiction essay "Things Left Behind" by Kim Sae-Byul, who is also a trauma-cleaner.
Sweet Home (2020)
No. of episodes: 10
This is for all fans of post-apocalyptic dystopian and survival stories. Based on a Naver webtoon by Kim Carnby and Hwang Young-chan, Sweet Home is set in the Green Home, an apartment complex full of desperate residents with diverse pasts. As the city gets dominated by ruthless monsters, the building goes on lockdown, and everyone fights to stay alive. Starring Song Kang, Lee Jin-Wook, Lee Si-young, Lee Do-Hyun, it boasts of an outstanding ensemble that effectively embodies the personalities and struggles of each character. It's a fresh and thought-provoking series that will keep you on your toes while watching.
The School Nurse Files (2020)
No. of episodes: 6
Forget all K-drama stereotypes you have come to know - The School Nurse Files is unlike anything you've seen before. Picture this: a school where students are convinced that they are healthy and are required to do a laughter exercise in the morning. A teacher blanketed by a jelly aura who is also the grandson of the school's founder, and a nurse who slashes jelly creatures related to human desires with a rainbow lightsaber-ish sword. Adapted from Chung Serang's 2015 novel "School Nurse Ahn Eunyoung," its eccentric vibe with pops of color here and there will drive you so curious about what happens next, you won't even notice you've already finished all six episodes in one sitting.
Strangers from Hell (2019)
No. of episodes: 10
Not everyone can stay awake in an all-nighter series spree, but with Strangers From Hell, anyone would be compelled to stay focused throughout the entire story. This psychological thriller follows Yoon Jong Woo (Im Siwan) as he moves to Seoul to work for his university senior, even if what he truly wants is to become a writer. Broke and drained from the bustle of the city, he is thrust into the cheapest goshiwon (small and economical quarters) he could find - the Eden residences. Beyond the poorly-lit halls and tattered thin walls, Jong Woo gets baffled by his neighbors, who are a bunch of oddballs: a chit-chatty dorm owner who gives out rotten eggs, an ill-tempered thug, a pervert, creepy twins, and a calm but peculiar man with glacial stares. Dentist Seo Moon-jo (Lee Dong Wook) of Unit 304 seems to be the friendliest and most regular-looking of them all - or maybe not.
Argon (2017)
No. of episodes: 8
Disinformation and power play have existed in the media industry for the longest time, and television shows that echo such realities, but at the same time challenge, the viewers should always be credited. Argon offers gritty, straightforward storytelling of what happens on and off-air in newscasts. Featuring an investigative team led by Kim Baek-Jin (Kim Joo-Hyuk), it takes us to a backdoor entry to journalists' endless paper trails, meticulous search for sources, and threatening situations they come across in the line of work just to produce accurate and relevant reports. It also puts the spotlight on contract worker Lee Yeon Hwa (Chun Woo Hee), who is driven to become a permanent reporter despite being off to a rocky start due to her distrustful teammates.
Bad Guys (2014)
No. of episodes: 11
Putting together a squad of criminals for a work of justice may be an already familiar concept, but there's always something intriguing about how it's going to be executed on the small screen. As murder reports begin to get out of hand in the city, police chief Nam Gu-Hyeon (Kang Shin-il) seeks the help of Oh Gu-Tak (Kim Sang-Joong), a whip-smart detective suspended for using excessive force in the job. Along with the principled Yoo Mi-young (Kang Ye-won), he requests the temporary release of three lawbreakers: high-profile gangster Park Woong Cheol (Ma Dong-seok a.k.a Don Lee), professional hitman Jung Tae-Soo (Jo Dong-hyuk), and the country's youngest serial killer Lee Jung-moon (Park Hae-jin). With an intensely appealing plot and a superb cast flawlessly cut-out for the roles, Bad Guys is one badass ride that will seal your undivided attention up to the last shot.