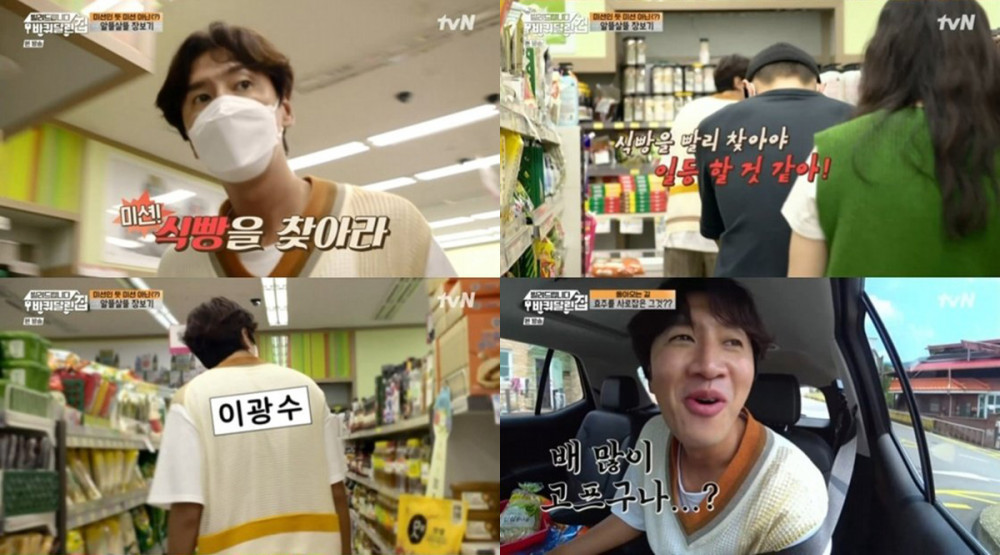 On September 13, tvN's special spin-off reality series 'House on Wheels for Rent' aired its first episode featuring the cast and crew of the upcoming blockbuster film, 'The Pirates 2: Goblin Flag'!
On this day, the film's lead cast members Han Hyo Joo, Kang Ha Neul, and Lee Kwang Soo arrived at the 'House on Wheels' camping site first, checking out the mobile home and also going grocery shopping.
First, Han Hyo Joo, Kang Ha Neul, and Lee Kwang Soo unloaded some of their luggage inside the 'House on Wheels', also checking out the interior. But when they finished looking around and went quiet, Lee Kwang Soo quickly said, "Well, now let's go out and check out the surrounding area." Hearing this, Kang Ha Neul burst out laughter and commented, "But there's nothing but an open field," and Han Hyo Joo said, "Let's rest for like 5 minutes."
But as soon as he took a seat, Lee Kwang Soo seemed anxious to get back up. Kang Ha Neul observed, "I think you have ['Running Man'] disease." Han Hyo Joo also added on, "Try to stay still." To this, Lee Kwang Soo couldn't help but joke, "I have not stayed still for 11-years. Even now, I am being forced to rest. If we were going to sit and now do anything, I would have just stayed in bed at home!"
Later on, when the three stars headed over to the mart for groceries, Kang Ha Neul and Han Hyo Joo noticed Lee Kwang Soo practically running through the isles. Han Hyo Joo remarked, "There's no mission that says you have to buy your groceries fast," but Lee Kwang Soo stated, "I feel like I win 1st place if I can find the bread the fastest."
On next week's episode, even more cast members of 'The Pirates 2: Goblin Flag' plan on arriving for the camping trip, including Kwon Sang Woo, Chae Soo Bin, EXO's Sehun, Kim Sung Oh, and more! The second and third episodes of tvN's 'House on Wheels for Rent' will air on September 20 and September 27 respectively, at 9 PM KST!