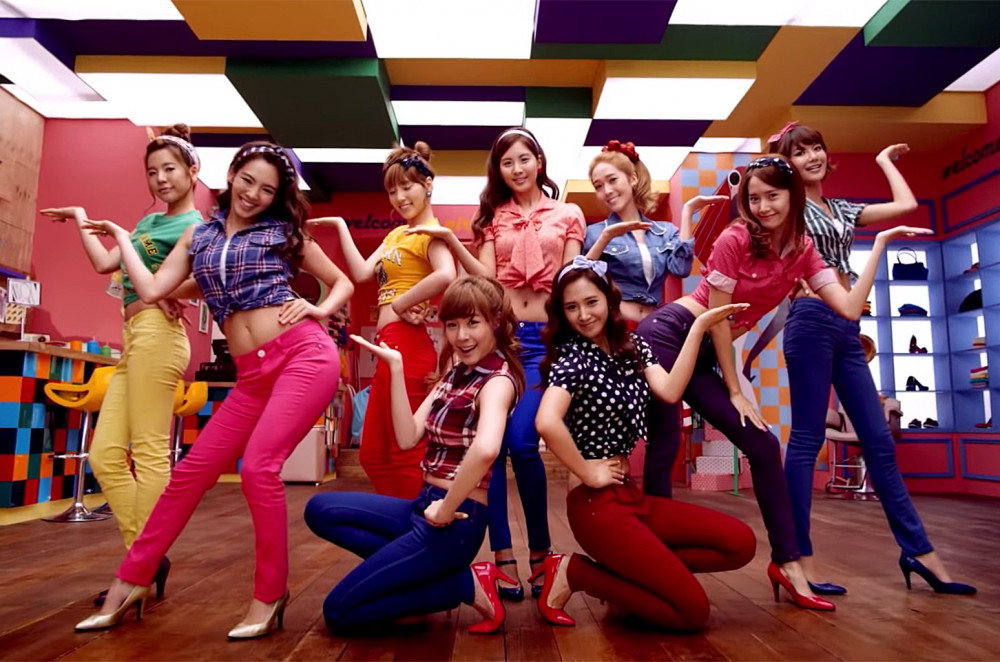 We are back with our final feature of the 2009 K-POP series, which featured rookie artists, solo hits, and boy group hits. The final article features the legendary girl group hits of 2009. Before we begin, let us just explain that the top 3 songs of 2009 on the Melon Yearly Chart were all taken by girl groups. We can clearly see that girl groups were at the top in the year 2009. While there were many great bops in 2009, let's check out some of the biggest girl group songs introduced in 2009!
1) Girls' Generation - Gee
Roughly twelve years ago, everyone in South Korea, and I mean EVERYONE in South Korea, was jamming out to "Gee," which broke multiple records in the industry. It won #1 on Music Bank for a whopping nine weeks in a row, breaking the previous record set by Jewelry. Everyone was buying Girls' Generation skinny jeans and dancing along to the easy-to-dance choreography of these nine ladies. The song is truly iconic, and fans were so happy to see Girls' Generation perform. We can proudly say that it was a beginning of an era as K-pop started to expand its presence globally.
2) 2NE1 - I Don't Care
2NE1 was featured in the rookie edition of the 2009 series; however, "I Don't Care" was such a hit itself that these talented four ladies are mentioned in the girl group hits once again. This song landed #2 on the 2009 Melon Yearly Chart, right behind Girls' Generation's "Gee." We also have to consider the track came out a whole half-year later than "Gee," truly portraying the song's influence.
3) Brown Eyed Girls - Abracadabra
And.. coming in #3 was these powerful ladies' biggest hit song. OG K-pop fans, we must admit -- we all tried dancing to "Abracadabra" at one point during 2009. I mean, who could resist this crazy seductive dance? And of course, the song was so addicting and catchy it was as if these ladies actually cast a spell on us.
4) Girls' Generation - Tell Me Your Wish (Genie)
Girls' Generation has just left such a huge impact on second-generation K-pop that they deserve two mentions in this post. After dominating the first half of the year with "Gee," they returned with a marine girl concept in the summer. It was the perfect refreshing song for a summer day, and their 180-degree changed concept was A1 as well. Also, their performance on Show! Music Core was the highly viewed performance on a music show to date, with a whopping 17.2% of the country watching the ladies LIVE.
5) KARA - Mister
Last but definitely not least, the ladies of Kara powered through the latter half of 2009 with their legendary hip dance and the song "Mister." A fun fact: this song was originally not the title track, but the song had such a great response that they decided to switch the promotional track a few weeks after promotions began. It might be normal now where artists typically promote their songs for only two to three weeks, but this was the time when artists would promote their songs for nearly two months. Needless to say, the impact that this track had was tremendous, and Kara was able to also reach top-tier status with this album.
Well, there you have it. Woo! 2009 was surely an adventurous year in K-pop. What were your favorite songs in 2009? Let us know in the comments below!