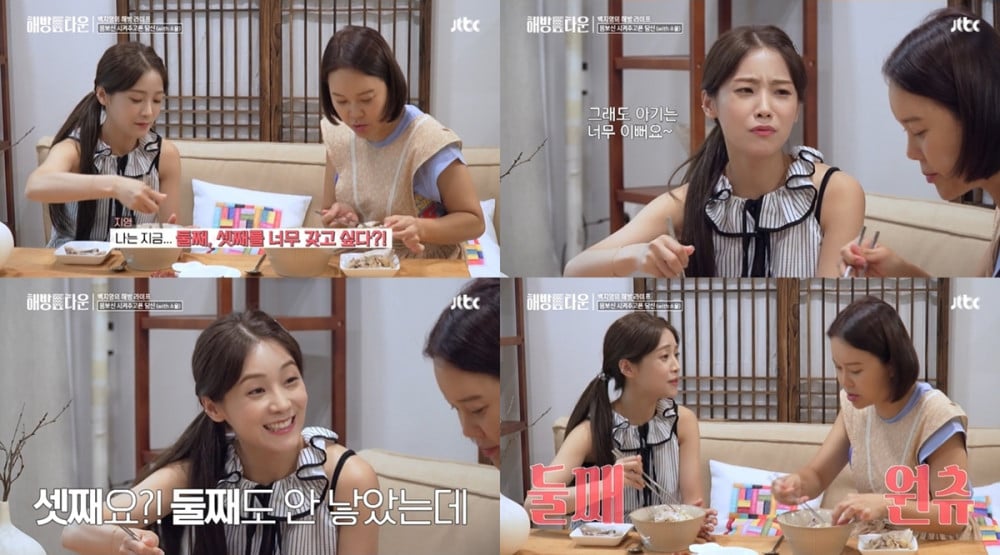 On the August 17 broadcast of JTBC's 'Haebang Town', former Crayon Pop member Soyul joined singer Baek Ji Young for a date between mothers.
Greeting Baek Ji Young with a bright smile, Soyul said, "I picked up Heeyul from school, sent her to art lessons, picked her up again, set out some food for her, and now I'm here. It's not even dark yet!"
JTBC's 'Haebang Town' invites celebrities from various fields of entertainment to relax at a special vacation home, so that they can get away from their busy lives and find time for themselves again. When Baek Ji Young asked Soyul what she would like to do if she had a chance to vacation on 'Haebang Town', Soyul responded, "I would definitely invite my friends over. I want to invite the other moms for champagne, and I want to have a karaoke party with my high school friends."
Soyul also told Baek Ji Young, "I get so bored when I'm sitting at home with my husband. So I try to play pranks on him, but he is always just lying down on the sofa, looking at his phone."
During their meal, Baek Ji Young said, "I really want to have a second and third child. What about you?" Hearing this, Soyul remarked, "Yes, we definitely have plans for another kid. Newborns are so beautiful. [Moon Hee Jun and I] are definitely trying to have a second child."