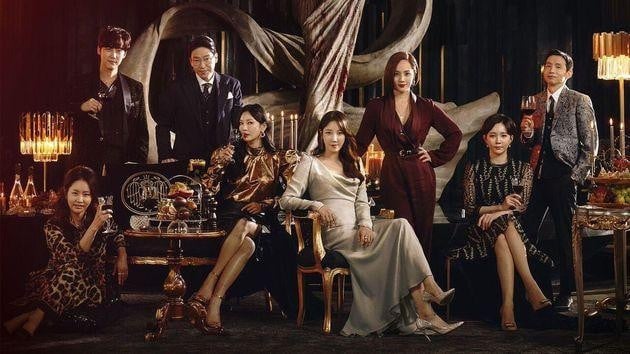 Penthouse III aired its ninth episode recently, and many viewers are finally relieved that Logan + Su Ryeon have initiated the long-anticipated revenge on villains Ju Dan Tae and Cheon Seo Jin. The Penthouse series has been receiving a lot of attention this past year for not only having three seasons (something that's not common in Korean dramas) but also because of the ridiculously crazy acts of revenge that the characters have been scheming.

The drama has received positive AND negative attention because some of these schemes are just so above and beyond and downright unrealistic. Nevertheless, some of the revenge moments that Shim Su Ryeon, Logan Lee, and Oh Yun Hui have created were "cider" moments. Koreans call these "cider" moments because it's as refreshing as a cider, which is a Sprite equivalent in South Korea. Check out some of Penthouse's most refreshing acts of revenge.
1) Shim Su Ryeon's Beginning of Revenge for Her Dead Daughter

The scene that started it all. If this didn't happen, Penthouse wouldn't have even had to happen. Shim Su Ryeon discovered the secret of the birth of her now-dead daughter Min Seol-Ah all schemed by the evil Ju Dan Tae & Cheon Seo Jin. She is now committed to making sure justice is served.
2) Seok Hun & Seok Gyung's Rebellion Towards Father

This personally was very refreshing to watch, as the twins turned their backs on their own father. The twins figure out how cruel of a person their father is, and they are happy to be reunited with their mothers and separated from the devil.
3) Shim Su Ryeon x Na Ae Gyo

This was potentially the most shocking moment of Season 2, as Na Aegyo, who turned out to be actually Shim Su Ryeon, schemed a situation to make Ju Dan Tae pay for his crimes. She lived as Na Aegyo for nearly two years to make sure this scheme worked properly, and though Ju Dan Tae still pulled strings to get out of a sticky situation, this moment was definitely refreshing for everyone to see.
4) Shim Su Ryeon x Kang Marri

When Kang Marri finally had some conscience and decided that it was enough that Ju Dan Tae had her family in his hands, she joins hands with Shim Su Ryeon to finally put an end to all of this. The result -- Shim was able to ALMOST kill Ju Dan Tae. But it wouldn't be a drama if the villain just died right there, right?
5) Fake Cheon Seo Jin by Oh Yun Hui

At the beginning of Season 2, viewers were shocked that Oh Yun Hui was not dead as many viewers were thinking, and she was able to SING. Not only sing just normally, but she was also AMAZING! She was a schemer when Cheon Seo Jin was on the verge of vocal nodules, and she needed someone to be her shadow singer for this upcoming performance. Oh took perfect advantage of this opportunity, and she was able to prove to Cheon again that she is the rightful winner of the Cheong Ah trophy.
6) Bae Rona x Shim Su Ryeon

We can't take out Rona's bravery and her new dark self in order to achieve justice for her deceased mother. She makes sure that Cheon Seo Jin and Ha Eun Byeol do not get what they want by scheming situations that Rona would have never really done before. Also, Shim Su Ryeon begins her darkened character by making sure everything that Ju Dan Tae wants is blocked. We suggest you watch this video -- it'll make you much more refreshed.
7) Cheon Seo Jin vs. Ju Dan Tae all Schemed by Logryeon

All viewers can agree the last ending scene of episode 9 was clearly the BEST moment in Penthouse for the longest time. The evil Ju Dan Tae and Cheon Seo Jin are finally walking their path to doom, and it's amazing because Logan and Shim Su Ryeon set up this whole situation. We can't wait for the continuation, as it looks like there are only going to be more refreshing cider moments from here on out.
If you didn't have enough, SBS was very kind enough to create a "CIDER REVENGE" special video with all the acts of revenge from Seasons 1 & 2. Check it out here.


Penthouse III now only has five more episodes. It's hard to believe that it's already been almost a year since this grand series began, and viewers are definitely upset that it is soon coming to a close. What was your favorite revenge moment on Penthouse? Let us know in the comments below!