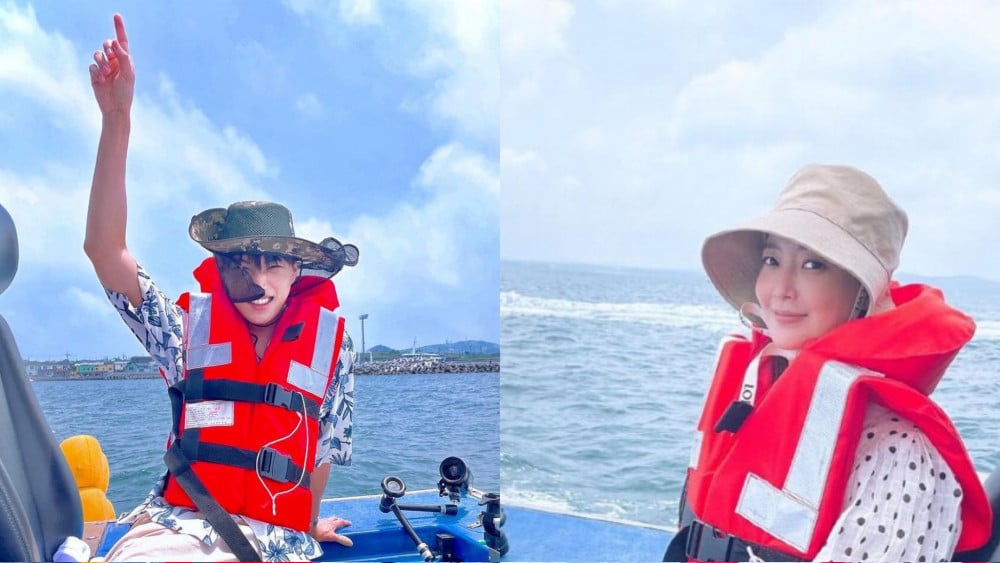 Who would've thought that Kpop's Best Dancer, KAI, and Award-winning Actress, Kim Hee Sun, would make an unexpected yet amazing team?
"Honeymoon Tavern" or "Udo Inn," the latest TvN Asia travel-reality show, is about a tavern and guest house for newlyweds only, which was run by celebrity official cast members, Kim Heesun, Tak Jaehoon, Yoo Teo, Moon Seyoon, and Kai.
Throughout their whole promotion and released episodes, people noticed this duo for always having adorable interactions.
On one of Kim Heesun's Instagram posts (@lovely.katie.k), she posted lovely photos of her riding in a boat with a caption: "Photograph by KAI." This caught attention as she cutely credits KAI as the photographer, and everyone praises KAI for taking Heesun's photos prettily.
In relation to that, KAI also uploaded a photo on his Instagram (@zkdlin), looking so enthusiastic in a boat, which looks like it was also taken by his Heesun noona.
https://www.instagram.com/p/CQ...


On one Monday night before a new episode of the show was released, Kim Heesun had an Instagram live for promotion on which KAI joined her too despite being in the middle of exercising outside. Everyone watching the Instagram live thinks they are so cute and how they look so close throughout their conversation live. Both of them tell the viewers to look forward to their duo team and call it 'KaHee,' "KAI" + "Heesun."


In Episode 6, KAI and Heesun were both tasked to make the snacks for their night bar. All-day long, the two were always seen happily doing their tasks. Meanwhile, while preparing the night bar for the guests, KAI mentioned that both of them can do everything together, and the duo could be called 'KaHee' on which Heesun happily agreed.
Throughout all the episodes aired, this adorable duo were always seen for being excited and teasing each other. Simple things yet unexpectedly came out perfectly, make these two giggly, jump like kids, and laugh cutely side by side.


Let's look forward to more adorable interactions of the duo 'KaHee' as well as the whole Udo Inn next episodes!