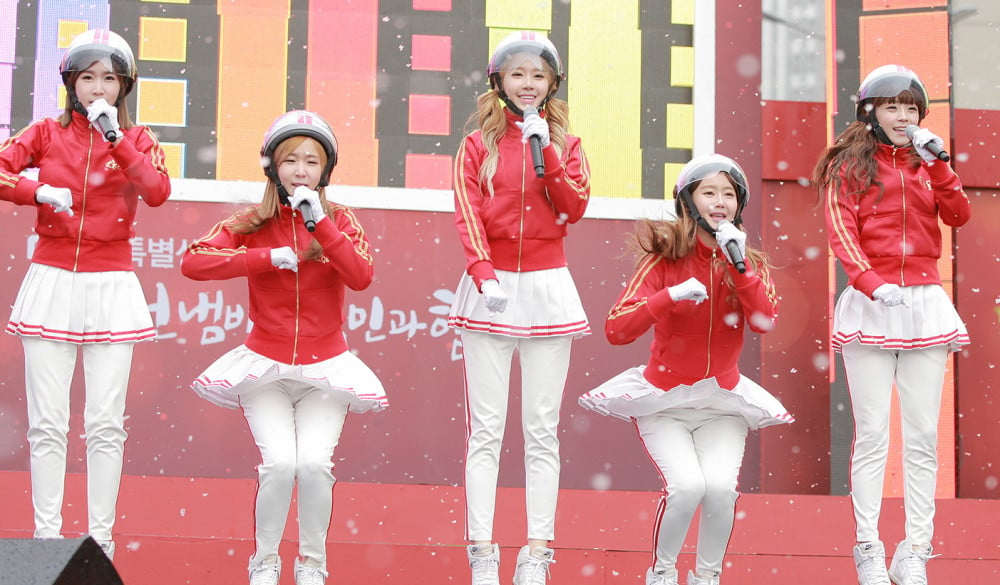 The term "one-hit wonder" exists in the music scene, defined as a singer that achieves mainstream popularity, often for only one piece of work, and becomes popular amongst the public for that specific song. K-pop definitely plays its role in one-hit wonders. While there are many successful groups, plenty of groups received attention for merely one song. There was even a show called "Sugar Man" that featured first-generation one-hit wonders. Because Sugar Man doesn't air anymore, it's time to take a time machine, and let's check out some one-hit wonders in the K-pop scene!
1) Crayon Pop - Bar Bar Bar
Does anyone else remember these helmet girls that were EVERYWHERE in late 2013? They were strange, so strange that the public loved them. Crayon Pop released their unique "Bar Bar Bar," and the song did not perform well at first. It took them a solid month for them to receive recognition, and it was purely because the concept was just so unique and new. People thought the melody and beat were extremely catchy, and it soon became the anthem of 2013. Crayon Pop was expecting to stampede, but their fame ended pretty quickly as other songs were criticized for being "too strange" or "too childish."

2) The Ark - Light
One of the more recent one-hit wonders, The Ark, was a girl group that consisted of rapper Euna Kim and four other members. They debuted in 2015, and while the song didn't perform well on the charts, the song and music video received plenty of attention for its hopeful lyrics and overall mood. The group received attention for having Euna Kim in the group as well, and fans were excited about The Ark's journey. Unfortunately, the agency has internal problems, and The Ark naturally disbanded, leaving only one track in The Ark's journey. The music video for this song is still widely loved for its sentimental story between mom & daughter.

3) Magolpi - Flying Girl
Does anyone remember Magolpi? An actual one-hit wonder, as her song and her magnificent music video that featured all the hottest k-pop artists at the time, received mega attention, and people were curious to see how Magolpi would promote later on. Unfortunately, that curiosity was killed as Magolpi has not promoted since. She later appeared on Sugar Man and performed "Flying Girl."
4) IU & HIGH4 - Not Spring, Love, or Cherry Blossoms
Of course, we can credit IU's prevailing presence to help this track become popular; however, this is boyband HIGH4's only successful track. The song was released to garner attention for HIGH4, and it surely did, but their future tracks that did not feature IU did not do so well. They have not been active since 2017.


5) Brand New Day - Liveable
Brand New Day was a rising vocalist group, and the group received quite some attention beginning with their name. The track had a "trot" feel, but Koreans at that time enjoyed this style of music, and it charted well despite being a debut track. People were curious when Brand New Day would come back -- they returned with a single album the same year but did not perform well. They have been inactive ever since.
6) Taegoon - Call Me
Taegoon was one of the power rookies of 2009, and his debut song "Call Me" was signaling success, as the debut track received quite the attention -- especially in a setting where girl groups were debuting left and right. Unfortunately, his next few tracks did not live up to expectations, and he naturally stopped promoting.
7) KISS&CRY - Domino Game
KISS&CRY appeared in the Korean music scene in 2014 with high hopes, as their debut track was extremely catchy and powerful. The song received pretty stable attention, and many netizens were impressed with KISS&CRY's vocal skills as well. There were high expectations, but a comeback never happened, and the group has been inactive since.
8) Busker Busker - Cherry Blossom Ending
This song always manages to make it to the charts during the spring season, as it has basically become a spring anthem in South Korea. Unfortunately, this is one of Busker Busker's only hit songs as the group disbanded in 2013. Jang Beom June went solo, and he has been releasing chart-topping songs every year.
These were only some of the many one-hit wonders that struck K-pop. Was there a one-hit-wonder that we missed out on? What was your favorite? Let us know In the comments below!