Back on July 19th, BTS was officially listed as the fourth highest paid global musicians in 2020.
Chart Data tweeted the top five artists of Billboard's 'Global Highest Paid Musicians 2020'. The #1 highest paid musician was the rock band Queen, #2 was Taylor Swift, #3 was Billie EIlish, #4 was BTS, and #5 was Post Malone.
The breakdown of BTS's income for 2020 were also released on Billboard's official website:
• Total: $31.5M
• Streaming: $14.6M
• Box-office: $0
• Video Streams: 9.8 Billion
• Audio Streams: 7.4 Billion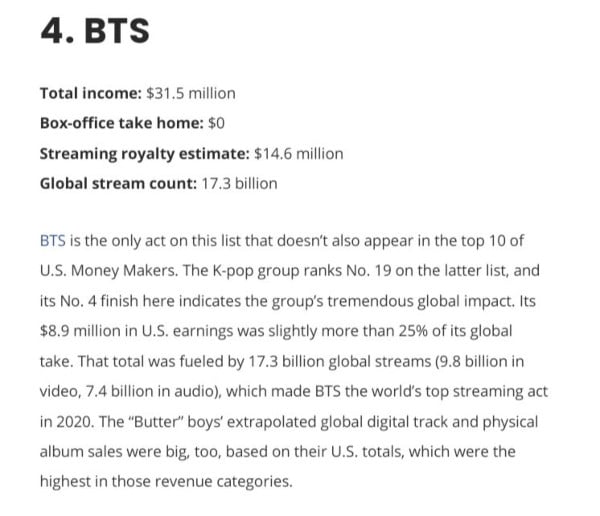 In response to BTS's impressive ranking, netizens commented:
"This is amazing. BTS, for real."

"I wonder how much they are worth...wow I guess they really are doing well."

"Oh no, when I was young I strongly believed that I would marry Min Yoongi, but I guess I can't..."

"Taylor Swift is like an unbeatable wall...For so many years she is at the top, but since she's a solo artist she takes it all on her own."

"They're higher than Justin Bieber???"

"Wow..."

"But BTS distributes it among seven members. If they were solo, they would take it all on their own. But they still probably receive a lot. Please order me just one chicken."

"Respect."

"Wow, they are basically like walking conglomerates."
"Crazy, they are on another level."

"Wow, crazy."