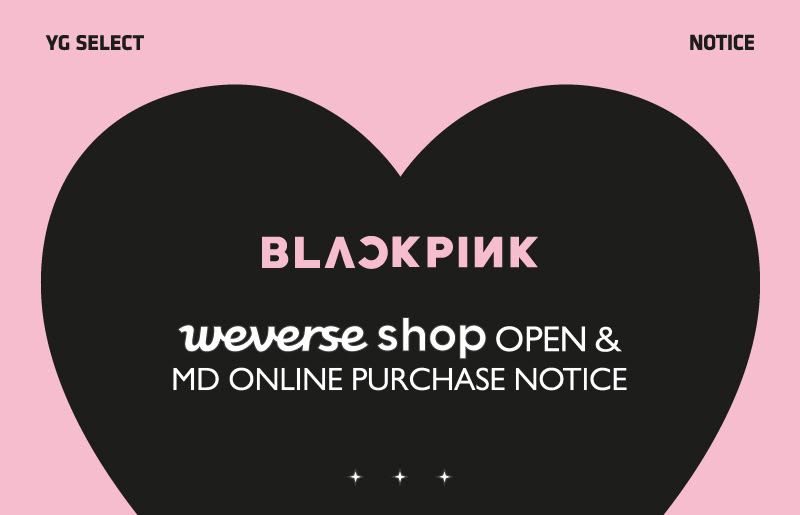 An announcement was made on July 27 at 8 PM KST By YG SELECT (Official store for YG Artists), that BLACKPINK Will be joining Weverse On August 2!


And the Official Merch store is scheduled to open on August 6 And Merch Release On August 18!


The Announcement Also Said:

All official BLACKPINK merch items will be available on BLACKPINK Weverse Shop Global starting Wednesday, August 18, 2021.
Weverse Shop features previously released items as well as items to be released in the future.

Starting August 18, 2021, all official BLACKPINK merch items will be available for online purchase on Weverse Shop only and are no longer available on YG SELECT.

* To exchange or return items purchased at YG SELECT, please contact customer service at YG SELECT.
(Inquiries on BLACKPINK merch items purchased at YG SELECT should be submitted to YG SELECT even after Weverse Shop opens.)

* After Weverse Shop opens, BLACKPINK merch items will no longer be available for sale on YG SELECT.
We recommend BLINK to use the remaining reward points at YG SELECT before Weverse Shop opens.

* Please note that some out-of-stock items will not be displayed on Weverse Shop.
We appreciate the continued interest and support from BLINK and will strive to provide quality products and services in return at Weverse Shop.




Back in January, Korea's Yonhap News Agency stated that Big Hit, and its subsidiary, beNX, invested 30 Billion won (26 Million USD) and 40 Billion won (34.6 Million USD), respectively, in YG's merch and distribution affiliate, YG Plus. After the Deal, YG Artists like Treasure and iKON joined Weverse, and now BLACKPINK is joining! Next Up is Big Bang.