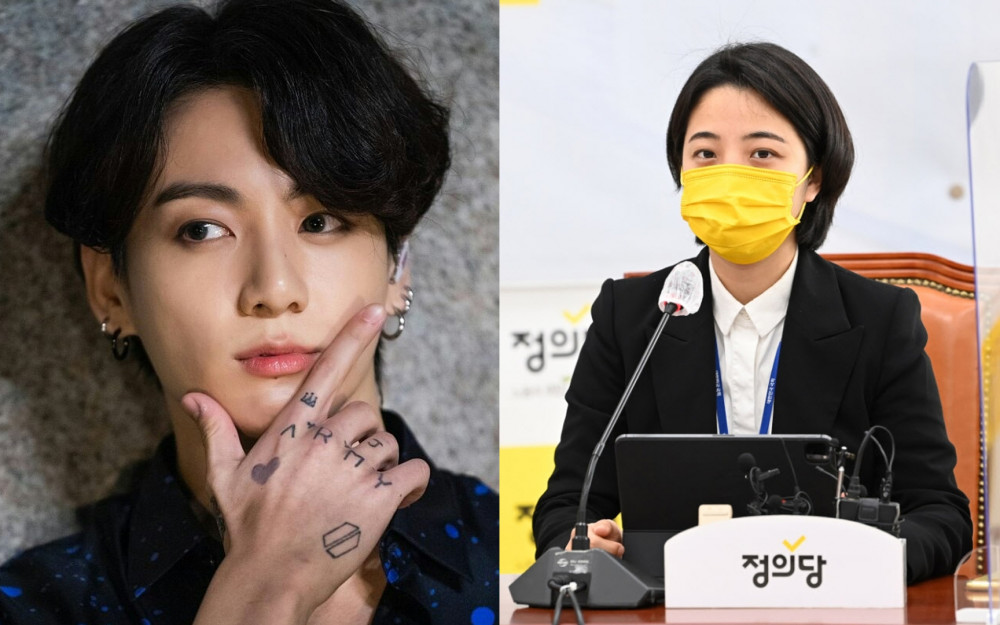 Representative Ryu Ho Jung from The Justice Party has been making numerous headlines as she drew attention to herself by attending the plenary session of the National Assembly in a short pink one-piece dress and attending the parliamentary audit wearing a helmet and work clothes.

In both of these instances, the politician was criticized for her attire as many stated she did not understand the seriousness and the formalities of these events. Recently, Rep. Ryu Ho Jung made headlines as she posted various photos of BTS's Jungkook on her social media along with the announcement of the news of the drafting of the 'Tattoo Act.'
On June 8, the politician wrote up a lengthy article that started with the statement, "Take the bandages off BTS!" and continued to write, "Have you ever seen bandages and Band-Aids on your favorite celebrity's body? This hideous sight, which is often seen on our Korean broadcasts, is made by the station's rules to hide tattoos." The politician explained the current regulations in Korea that require broadcast stations to hide tattoos in different methods because the Korean government has long claimed that "tattoos hurts ethical morals and cause discomfort. It brings adverse effects to young viewers."

The politician criticized the Korean government's belief and ideologies of tattoos and said it harms the artistic freedom of expression. Ryu Ho Jung, criticized, "The system was not following the change in the world that now respects individuality and creativity of individuals. Beautiful paintings and wonderful words on tattoos that are common around us are illegal in Korea. Korea has over 3 million people having tattoos, and tattoos have been deemed as high artistry that swept the world. Even domestic tattooists are revered as outstanding artists on the world stage but Korea only ignored them."
Rep. Ryu Ho Jung also stated that the "tattooists working in South Korea are not protected by the labor laws and their income or any economic activities from tattooists cannot be taxed because it is illegal."

The politician announced the drafting of the Tattoo Business Act and stated, "Defining the Tattoo Act will allow the government to regulate the industry better by defining requirements for issuing licenses to tattoo parlors. This would also allow only skilled and qualified tattoo artists to hold businesses." Rep. Ryu Ho Jung stressed that the 'Tattoo Business Act' would protect tattooists and guarantee people's rights to health, hygiene, and safety management.
However, contrary to her post's intentions, there was criticism that she used BTS for clout. BTS fans have requested for the politician to remove the photos of Jungkook, stating, "I don't want you to use BTS for politics," "I understand and agree with what you are pursuing. I like that you proposed this bill but please remove BTS and Jungkook's photo," "There are other artists and idols who have tattoos but you using this specific idol member makes it obvious you are doing it to get attention," and "Please do not use BTS as a tool for your political movement."
Fans and netizens alike criticized that the politician was using BTS as a means to grab public attention but was, in turn, nailing on the image that Jungkook is a tattooed idol member. Netizens criticized, "BTS and Jungkook are not the epitomai of 'Tattooed celebrities.' I think you could have expressed your objective and 'Tattoo Act' in a different way," "It's not pleasing to see that you're using BTS's fame in this way" and "I support the bill but don't use BTS's Jungkook like this."