The 30-member jury of Mnet's ongoing music game show Kingdom has finally been unveiled.Ever since the program started with idol groups BTOB, SF9, iKON, The Boyz, Stray Kids, and ATEEZ, the rankings determined by the results of the jury votes have been controversial. There were fans who questioned the adequacy of the judges and asked why the judges were not announced. In the episode just before the final round, Mnet finally showed the judges.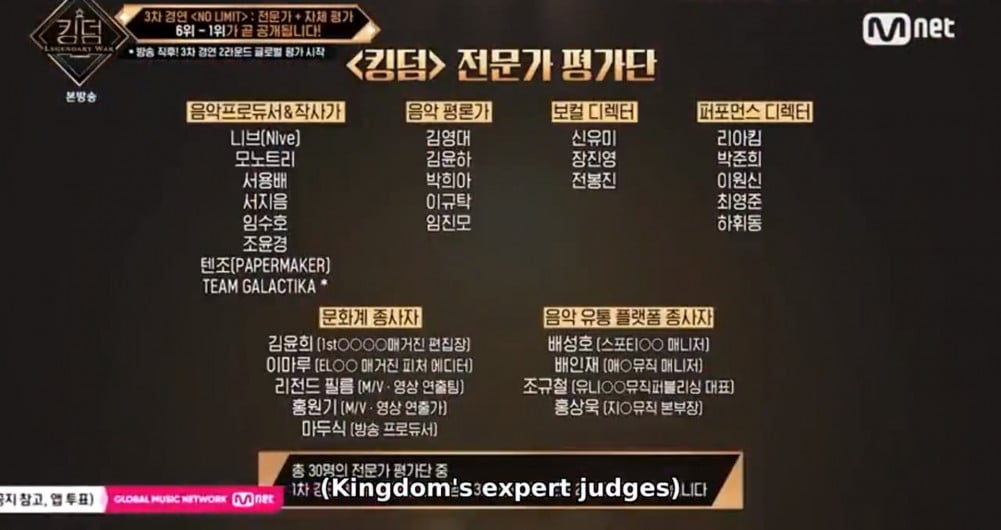 The Music Producers & Composers
1. NIve (니브) is a Korean-American pop singer-songwriter, composer and producer. He has composed and produced songs for many K-Pop artists, such as BTS, Super Junior, EXO, NCT U, EXO's CHEN, Paul Kim, Sam Kim, Jeong Sewoon, Cravity, CLC, HYNN, SF9 etc.
2. MonoTree (모노트리) is a South Korean music production and publishing company. It was founded in 2014 by Hwang Hyun, G-high and Lee Joo Hyoung who were former producers at Sweetune.MonoTree has given dozens of songs to artists like Girls' Generation, INFINITE, EXO, NUEST, CLC, Red Velvet, 2PM, SHINee, Apink, AOA, GOT7, TWICE, OMG, Stray Kids, VIXX, ONEUS, SEVENTEEN, ONF, A.C.E, X1, Golden Child, The Boyz etc.
3. Seo Yong Bae (서용배) is a South Korean music producer and composer under RBW Entertainment. He has composed and produced songs for many K-Pop artists, such as SF9, Gfriend, ONEUS, AOA, Rocket Punch, Cherry Bullet, IZ*ONE, Gugudan, Astro, Mamamoo, The Boyz, BTOB 4U, CNBLUE, 4MINUTE etc.
4. Seo Ji Eum (서지음) is a South Korean lyricist under Jam Factory Inc. She has writed and arranged songs for many K-Pop artists, such as Girls' Generation, f(x), NUEST, Super Junior, Lovelyz, EXO, Red Velvet, Monsta X, IOI, Gfriend, BoA, Everglow, IZ*ONE etc.
5. Im Soo Ho (임수호) is a South Korean lyricist, composer and an adjunct professor Seoul Arts-Occupational Training Collage. He has wrote, composed, and arranged over 260 songs including TWICE, Red Velvet, Stray Kids, IU, Gfriend, Golden Child, Kim Jaehwan, Ailee, Chungha, Orange Caramel etc.
6. Cho Yoon Kyoung (조윤경) is a South Korean lyricist. She has writed and arranged songs for many K-Pop artists, such as SHINee, Girls' Generation, BoA, Super Junior, EXO, Red Velvet, Taemin, NCT Dream, The Boyz, IZ-One, Gfriend, TWICE, CLC etc.
7. Tenzo (PAPERMAKER) is a Korean songwriter, composer and producer. He has composed and produced songs for many Korean artists, such as Wanna One, IZ*ONE, B.O.Y, MC Mong, NUEST W, Ulala Session, Kim Jaehwan, JO1, TO1 (TOO), Jihoon, H&D, woo!ah! etc.
8. Team Galactika is a Korean music production group have been producing music for various K-pop groups since 2009. They have given songs to artists like T-ARA, SISTAR, AOA, MONSTA X, WJSN, TWICE, WANNA ONE, ITZY, 4MINUTE, Teen Top, Apink etc.
The Music Reviewers/Critics
9. Kim Young Dae

10. Kim Younha

11. Park Hwi Ah

12. Lee Gyu Tag

13. Lim Jin Mo

The Voice Instructors/Coaches
14. Shin Yoomi (신유미, also known by her stage name: YouMe) is a singer and songwriter. She was the vocal trainer/mentor for trainees on Produce 101 Season 2 and Produce X 101. Prior to her appearance on TV, Yoomi worked as a vocal trainer for many idols and trainees. One of her more famous pupils is Lee Hi under YG Entertainment.
15. Jang Jin-young is a South Korean singer. He is currently more active as a vocal trainer for SM Entertainment's artists, particularly SHINee, EXO and Red Velvet. He was also the vocal trainer/mentor on K-pop Star (SBS), Unnie's Slam Dunk (KBS2) and Idol School (Mnet).
16. Jeon Bong-jin (전봉진)
The Performers
17. Lia Kim is a dancer, choreographer, and trainer. She serves as the chief choreographer of 1Million Dance Studio in Seoul. She has also worked as a dance trainer for the biggest influencers in the South Korean entertainment industry such as JYP, YG, and SM Entertainment, earning credit to many of K-POP's most iconic choreographies such as Sunmi, Mamamoo, TWICE, BoA, I.O.I, EVERGLOW, A.C.E, Lee Hyori, Lee Gikwang of Highlight.
18. Park Junhee (박준희)
19. Won Shin Lee is dancer and choreographer from NANA Dance Company. NANA Dance Crew performed with artists like J. Y. Park, BTS, XIA (Junsu), 2PM, SSAK3, SEVENTEEN etc.
20. Choi Youngjoon (최영준) is a dancer, and choreographer. He was the dance trainer/mentor for trainees on Produce 48. He has choreographed for so many kpop groups like AB6IX, A.C.E, EXO, GOT7, IZ*ONE, Monsta X, NU'EST W, Red Velvet, Seventeen, Shinhwa, Twice, UNB, UP10TION, Wanna One, Weki Meki etc.
21. Ha Hui Dong is a bboy dancer with an idol singer background. He did bboy dancing in the Gorilla Crew, and he also put his bboy skills at use by working with many other crews. His performances in the dance competition Dancing9 are quite famous.
The Media Employees
22. Kim Yoon Hee ("1st Look" Magazine Editor)

23. Lee Maroo ("Elle" Magazine Editor)

24. Rigend Film is a production company that shot MVs for idols like NCT 127, Henry, Lay, Pentagon, TVXQ, Super Junior, Ilhoon from BTOB, Chungha, Kang Daniel etc.

25. Hong Won Ki is MV director and founder of Zanybros which is one of the most famous South Korean video production companies. For years Zaynbros has produced many MVs of kpop artists such as Seo Taiji, SS501, Epik High, Beast, 4Minute, Shinee, Miss A, TVXQ, Hyuna, Jay Park, Trouble Maker, Super Junior, Apink, BTOB, B.A.P, AOA, VIXX, Infinite, KARA, BTS, NUEST, EXO, CNBLUE, Ailee, 2PM, (G)I-DLE, Pentagon, Oneus and many more.

26. Ma Doo Sik
The Music Distribution Platforms Employees
27. Bae Sungho (Spotify Music, Artist and Label Partnership Manager)

28. Bae Injae ( iTunes/Apple Music, Label & Artist Relations) (CJ E&M, Sr. Manager, Corporate Strategy, Music Division 2008-2015) (JYP Entertainment, Marketing Manager 2007-2008)

29. Kevin Cho (Universal Music Publishing Group General Manager, 2003- current)

30. Hong Sang Wook (Genie Music Department Manager)
What do you think about the adequacy of the announced judges? Do you think the judges are biased as fans claim?