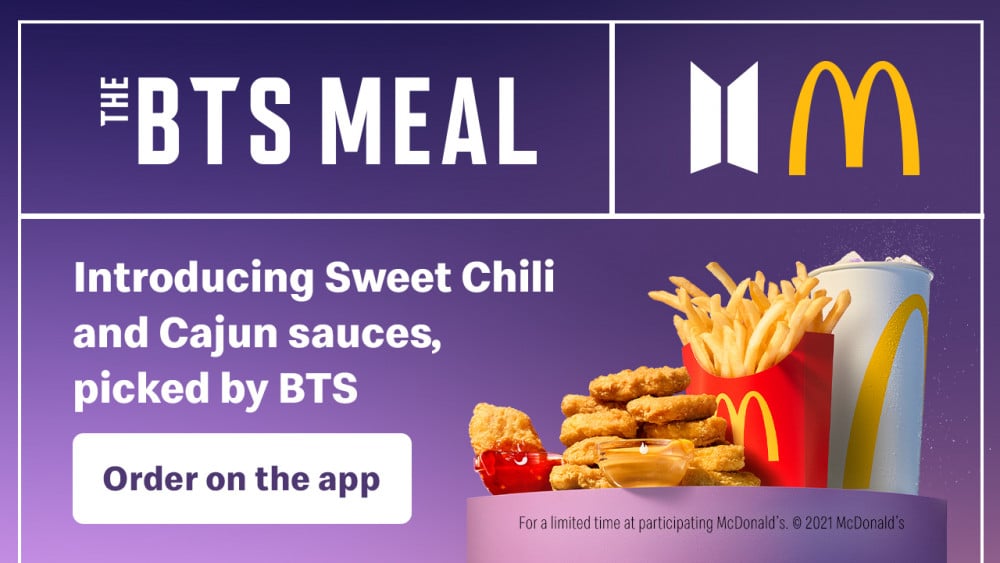 Hungry to get the best meal on this side of the purple galaxy? The Golden Arches at McDonald's are about to glow even brighter when 21st-century global pop star icons BTS arrive on the scene. Feel a whole lot closer to BTS with McDonald's newest signature meal: The BTS Meal!

Consider this McDonald's and BTS collaboration to be a one-of-a-kind menu "tour." Kicking off on May 26 in the United States, fans can now enjoy an ultra-special collaboration meal created by BTS themselves. The signature order includes a 10-piece Chicken McNuggets®, medium World Famous Fries®, medium Coke®, and for the first time ever in the U.S., Sweet Chili, and Cajun dipping sauces! Yum! We can't wait to get our hands on these special South Korean-inspired flavors!

BTS are the first icons ever to launch a celebrity signature order that will be available in over 50 countries. People across the world will be able to join BTS in celebrating many happy memories with the restaurant as they enjoy these soon-to-be iconic and delicious meals. Be sure to check to see if participating McDonald's near you are offering the BTS Meal since it won't be available forever!


U.S. fans will be able to order the BTS Meal in-restaurant, through contactless mobile order and pay in the McDonald's App, at the Drive-Thru, or via McDelivery. Be sure to keep an eye out on McDonald's social channels (@mcdonalds) for regular updates on the collab, which may or may not include even more surprises to come!
What are you waiting for? Go get your BTS Meal!
Disclosure: This article is sponsored by McDonald's.