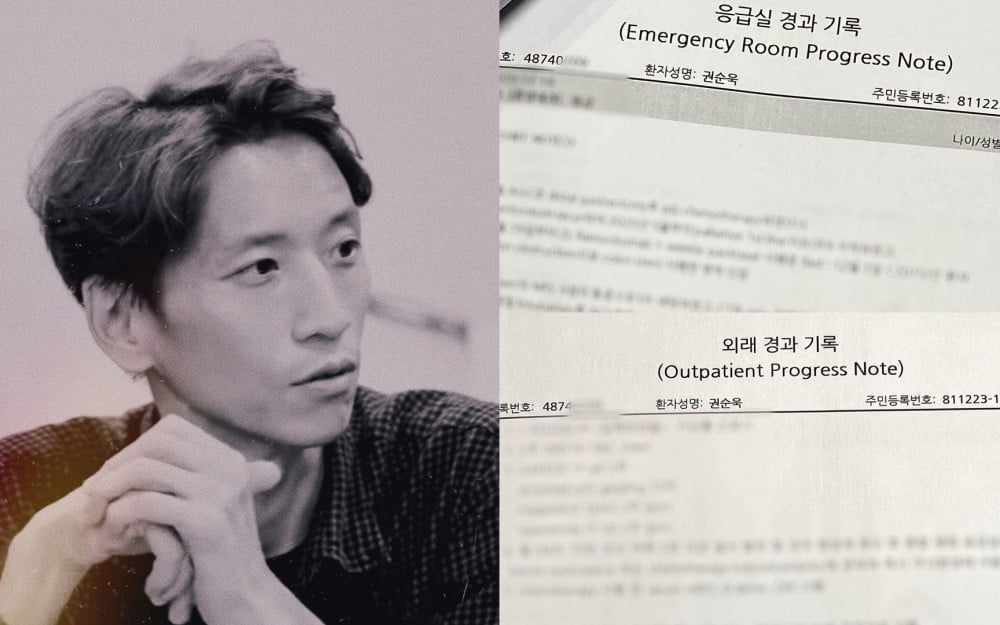 "It's not a curable disease," "It would be better than making your body suffer and just comfortably..." These are the words given by doctors to Kwon Soon Wook, BoA's older brother who had recently been diagnosed with stage 4 cancer.
Music video director Kwon Soon Wook also known as metaoloz had asked the question, "I don't have any thoughts on dying but why are the doctors so cold?" as he faces the reality of Korean medical care.

Kwon Soon Wook (age 40) wrote on his Instagram, "There are cases of (symptom deduction) in peritoneal carcinoma, and I don't have any thoughts on dying right now but I don't know why the doctors are so cold." After being diagnosed with cancer, he has been fighting. He explained to his fans after releasing some of the medical records saying, "They said I have three to six months to live if the symptoms don't decrease and peritonitis doesn't recover. I was told there is a 40% chance that the cancer tumors will be reduced by administering anti-cancer drugs. If the drugs are effective, there will be 4-6 months extension in my life." Kwon Soon Wook explained he had received a similar opinion and diagnoses from three other doctors.

He shared on his Instagram how discouraged he felt when all the doctors coldly told him this is an incurable disease. He wrote on Instagram, "I don't know why the doctors are so cold. They said, 'Do you think this disease will be cured? This isn't a curable disease,' 'Have you gotten better after chemotherapy? That's merely delaying the worsening symptoms.' 'We changed the drugs recently but you need to prepare yourself if your body starts to become immune to that drug.' 'I understand you have a strong will to live but it's better to just go comfortably instead of making your body suffer by trying every different method. We just need to hope that the chemo drugs work..."

The director further elaborated, "Those are the words I heard from all the doctors. When I was admitted to the hospital recently, they said those words that were painfully nailed in my heart with such tranquil facial expressions. So I wasn't able to live in a right state of mind. However, I was able to gain the courage to try my best thanks to everyone's support and advice. Thank you truly."


Medical experts have recently criticized the "coldness" reflected from the doctors' attitude that Kwon Soon Wook felt while talking to them. Experts pointed out that this "coldness" was the byproduct of Korean medical care that focuses only on the treatment aspect and not the patients.

Korean medical care, especially cancer treatment, is world-class. Treatment for stomach and liver cancer, which Koreans often are diagnosed with, surpasses other advanced countries. However, Korean doctors seem to not be good at understanding patients' emotions. Lee Yoon Sung, an honorary professor at Seoul National University's medical school, said, "Doctors should not just convey information and facts. They need to take care of each patient as a person and not an object with a disease."

Huh Dae Seok, an honorary professor of oncology at Seoul National University Hospital, also pointed out, "Even if a doctor says the same thing, they should be able to empathize with the patient. There are patients who may be disappointed in that aspect. Doctors are driven to diagnose quickly, treat quickly, and engage in a lot of medical practice," Professor Lee continued to say, "Efficiency and cost-effectiveness come first, so doctors can't afford to hold the patient's hand and talk or even have the leisure to do so." Just as according to the two professors, Korean doctors have become known for their 'Three-minute care,' as they just quickly deliver the tragic news to their patients without considering their emotions.

Therefore, the two experts emphasized the importance of communication techniques when delivering bad news, such as the news of terminal cancer. Professor Heo Dae Seok said, "These kinds of news should be delivered in a quiet space such as a counseling room. Patients' feelings would be hurt if it's delivered bluntly during a visit or outpatient treatment."